Two years ago, Jeffrey Wild, MS, CSCS, PES was working as a health coach and sales manager at WORKNET Occupational Medicine.
At WORKNET, Wild worked closely with manufacturing firms to establish corporate wellness programs through biometric screening — helping employees assess their risk for chronic preventable disease, identifying their health goals, and giving them a reasonable action plan to accomplish them. While on the job, he started to notice a pattern emerge.
"Healthy eating was what people were most frequently asking about," recalled Wild. "They wanted to know how to properly food shop, how to find the time to cook, how to create a sustainable diet."
Through health coaching and seeing firsthand how important nutrition is to a healthy lifestyle, Wild realized, "It was time for me to start walking the walk, if I wanted to talk the talk."
Today, Wild works as sales manager at LifeVest Health — a corporate wellness start-up aimed at making employee wellness fun, simple, and easy to deliver — and follows the 80/20 rule.
"Eighty percent of the time, I'm eating the right thing so that the other 20 percent isn't enough to impact me," said Wild. "That means my meals aren't always the most exciting options, but they do fit into a crunched schedule and are affordable."
This may sound easy enough, but the tricky part is maintaining that balance when your workdays are full of meetings or you're traveling on the road.
"On travel days, when I arrive at my destination, I'll typically go food shopping first thing," said Wild. "I'll stock up on fruit and yogurt to supplement my regular morning smoothie, grab a box of Nature Valley bars for snacks on-the-go and if I'm eating out, I'll try to stick with grilled proteins on salads."
Yet, if there's only one key to eating healthy, Wild swears it's prep work.
"Our rule of thumb in the house is, if you have to cook for two people, then cook for four instead and pack up the leftovers for tomorrow," said Wild. "Because of this, my girlfriend and I only have to cook every other night and then on the non-cooking nights it takes about 5-10 minutes to make dinner. That makes it manageable."
Below, in his own words, Wild shares his typical day of healthy eating:
6:30 a.m.: Black coffee, oatmeal (Nature's Path Organic) Maple Nut flavor mixed with a tablespoon of peanut butter, and a smoothie.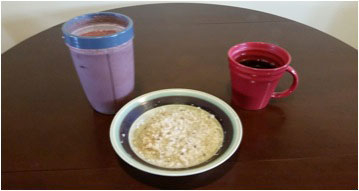 "It takes me about 5-10 minutes to make breakfast and coffee for my girlfriend, our dog and me. The NutriBullet is our weekday breakfast hero. Our smoothies give us a good dose of fruit and veggies to start our day, hydrate us, and provide protein to keep us full for a little while.
The smoothie: Spinach or kale base, a few baby carrots, 2 tablespoons of plain Chobani yogurt, a sprinkle of chia seeds, frozen tropical fruit mix or mixed berries (Earth's Pride Organics), squeeze of honey and a sprinkle of cinnamon – fill with water and mix.
Also, if you need a coffee, I suggest drinking it black, as the cream and sugars add up faster than you think."
10 a.m.: Nature Valley Trail Mix Fruit & Nut bar.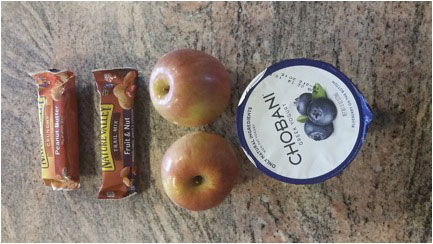 "My daily snacks are basically set in stone. I look for something that fits in my laptop bag, that won't melt, squish, or ruin while it travels around with me all-day. My go-to snacks are two pieces of fruit or veggies (apple, pear, banana, baby carrots, or celery), Nature Valley Trail Mix Fruit & Nut bar, Nature Valley Crunchy variety pack.
I aet my Fruit & Nut bar on my way into my 10 a.m. meeting — this helps me eat less later in the day in case a lunch full of bad decisions is offered."
12:30 p.m.: Grilled chicken sandwich with a side of mixed green salad and sweet potato salad.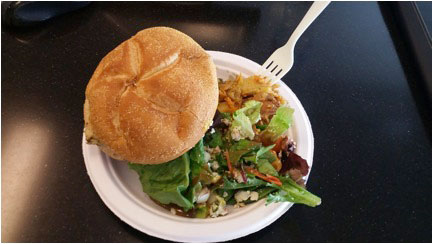 "Lunch, for me, is always the variable — but one benefit to being a sales person in the health and wellness world is that you often get some decent food options offered during meetings. Today's meeting was with global hygiene manufacturer SCA in the Cira Centre, and they hit it out of the park with a grilled chicken sandwich and delicious side salads. I always aim for anything with the word grilled (salad or sandwich) and that has at least one vegetable in it.
If I am on the road during lunch hours, I will often look for something small to tide me over and use my packed snacks to get me through until I can get back home or to the office. Wawa's express aisle and Starbucks' lunch options have been a tremendous help on the road – they both offer great protein packs to help keep you going while traveling."
3:45 p.m.: Nature Valley Crunchy Peanut Butter bar and an apple.
7 p.m.: Grilled chicken salad.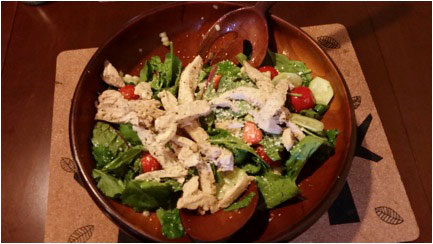 "At dinnertime we stick to veggies and proteins as much as possible. Tonight was a quick fix because of our routine of over cooking.
On Sunday night, we grilled extra chicken, cut extra cucumbers, carrots, and even made too much salsa — so on Monday, I whipped dinner together in 5 minutes. I used a spinach mix and added sun gold tomatoes, the left over chopped carrots and cucumbers (from our garden!), fresh corn, sprinkled on some parmesan cheese, Italian dressing and added our left over grilled chicken.
After dinner, I took our dog Oscar for a walk and then came back and nibbled on a piece of Sea Salt Dark Chocolate that we usually have out on the counter top."
11:00 p.m.: Chobani yogurt and an apple.
"I had a hockey game at 8:30 p.m. after dinner so I packed my two last snacks of the day with me and ate them on the way home."
----------
Read more Goal Getter for healthy eating, weight loss and more.