Sarah Glover
As a funeral procession entered the massive front gates of Eden Cemetery one Saturday last month, volunteers planted red and white flowers at the entrance.
The volunteers were among 75 people who came to the cemetery to remove debris, clean headstones and restore the historic Delaware County cemetery, and cemetery officials are hoping to get more help tomorrow and next Saturday.
Vandalism has been a problem at Eden Cemetery for years. "Eden is caught in the middle of a playground and a residential area," said general manager Mina Cockroft. "It is convenient for them to go through Eden and as a result of the trespassing you have vandalism that has occurred."
Sarah Glover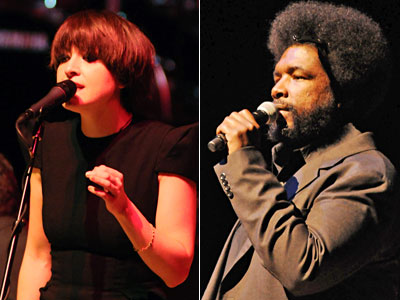 Ahmir "?uestlove" Thompson has been performing professionally since age thirteen, but he explains how his Philadelphia International Festival of the Arts (PIFA) performance was a whole new experience for him.
"Tonight might mark the first time I'm nervous about a performance," he told the audience. He dazzled the crowd last night at the Kimmel Center's Verizon Hall, as he played the drums with a collaborative ensemble of classical musicians and French singer Keren Ann.
To show solidarity with the beloved "?uesto," he asked the audience to howl like wolves. They obliged and ?uestlove settled in. "Welcome to Philly-Paris Lockdown," he exclaimed.
Sarah Glover
In the 1990s, the corner of 9th Street and Indiana Avenue was notorious as an open-air drug market. It has taken years to clean it up, but the neighborhood is staging a comeback.
Seventy new apartment units grace the 900 block of Indiana Avenue. A majestic dark-gray fence now borders the historic Fair Hill Burial Ground, where abolitionists Lucretia Mott and Robert Purvis are buried.
As of Wednesday, two stars are shining down on the property, which is also a community park. Residents of the surrounding Fairhill neighborhood made two 4-foot-by-4-foot lighted stars to hang from a majestic cypress tree overlooking the burial ground.
Sarah Glover
Inside St. Monica Parish's gym, at 16th and Shunk streets, you hear a barrage of "thatta boys" and "good jobs" echoing as 40 boys play Wiffle ball with their fathers, grandfathers and assorted church members. It's "Fathers and Sons," a weekly parish tradition that's gone on since 1956 — and this week's crowd is on the small side.
Generally, about 100 boys participate on Friday nights during the school year, said Michael Grasso, a member since 1976. "There are about 100 less kids roaming the street on a Friday night," he said.
Grasso came into Fathers and Sons as a boy and now brings his sons Joseph, 10, and Michael, 7, to the program to learn values like camaraderie, sportsmanship, respect and good, moral character. "It feels good to pass along that tradition that I was able to feel with my father," he said, "and teach my kids the same sort of things my dad taught me."
Sarah Glover
It's already a fixture in Mantua, with celebrity customers like Phillies Ryan Howard and Ben Francisco. And now the Thee Shop Plaza barbershop, at 33rd and Spring Garden streets, is getting ready for a starring role in a feature film by Rel Dowdell.
Dowdell is a Germantown native with one film under his belt: "Train Ride," which was well-reviewed as a DVD and had a small theatrical release. He has a master's degree in filmmaking from Boston University, and one Boston critic puts his work in the same league as Spike Lee's and John Singleton's.
Thee Shop Plaza caught Dowdell's eye when he was scouting locations for his second movie, "Changing the Game," about a young man from North Philly who becomes a success on Wall Street. Rapper Sticky Fingaz has one of the lead roles, as a barber.
Sarah Glover
The Still family has gathered in Lawnside, N.J., for its family reunion for the past 141 years. This year's reunion took place on a sunny Sunday last month in the backyard of 81-year-old patriarch Clarence Still's home on East Oak Avenue, which has been the reunion venue for the past 28 years.
With a straw hat on his head, Still sat in a chair sipping on orange water ice and looking out over the hundreds of relatives who came from as far as North Carolina.
"The family reunion means a lot because there are so many people who want to know about the family history. And people get so excited," he said.