Archive: April, 2013
Jonathan Takiff

, Inquirer Columnist

We're not convinced that the scheduling overlap is a positive for the Philadelphia International Festival of the Arts (ending this weekend, with the big Avenue of the Arts street fair on Saturday) and the Philadelphia Science Festival (concluding Monday.)

But the ventures' one big cooperative project "Icarus at the Edge of Time" filling the Kimmel Center's Verizon Hall with sound and vision tonight is one clear positive.

"Icarus" is a co-mingling of science and art that fits the agenda of both PIFA's "time traveling" theme and PSF's selling of science as a hip, cool thing. And yes, it holds appeal to both sides of a gizmo guy's tech and music lovin' brain and nature!
Jonathan Takiff

, Inquirer Columnist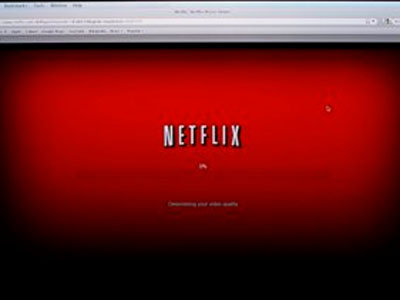 Millions of people share their Netflix account password with family and friends who don't actually reside in the same household, grouse financial analysts who follow the company's stock. Today, Netflix responded with a 50 percent higher priced plan option that will extend the concept of family and sharing, encourage customers to do the right thing.
Netflix now has 33 million paying subscribers, plus another 10 million viewers who are taking a free ride on a friend's password, reported Bloomberg News this morning. With the basic $7.99 service, two streams can be sent simultaneously to devices (here, there, anywhere) authorized with one account sign-in name.
Both Michael Pachter of Wedbush Securities and Heath Perry of Goldman Sachs were quoted in the piece, arguing that the service should close the loop hole. Perry said Netflix could increase revenues by 5 percent by monitoring service use more diligently. "It's time to change," chimed in Pachter. "They could say they are cracking down on piracy. They can appeal to fairness."
Jonathan Takiff

, Inquirer Columnist

The legendary New Orleans rock, blues and voodoo music man Dr. John – aka Mac Rebennack – has just been added to the lineup for the three day XPoNential Music Festival coming to the Camden waterfront Friday , July 26 through Sunday, July 28. Almost as eXotic Australian exports John Butler Trio and haunting neo-Southern California folk rockers Dawes are also newly tacked to the bill, organized and produced by non-commercial adult alternative music station WXPN.

Like last year, the relatively bargain priced music orgy features one big show in the Susquehanna Bank Center - a Saturday night bill of The Lumineers (recent Grammy nominees), Philly's own Dr. Dog, Polica and Wake Owl. Then the show moves outdoors to nearby Wiggins Park, where attractions this year will also include the groovin' easy British soul pop crooner Michael Kiwanuka, second gen twangster Justin Townes Earle, local rockers DRGN King, and new faces going places like Lord Huron, Phosphorescent, and Trampled by Turtles.
Jonathan Takiff

, Inquirer Columnist
Talk about Mann Alive, a Mann Overboard! With its newly announced series of 2013 summer concerts tying the Philadelphia and Pittsburgh Orchestras to symphonic celebrations of sports, movies, video games and rock and roll, our venerable summer "shed" is bringing a new game to West Fairmount Park.
Truth is, only two concerts scheduled for the Mann Center for the Performing Arts' orchestra season qualify as "straight ahead" classical events unadorned by mixed media and crossover content. And even those boast a high quotient of sassy bravura and sex appeal, designed to lure in listeners who otherwise can't connect with the classics.
Maybe our home team tooters ought to take a page from their LA bros and shorten their collective name to a hipper "Philly Orch" – at least for the outdoor season?
Jonathan Takiff

, Inquirer Columnist
Got a great idea for a product or service, but not the financial backing to make it real?
You may want to bring that brainstorm to an open audition for "Shark Tank," the ABC network's hit entrepreneurship reality show, when the production team trolls for talent here on Saturday May 11.
Philly's cool product incubator lab NextFab Studio will host the auditions - the TV show's only casting call (and yeah, personality counts) in the Northeast.
Jonathan Takiff

, Inquirer Columnist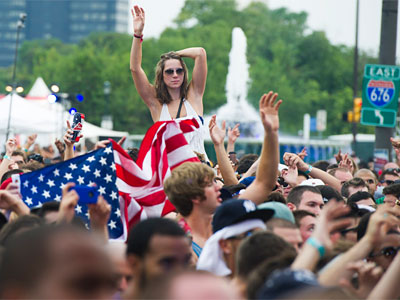 What's it really going to cost to attend this year's big Budweiser Made In America music festival?
Depends when you buy.
While earlier reports have a two day (Aug 31-Sept 1) pass to the Ben Franklin Parkway mega-show going for either $99.50 or $117 (with Ticketmaster processing fee factored in) that's the pre-sale, early bird special price that's good "while supplies last" and was also available to trusting types before the lineup was announced yesterday.
Jonathan Takiff

, Inquirer Columnist

Commuters waiting for a train in Suburban Station now have a stimulating new way to pass the time – downloading e-books, audio books and podcasts which they can then enjoy while riding the train, relaxing at home, wherever..

Sponsored by the Free Library of Philadelphia, SEPTA and Dunkin Donuts, the month long "Enrich Your Ride with Reading" project is billed as "the first Virtual Library in the U.S". (there's also one in Budapest) and coincides with National Library Month. To lure you in, all advertising signage on the Suburban Station train platforms is now touting these free offerings - actually a small sample of the 80,000 e-books, 8,000 audio books and thousand plus podcasts available to card holders at freelibrary.org.

The graphics for each sign-touted classic, best seller and podcast includes a QR (quick response) code symbol, Just open a QR application (free to download) on your smart phone or tablet then point your device's camera to frame and capture the QR image. Within a minute or less, the book or podcast automatically loads onto your device. And even if using an Android or Apple iOS device (like an iPod Touch) that's lacking mobile phone service, you can use the free Wi-Fi available on the train station platforms to enable the download. .