Archive: April, 2012
Jonathan Takiff

, Inquirer Columnist

Wonder upon wonders, "new" material from the Beatles is still springing forth - on Apple apps, video discs, CD and soon at a movie theater near you.

Material Evidence: George Harrison was the gear head of the group - quite a good photographer and gadget lover - and also a media hoarder. Evidence comes to the fore tomorrow with the home video release of Martin Scorsese's documentary film "George Harrison: Living in the Material World" and the simultaneous release of the Abrams multi-touch iPad/iPhone/iPod e-book of the same name.

Chock full of rare performance clips plus stories from the late Harrison, family and friends, Scorsese's monumental two part/four hour epic delves deeply into the musician's spiritual nature as an alternative path into the Beatles' history. This treasure trove has been playing on HBO and HBO Go for a few months (and actually will screen again Tuesday and Wednesday at 8 p.m. on HBO2 East) But if you buy in tomorrow on DVD, Blu-ray or iTunes download, you'll also be treated to bonus features like a "lost" Harrison guitar solo from "Here Comes the Sun." The DVD/Blu-ray combo edition also boasts a ten song CD collection of stripped-down demos, including several from his landmark solo album "All Things Must Pass." The same CD ("Early Takes, Volume 1") will be available separately, too.
Jonathan Takiff

, Inquirer Columnist
For innovators showcasing at Philly Tech Week's Entrepeneur Expo last night, the demonstration always required a smart phone, tablet or laptop.
Launched five months ago, Lokalty.com offers a better rewards system for residents and visitors shopping in center city Philadelphia. Flash the custom ID code that's been embedded in your smart phone (or dangling from your key chain) and you'll earn credits whenever you make purchases from the 50+ participating merchants. Eventually you build up enough chits to score food and drink and even yoga sessions. Dozens of indie coffee shops, eateries and service providers (like spas) are already participating in the project, with the heaviest concentration of merchants located between 12th street to the 20s. And yeah, they'd like to go national.
Spawned at last weekend's 72-hour Philly Startup and triumphing over 17 other competitors, Yagglo could prove a refreshingly different browser for the iPad. In prototype form, the home screen simultaneously presents the front pages of six sites, all in readable fashion on your Retina screen. Quite different from the usual bunch of little iPad app icons which then must be individually opened to see what's up. Yagglo also uses taps and hand swipes to go full screen and then move back and forth quickly between apps. See a demo here.
Jonathan Takiff

, Inquirer Columnist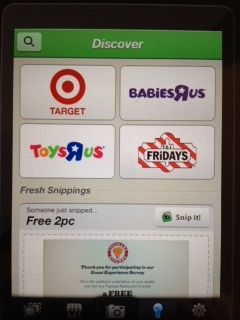 A practical iPhone/iPad app for digitally "clipping" coupons and generating new ones has been grabbing lots of attention in town this Philly Tech Week.
Spawned locally - with support from Philadelphia Media Network's digital incubator project - SnipSnap claimed top honors at the 5th Annual Mobile Monday Demo Night, then again last night at the startup competition Switch Philly. Still, the sweetest victory had to be Apple's quick approval of the program in "under two weeks," said CTO Kostas Nasis, allowing SnipSnap to launch in perfect synchronicity yesterday morning on the App Store.
Sparked by the "bowl of shame" at CEO Ted Mann's house - a repository of coupons constantly coming to his house that he "couldn't bear to part with," SnipSnap uses your iPhone or iPad camera to capture and save those discount deals electronically. As described in the app store introduction, "Simply snap a picture of any printed offer and SnipSnap magically converts all the text, images and barcodes into a mobile optimized offer, which you can redeem off your screen." At the checkout line, you then "pull up the coupon, barcode, promo code or photograph and present it to the cashier to redeem."
Jonathan Takiff

, Inquirer Columnist

We're really torn between a trio of Philly Tech Week and Philadelphia Science Festival events happening this evening.

The drama may be as thick as on "The Apprentice" at tonight's "Switch Philly" competition. Five Philly startups will pitch their concepts in seven minute presentations, followed by a grilling from Mayor Michael Nutter (nothing like Donald Trump, thank heaven) Josh Koppelman and Ellen Weber. Two or three of the competitors were pre-screened by PTW organizers at Techicallyphilly.com. At least one was plucked from the masses showing at the Monday Mobile Demo Night. Winner earns free office space and meetings with local investors. Showtime - 6 p.m. tonight at Levitt Auditorium, 401 S. Broad St. Admission is $10.

Also getting their game on tonight, 15 local studios will showcase their newest finished and developing wares at the "IGDA Philadelphia Game Showcase." Indy Hall, 22 N. 3d St. hosts the event from 7 to 9 p.m. Free.
Jonathan Takiff

, Inquirer Columnist

Some pretty nifty events - aimed to inspire and jump start your high tech professional life - are in sights for Philly Tech Week tonight (Tuesday) and tomorrow (Wednesday) morning. .

Wonder what it takes to fund, fuel and market a startup? Three pros get into it at Startup 101, 6 to 8 p.m. at the Pyramid Club, high atop 1735 Market St. $10.

Quick Response Codes that lead mobile phone users to websites are showing up everywhere, but do these trigger agents also lead to increased sales of products and services? Much to discuss at PTW's Marketing with Quick Response Codes panel, 7 to 9 p.m. at 100 S. Broad St., Suite 2100. Free with RSVP.
Jonathan Takiff

, Inquirer Columnist

Looking to work your brain and (sometimes) your belly tonight? Consider some of the lively Philly Tech Week and Philadelphia Science Festival events happening around town.

Both the Philly Robotics Expo and Mobile Monday Demo Night are sold out, sorry. But you can still get in to PTW's "Performing with Technology," a night of sound installation, interactive dance and experimental electronic music at the fidgetspace, 1714 N. Mascher St., 5-8 p.m. tonight (free).

More interested in futurist theater with an on-line interactive component? Check out New Paradise theater company's "Digital Performance in a Possible Future" presentation, free from 6:30 to 8:30 p.m. at Hamilton Hall, 320 S. Broad St.
Jonathan Takiff

, Inquirer Columnist

If you love thumbing through the selections at a music store and enjoy finding rare treasures, you've got to get out for Record Store Day on Saturday.

Tomorrow marks the 5th annual RSD. While the number of retail outlets selling CD and vinyl keeps shrinking, there's never been a better selection of RSD "exclusive" disc offerings as there will be this time around, ironically. An especially good overview of the vinyl specials has been posted by my bud Mark Smotroff for the SoundandVision.com website. A musician himself (working under the band identity "ing"), audiophile and prog rock devotee, Smotroff details the importance of this RSD's offerings - live performances, unique colored vinyl, higher quality sound. He also posts the quantity of each pressing. So you'll know how special and hard to get a particular disc is gonna be.

A new, downloadable RSD app, available on both iOS and Android platforms, leads you to the closest stores engaged in the celebration. The app quickly summoned up 15 stores within a five mile radius of my location. Other tabs pull up special releases (though very slowly) and promise listings of RSD in-store events. But the latter are presented in random order, with no rhyme or reason or ability to hone in on just the locals. Very frustrating. So it's best to call ahead to stores near you, or venture to their websites, to find out what's shaking. Main Street Music in Manayunk has an especially full day of free appearances forthcoming by the likes of John Wesley Harding. Sound of Market and AKA Music are usually good for some in-store appearances, too.
Jonathan Takiff

, Inquirer Columnist

How do we know that Earth Day must be right around the corner (Sunday)? Environmental groups focused on the (fraught with eco-peril) electronics industry have been laying on the good and bad tidings.

Cloudy Forecast: Amazon, Apple and Microsoft all got slammed by Greenpeace International yesterday in a report on cloud energy practices. While Google, Yahoo and Facebook are
"taking steps to power their clouds with clean energy," those other "highly innovative and profitable companies are building data centers powered by coal and acting like their customers won't know and won't care," said Gary Cook, Greenpeace senior policy analyst. Some data centers "use as much electricity as 250 European homes."

We Done Good: Patting itself on the back - and maybe hoping to stave off more unwieldy state laws mandating recycling - the Consumer Electronics Association reported this week that 460 million pounds of consumer electronics had been responsibly recycled by its' members and "third party" companies in the last year. That's a 53 percent increase over the prior year. By 2016, CEA's eCycling Leadership Initiative hopes to up the annual ante to one billion pounds of electronics, equivalent to an entire 71,000 seat NFL stadium and making room for more good gear to invade our homes. "The average U.S. household owns 25 different CE products," said Walter Alcorn, CEA's v.p. of environnmental affairs. "We want to make recycling just as easy as purchasing electronics," And to that end hopes you'll check out the recycling options nearest you by visiting greenergadgets.org