Archive: February, 2013
Jonathan Takiff

, Inquirer Columnist
The enormously talented and energetic Ahmir "Questlove" Thompson has achieved much – as a virtuoso drummer for The Roots and others, as a producer, arranger, "Late Night with Jimmy Fallon" bandleader (also with The Roots), club DJ, composer, Philadelphia music festival curator and culinary entrepreneur.
Now the West Philly native is adding "author" to his resume with "Mo Meta Blues: The World According to Questlove," due out June 18 on the Grande Central Publishing imprint.
Bearing a title evoking a Spike Lee joint, an op-art cover that echoes an historic representation of Bob Dylan, and a "punch drunk memoir" style that may also win Dylan comparisons, the tome was written with New Yorker editor Ben Greenman.
Jonathan Takiff

, Inquirer Columnist

A time machine is under construction at the Kimmel Center, a massive, high tech sculptural, light, sound and video installation signifying . . . all kinds of stuff.

Stretching more than 100 feet through the Commonwealth Plaza, snaking from the Kimmel;s front door to the entry way to Verizon Hall, the tunnel of past, present and future imagery (and sounds) is the physical centerpiece of the Philadelphia International Festival of the Arts (March 28-April 27). And just one of many free treats that hopefully will draw visitors in on a daily basis.

While the swirling, custom steel grid work is mostly up and the time tunnel will likely be enclosed by week's end, "we've got a month to fine tune what goes inside," said production designer Robert Pyzocha. His team has been brainstorming about the TM since last September and put out a heady artistic proposal which excited regional executives/funders at Dow Chemical, also major sponsors of the Franklin Institute-backed Science Festival returning in April.
Jonathan Takiff

, Inquirer Columnist
Might your idea of a romantic Valentine's Day evening include a wine and cheese tasting , a unique portrait session and a semi-private tour of Philadelphia's spiffy new high tech DIY shared workspace?
If so, you're going to want to spend Valentine's Day with NextFab, a special event hosted by facility founder Evan Malone and his equally busy, restaurant and bar-tending wife, Jill Weber.
Drawing attention to the new, much larger and loaded with gear NextFab facility at 2025 Washington Ave., this geekfully romantic evening begins with professional photographer Rachel Lynn Kotkoskie capturing your photo. The image will then be laser-etched on the premises onto a porcelain ceramic tile as your keepsake takeaway.
Jonathan Takiff

, Inquirer Columnist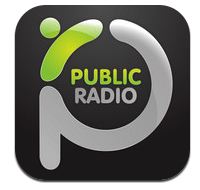 A new version of the Public Radio Player launched on the Apple apps store this morning, making it a whole lot easier to keep up with some of our favorite public radio shows – including the Philadelphia based (and nationally syndicated) "Fresh Air with Terry Gross," and local news magazine "Radio Times" from WHYY. Oddly unavailable, though, were the same radio station's always entertaining "You Bet Your Garden" hosted by my keepin' it green bud Mike McGrath and WXPN's big national calling card "World Café" with David Dye.
It was Gross herself who turned me onto the PRP app, after a chance encounter at the supermarket when I mourned I was no longer in the car every night listening to her 7 p.m. repeat. "So why not listen to the internet version on your iPhone, while you're on the bus or walking home?" she suggested.
The free Public Radio Player lets you hone in to stations by content or location - in Philly also giving instant and preset access to WRTI's classical and jazz streams and both primary and secondary (HD) channels from WXPN.
Jonathan Takiff

, Inquirer Columnist

Go-green initiatives from the Philadelphia Phillies and Drexel University (what, no Eagles?) have helped jump start the Keystone Solar farm into being. And today to a "2013 Project of Distinction" honor at the PV America East 2013 trade show meeting at the Pennsylvania Convention Center.

Keystone Solar is the state's largest solar panel project, harvesting some 8,000 megawatt hours of sun juice per year. At the PV (Photovoltaic) show today, this Lancaster County install was cited as a "tribute to innovative energy marketing and exemplary project development." The former reflects on Keystone Solar's securing of a 15 year power purchase agreement with Exelon Generation with the backing of retail energy buys by high profile entities including the Phillies and Drexel, plus Franklin & Marshall College, Juniata College, Millersville University, the Clean Air Council and others.

More interesting to a techie is the "project development" aspect of the honor – detailing how solar farm developers worked with the Lancaster County agricultural community to support farmland preservation and soil restoration.