Archive: January, 2013
Jonathan Takiff

, Inquirer Columnist

Another consumer electronics giant officially bailed out on the cut-throat business in audio and video products yesterday. Who's next?

The bad news came from Royal Philips, the European biggie (based in the Netherlands) that dreamed up the compact cassette, collaborated with Sony on the CD and is deep in the DVD/Blu-ray disc patent pool. A couple years ago, Philips handed off the manufacturing and marketing of TV sets to the Japanese based Funai and yesterday announced the spin-off of Philips audio and accessories businesses too, in return for a healthy royalty for use of the brand name.

A Funai executive suggested that the old Philips gang would still have input on new Philips product designs, but Funai hasn't taken much of their advice lately. Its' 2013 Philips-branded TV line for the U.S. has no 3-D models, none with Philips cool "Ambilight" rear illumination enhancement and none in the ultra-wide screen 21:9 TV format which Philips introduced in Europe, that Vizio brought to the States and which LG showed at this CES in a very handsome, $700 computer monitor.
Jonathan Takiff

, Inquirer Columnist
We know from perusing Facebook pages who's got too much time on their hands. But can we also gauge our friends' mental state?
A new study by researchers at the University of Missouri suggests that what users include and even don't include on Facebook can signal mental symptoms, issues of concern.
Jonathan Takiff

, Inquirer Columnist
IKEA aims to LED the way to more efficient lighting.
This morning, the Swedish home furnishings giant announced its' intent to sell only LED lighting in its stores by 2016. "No more halogen. No more Sparsam low-energy bulbs. No more fluorescent lights. We're putting all our development and design efforts behind LEDs because we think everyone should be able to afford to illuminate their lives with the most sustainable lighting available."
Bulbs and fixtures built around light emitting diode technology now produce the same color as traditional incandescent bulbs (earlier versions tended to a blue cast), noted the IKEA declaration of intent. These tiny bulbs also consume up to 80 percent less energy than traditional incandescent lights, start up immediately (unlike those cork-screw shaped cold fluorescent bulbs), contain no mercury or other toxins (another CFL concern), have a lifetime of 20,000 hours and can be recycled as electrical waste. IKEA also argues that LED bulbs don't get warm – though that feature must be design specific, judging from the massive heat sinks that other LED light bulb producers like 3M, Insignia (Best Buy house brand), Philips and C.Crane glue to the bases of their bulbs.
Jonathan Takiff

, Inquirer Columnist
There's some reason to have mixed feelings about Comcast's Internet Essentials. the Philadelphia- based communications giant's bargain $9.95 internet service available to low-income families. But can we please keep it real?
Executive v.p . David L Cohen swears this no- or low-profit project was high on his "to-do" list long before Comcast wrote it into an agreement of concessions with the Federal Communications Commission, making kosher Comcast's 2011 takeover of NBC Universal. On the other hand, Cohen acknowledges that once attuned (addicted?) to the web delivery service, student users are likely to continue as subscribe and improve on the package (now down-streaming at 3 Mbps; used to be 1) when they have the financial wherewithal.
Jonathan Takiff

, Inquirer Columnist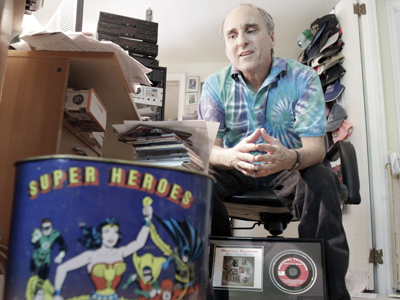 There's a time honored, but not so honorable tradition in broadcasting. On-air talent hardly ever gets to say "so-long" to listeners or viewers when they're being canned. Today, the ax fell on WMGK's Michael Tearson. But will you hear the tree fall?
One of Philly's true pioneers of progressive rock radio, Tearson broke into the biz with his late 1960s years at a then student-run, all-volunteer WXPN, then moved to WDAS-FM, for many moons to WMMR and later back, briefly to a now professionally steered XPN. Tearson has been holding down the fort at WMGK since April 2002 with a two hour (6 to 8 a.m.) "Saturday Morning 60s" heritage music show that he put together with amazing first hand knowledge and a great record library from his South Jersey home studio.
But this morning, MGK program director Charlie Lake told Tearson the party is over after this Saturday's show. And since that episode (and several more) are already in the can, M.T. won't get to say his farewells. A pity. This isn't just "another one bites the dust," it's one of the classic rock outlet's true "keeper of the keys" getting locked out, no longer to share his small insights and big picture perspective, or what veteran reporters like to call our "institutional knowledge."
Jonathan Takiff

, Inquirer Columnist

Industry leader Samsung scored two "firsts" in its' keynote presentation at CES yesterday - with an appearance by the first U.S Presldent to ever "play" the Las Vegas super tech show and the unveiling of a product breakthrough with major consequences. Former President Bill Clinton capped the lavish Samsung presentation with a stump speech touching on innovation, environmental concerns and the need for gun control. But the bigger take-away for the geek gadget crowd was Samsung's unveiling of a super bendable, twistable, color OLED screen.. This breakthrough seems destined to inspire several new breeds of high value products, from e-readers you can roll up and pocket like a magazine or newspaper, to dramatically packaged audio and video players with wrap around display and control screens, to wearable wrist computers/smart watches that are sleek, light and comfortable. Depending on how Samsung chooses to play it, this flexible screen material could help the company immensely in its' marketplace fights with Apple or make the latter eternally indebted if Samsung opts to share the technology!
Jonathan Takiff

, Inquirer Columnist
Frustrated by the "planned obsolescence" of high tech gadgets - constantly forcing you to upgrade to the newest and greatest? You'll like what Roku, Harman Industries and Samsung are showing at this CES electronics show - products you can easily upgrade at an affordable (or even free) price.
Roku ocks: Pitched to "second tier" makers of TVs, Blu-ray players and a/v receivers that can't afford to run their own "Smart TV" streaming video and audio services, the Roku Streaming Stick ($99) does the driving for them. It looks like a thumb drive, plugs into a new breed of powered HDMI connector called MHL that the TV or player maker does have to build into their product (along with an Ethernet port for internet connectivity.) The Roku then delivers the web-streamed services you'd get in the average Smart TV or stand alone Roku box. We're talking movie services like Netflix, Vudu and Crackle, webcasts like TWIT TV and music streamers like Tune-In Radio and Pandora. And if you're in Time Warner Cable country (and a subscriber), the Roku Streaming Stick will also nab and deliver the bulk of TW channels (at least 75, maybe as many as 300) directly to the TV, without the need for a separate cable box. (Intel said Monday that it's working on a similar solution with Comcast.)
Roku's gathered a big group of hardware companies to adopt the Streaming Stiick delivery system - Insignia (the Best Buy house brand), Harman Kardon,, Westinghouse, Coby, Haier, Hisense, Oppo, Onkyo, 3M, Element and more. And for those who want to cut the cable - Voxx will serve up indoor digital broadcast TV antennas with a port for a Roku Stream Stick, under the RCA and Terk brand names.
Jonathan Takiff

, Inquirer Columnist
It's press day at the giant CES consumer electronics show in Las Vegas. Want a great seat?
Two of the industry biggies - Samsung and Panasonic - are hosting their own live webcasts of the 45 minute showcases, sure to draw standing room only crowds at the Mandaly Bay convention center. Panasonic is on tap at 1 p.m East Coast time at Panasonic.com/CES. Then the mighty Samsung will have your head spinning with its' diverse offerings at 5 p.m. eastern at global.samsungtomorrow.com. The companies often pull a celebrity guest or three out of the box for added wow factor. Enjoy!