Archive: September, 2012
Jonathan Takiff, Inquirer Columnist
Is it mere coincidence that many a momentous musical album has been delivered into the marketplace today, 9/11?
Bob Dylan's grave and gravely voiced "Tempest" (Columbia) is most notable. While setting a jaunty tone with the train chugging opener "Duquesne Whistle" (a co-write with Robert Hunter), Dylan's 35th (!) long player shares many a bleak vision and tart expression from the still unbowed and love-seeking 71-year-old . The jump blues "Narrow Way" declares "This is a hard country to stay alive in. Blades are everywhere and they're breaking my skin." Ouch. Written in old world ballad-style, "Tin Angel" is a dark tale of romantic betrayal and vengeance that ends with blood splattered everywhere. Heroes and villains are sadly at play, too, in "Roll on, John," an ode to John Lennon that quotes from "A Day in the Life" and "Come Together," while the album's epic title track recounts the tragedy of the "Titanic" - with imagery borrowing from James Cameron's film.
Also out today: While oft considered dance pop lightweights, Pet Shop Boys impress with the hopeful tone of "Elysium" (Astralwerks) – especially the uplifting odes "Hold On" and "Memory of the Future" and ruminations on the creative drive – "Your Early Stuff" and a comically derisive "Ego Music." Danish mod rockers The Ravonettes likewise dig deeper than expected on "Observator" (Vice) with put-downs of today's "Young and Cold" and lonesome refrains like "Curse the Night" and "You Hit Me (I'm Down.)" Been there, doing that.
Jonathan Takiff, Inquirer Columnist
Don't be surprised if Simon Cowell starts wearing headphones on the new season of "X Factor" premiering Wednesday at 8 p.m. on Fox. Today, Sony Electronics unveiled a very posh and pricey ($299) personal music maker dubbed "X Headphones" created "in collaboration" with Cowell and his Syco Entertainment company - a partnership between the producer/TV judge/record exec and Sony Music Entertainment.
Following in the wake of celebrity headphone endorsers Dr. Dre, 50 Cent, Ludacris, Lady Gaga, Quincy Jones and the estates of Bob Marley and Miles Davis, Cowell says he's jumped into the game with Sony "because I simply wanted something better than what is in the market today. I've tried them all, literally every single one. Sony and I set out to create the best headphone in the world. We are absolutely blown away by these. With the X Headphones, it's like being in the recording studio when the records are made. The sound is that clear."
Popping out visually with distinctive aluminum headbands, swivel mechanisms and end caps, the large though folding X Headphones also promise a full soundstage with lots of bass, thanks to huge 50 mm drivers and pressure-relieving memory foam ear pads that conform to each user's ears to seal in the sound.
Jonathan Takiff, Inquirer Columnist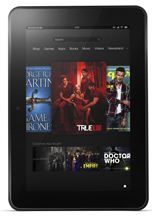 More for less. That's the takeaway from today's Amazon press conference introducing an enlarged line of Kindle tablet computers and e-Readers.
Topping the lot is the Kindle Flre HD with 4G LTE, packing an 8.9 inch HD screen (1920x1200 resolution), 32 GB of storage memory and front-facing camera with custom Skype application priced at $499. That's versus $729 for a comparably equipped "new iPad." Sweetening the deal more, Fire HD tablet buyers can pull down 250 MB per month of data and access 20 GB of Amazon Cloud storage for an annual fee of just $49.99. A similar data plan for the iPad costs $230 annually, noted Amazon's Jeff Bezos.
Amazon also unveiled a $299 Wi-Fi version of the same HD tab, a $199 7-inch version and a second generation Kindle Fire with a speedier processor, double the RAM of its' predecessor and a lower (by $40) price of $159.
Jonathan Takiff, Inquirer Columnist
What were your favorite moments of the Budweiser Made in Philadelphia festival? For me – cool stuff happening both on stage and off.
Most revelatory on the official show schedule were performances by Latin popster Prince Royce (ready for a major crossover) and rockin' bluesman Gary Clark, Jr. – a stylistic blend of Stevie Ray Vaughan and Jimi Hendrix. Clark was treated to showcases on both Saturday and Sunday.. At the second, he was provoking Bruce-like crowd shoutouts of "Gary, Gary, Gary."
Lucky me also got to tag along on a pre-festival Philadelphia Studio Tour staged for visiting media (Vibe, Gawker, HipHopUpdate, etc.) by folks at the Greater Philadelphia Tourism Marketing Corporation. In retrospect, I'm thinking, it'd be really cool to offer similar visits to non-alligned tourists (and interested locals), maybe as part of a larger "Inside Philadelphia" cultural tour package.
Jonathan Takiff, Inquirer Columnist
Is Bruce Willis really suing Apple over iTunes music ownership rights?
The oft loose-with-the-truth Daily Mail newspaper in London first reported the story over the weekend, claiming the actor, sometime blue-eyed soul singer and longtime iTunes user "is said to be considering legal action against technology giant Apple over his desire to leave his digital music collection to his daughters" Rumer, 24, Scout, 20 and 18-year-old Tallulah. (Willis also has a newborn). The piece suggested that Willis was investigating the establishment of a "family trust" to maintain rights to the downloaded music, sure to include lots more than Willis' own pair of Jersey-soul albums.
Today, though, Willis' wife Emma Hemming-Willis tweeted that it's "not a true story."