Archive: August, 2012
Jonathan Takiff

, Inquirer Columnist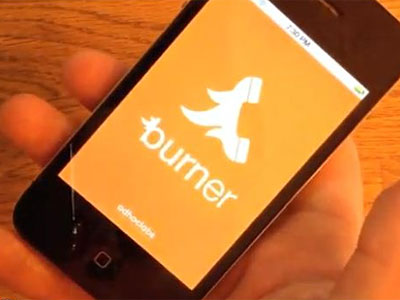 Is Burner a great new iPhone security tool for "dating, buying and selling online and posting via social media," as parent company Ad Hoc Labs is now touting? Or will it find most use among the criminally minded - to pull scams and carry on illicit trade without leaving a trail?
Burner loans you an extra, temporary phone number with a local area code that you can then use and share with casual contacts. Like that one night stand you fell on at the bar, an overzealous job applicant or someone you're selling merch to on Craigslist. Available here, the app costs $1.99 and is good for 20 minutes of voice time, 60 text messages or seven days, whichever passes first. If you have a pang of conscience, still want to keep in touch with those new contacts, you can thereafter buy more credits to keep the number active.
But come on guys - the Burner app name-checks the slang term for prepaid, disposable cellphones toted (and then dumped) by drug dealers in "The Wire." So what are we really pushing here?
Jonathan Takiff

, Inquirer Columnist
Advertisers pay huge amounts of money to sponsor the Olympics - 11 currently are on board for about $100 million each for four years of global sponsorship of the sporting event. So you can just imagine their ire over the private deals that Olympics athletes have seemingly made to plug two brands of premium ($100+) headphones.
The International Olympic Committee (IOC) eventually came down on Michael Phelps, after he kept showing up at different meets wearing Sol Republic headphones with a different colored band each time. This instant "change-up" band feature is a major marketing differentiator for these phones.
But when he appeared for his final swim at the Aquatic Centre, Phelps was wearing a hoodie covering the headset and the Sol Republic logo was hidden by white tape, according to the website Home Brew Audio that's tracked Phelps' tech accessorizing. The Olympiad had also slapped a Deadmau5 sticker on the headband - another sneaky bit of business. A visit to the DJ Deadmau5 website finds a Sol Republic ad introducing a new orange and yellow toned model - "the world's first headphones for cats."
Jonathan Takiff

, Inquirer Columnist
Been watching the Olympics live on line at NBCOlympics.com or in 3D? How's that been going for you?
NBC says its' live coverage Olympics site is doing gangbuster businesss, in the first week delivering 75 million video streams. But this past weekend, the system was swamped and overwhelmed, says my fellow DN columnist Howard Gensler, who posted this missive on his Facebook page:
"While NBC is showing what seems like an entire water polo match, I am trying SO hard to watch the swimming and long jump final LIVE on NBCOlympics.com. It's impossible. Ten men have jumped and I haven't seen one of them because the picture is constantly buffering. I've been looking at a still shot of Russian's Aleksandr Menkov waiting to jump for more than 45 seconds. By the time the picture comes back I've missed Menkov and an American and now some British guy is jumping. If only my Internet provider had a financial interest in the success of NBC's coverage and the NBCOlympics.com web site. If only my Internet provider was Comcast. Oh, wait, it is. And if only I'd upgraded to their top of the line digital service. Oh wait, I have. A completely frustrating, unwatchable product."