Archive: June, 2012
Jonathan Takiff, Daily News Columnist
There's good news and bad news from Verizon today, regarding its' FiOS internet service. That blazing new 300 Mbps download service the Big V announced a couple weeks ago will cost significantly less than we expected. At the other end of the service spectrum, the majority of FiOS customers who opt for the "good enough" 15 Mbps down/5 Mbps upload service will see their monthly bill rise $10 to $15 at the end of the current contract.
Newly branded as "FiOS Quantum," the 300 Mbps down/65 Mbps up service has just been priced at $204.99 a month with a two year contract ($209.99 without.) That's a mere $5 more than Verizon used to demand for its (then) top 150/65 Mbps service. The latter has now been re-priced to a relatively bargain (compared to Comcast) $94.99 with a two-year commitment, $99.99 without.
Ah, but the Verizon FiOS 15/5 service that was $54.99 will now cost $64.99 with a two-year agreement, $69.99 without. I can see the fine hand of marketing geniuses behind this move. When Joe Consumer starts to compare prices, the next bump up to FiOS' far faster (and better for multiple users) 50/25 Mbps service willl now seems like a better deal - costing a mere $10 more at $74.99 with agreement, $79.99 without.
Jonathan Takiff, Daily News Columnist
The last thing Vizio executives wanted to talk about last night was the pricing of their brand new, all-in-one desktop computers and laptops. But who could blame them?
Vizio now claims a 30 percent market share in LCD flat panel TVs, bragged founder/CEO William Wang and has "40 million product users." But everyone (especially competitors) knows that the company cuts its TV profit margins to the bone to pull off the feat. Now with its belated entry into the crowded and already cut-throat PC business, the company is clearly hoping to go "up-market," pushing power, features and styling first,
So then when you finally do hear the prices - starting at $899 for a 24-inch all-in-one desktop, a 14-inch "thin and light" portable (with 128 GB SSD) or a 15.6 notebook - you won't wince.
Jonathan Takiff, Daily News Columnist
Yesterday's vague announcement of a business partnership between the Philadelphia Eagles and the developers of the super popular "Angry Birds" left us pondering that a customized version of the casual game with a new (hinted about) Eagles character was coming. Now we're thinking something special for the Eagles tailgater set may also be in the works.
In China, the mayor of Haining yesterday announced that the nation's first "Angry Birds Activity Park" would be opening there. And Rovio "Mighty Eagle" Peter Vesterbacka told the People's Daily that his company had visions of building "hundreds, maybe even thousands" of similar, small scale activity parks around the world. Sites in the UK are already targeted and parks would be coming to the U.S "in due course."
A prototype is already up and running in Finland, Rovio home turf, and sounds like it could be assembled/disassembled in "pop up" fashion like a traveling carnival. The playground thrills and spills include themed climbing towers with slides, animal spring riders, rope swings and sandpits.
Jonathan Takiff, Daily News Columnist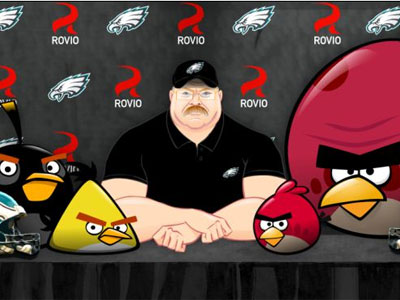 In a marriage made in sports aviary heaven, the Philadelphia Eagles today announced a marketing partnership with Rovio Entertainment, creators of the world's most popular casual video game "Angry Birds."
Here's the video of a cartoony Andy Reid, announcing the signing of five squawking free agents - four of whom look just like feathery feuders from the game. The fifth - named the "Mighty Philadelphia Eagle" - oddly couldn't make this morning's virtual press event, but will be on hand for the start of the 2012 season - and maybe a customized/purchasable Eagles version of the game app?
We were hoping for announcement of an Angry Birds Fan game character, too. Maybe he'll pop up later, if the season doesn't go so well.
Jonathan Takiff, Daily News Columnist
Still watching local TV channels through a budget cable connection on an old fashioned analog TV? You won't be for long.
Last night, the FCC voted unanimously to cut off the "viewability" rule which required cable companies to send unscrambled and down-converted analog versions of local TV channels to customers, reports www.tvnewscheck.com. That requirement allowed viewers to take a bargain local-only "lifeline" cable service without paying rent on a set-top box and while continuing to use a pre-digital TV. But cable companies were forced to inefficiently allocate a significant amount of signal capacity to serve this ever shrinking market.
Eliminating the viewability rule on December 12th will lead to "deployment of faster broadband and the expansion of new and exciting digital services," declared Michael Powell, the former FCC chairman and current president of the National Cable & Telecommunications Association.
Jonathan Takiff, Daily News Columnist
The fresh fruit was falling hot and heavy at Apple's World Wide Developer Conference presentation in San Francisco today.
Laptop Finesse: Transferring the jargon of a high def "Retina Display" from its iPads and iPhones, Apple introduced a super thin (no hard drive) "Retina" grade MacBook Pro boasting the "World's highest resolution notebook display." The laptop's 15.4 inch screen display boasts 220 pixels-per-inch and can be yours for a mere $2,199 (and up.) Image conscious programs like Photoshop, Final Cut Pro and Aperture are being duly upgraded for Retina, likewise games such as "Diablo 3." Adding more clarity – MacBook Pro's new GeForce GT 650M graphics processor runs 60 percent faster than predecessors.
Also introduced were refreshed MacBook Air laptops, shipping today, running faster with 2GHZ Core i7 processors and then Turbo Boosted to 3.2 GHz.
Jonathan Takiff, Daily News Columnist
Last night the charming Irish folk-flavored "Once" scored multiple Tony Awards - including Best Musical. And today you can grab a free sneak peak of show composer Glen Hansard's latest album project.
The auspicious timing comes courtesy of NPR Music, delivering Hansard's solo debut "Rhythm and Repose" as one of this week's "First Listen" streams. You can find it at an NPR Music app, at NPR.ORG/music or most directly right here.
Based on the semi-autobiographical film also called "Once" in which Hansard played a struggling Dublin busker befriended and inspired by a tough nosed Czech pianist (played by Marketa Irglova), the film won the duo an Academy Award for best song (the melencholy "Fallling Slowly") and also sparked a touring/recording version of the couple as The Swell Season. And while he now seems to have given up on his prior, rocking group The Frames, Hansard recently scored a couple high profile, more vigorously uptempo contributions to "The Hunger Games" soundtrack.
Jonathan Takiff, Daily News Columnist
The battle of "over the top" boxes heated up this week, with new enhancements for Western Digital and Roku media players bringing far away content to your TV.
You Can Take It With You: The ability to watch every channel (and recorded show) that's on your cable or satellite box on an unconnected TV (near or far away) is the most significant improvement to Western Digital's TV Live and TV Live Hub media players ($99.99-$199.99.)
To pull off the feat, you must also buy and connect a Slingbox Solo or HD Pro Player ($120 and up) to the cable/satellite receiver and your home internet network. Signals are then sent through the interweb to the WD box, likewise linked (in wireless or wired fashion) to an internet provider. You do lose a bit of image resolution in the process, though the shows are still quite watchable with DSL or better "high speed" broadband connections.