Archive: May, 2012
Jonathan Takiff, Daily News Columnist
If you can believe China Daily (and hey, who doesn't?), the much rumored Apple television called iTV is gonna happen. Soon. Maybe not this year. Most likely next.
Oh, and there's also another report floating around, not quite as credible, that a smaller iPad is on the way this fall, to ward off growing competition.
Watch This Set: China Daily got the word about the iTV directly from Terry Gou, chairman of Foxconn, the Apple product builder that's gotten lots of unfavorable publicity for workers conditions. While still in the development stage, he said the set would feature an iMac-like aluminum body, Siri voice control (good luck with that), a camera for FaceTime chatting with other Apple product users and a high resolution panel from Sharp.
Jonathan Takiff, Daily News Columnist
We can already hear the mashing of teeth at TV networks, local stations and advertising agencies. Today, DISH satellite TV activated a new feature for its latest Hopper whole home HD DVR system which allows users to automatically skip all commercials on recorded prime-time network programs.
The new Auto Hop capability is an extension of the Hopper's "Prime Time Anytime" innovation. When activated (just once) by the DISH customer, PTA will thereafter record all the primetime TV shows on ABC, CBS, Fox and NBC in high definition. Hopper then stores these shows for eight days on its massive (2 TB) hard drive, creating an easily accessed (with on-screen menu) library of 100 hours of primetime. (And you can also record two other shows, simultaneously, on other system channels)
By contrast, Auto Hop requires affirmative action from the user at the beginning of each recorded show. A message comes on screen after you've made a selection: "You can automatically hop over this event's commercial breaks. Would you like to enable Auto Hop for this event?" Just click "yes." But if you'd rather keep up with the latest movie previews, car commercials and pouting ladies of Victoria's Secret, just say "no."
Jonathan Takiff, Daily News Columnist
Twenty American Bandstand regulars will be in the house for ABC's "Dancing with the Stars" tribute tomorrow night to Dick Clark and the TV show that got all of the U.S.A. up on its collective feet.
Hometown girl Bunny Gibson and Steve Colandero will be there representing the Philly regulars, she clued us minutes ago.
"I went to the DWTS rehearsal and saw the huge dance number featuring Karina Smirnoff and Tony Dovolani and choreographed by Jamal Sims and Wendy Johnson," said Gibson, who's sitting this one out. "The dancing was amazing and when I spoke to the dancers, Tony Dovolani gave me a big hug. They all will be shining on Tuesday as they dance in honor of Dick Clark and our American Bandstand history that started in Philadelphia."
Jonathan Takiff, Daily News Columnist
Did you give a try to the Inquirer AR (artificial reality) app introduced in Sunday's special Barnes Museum section? It's getting an undeservedly bad rap!
The first user comments found posted in the iPhone/iPad App Store suggest this high tech tool for enhancing your print reading experience doesn't work. But the only thing that didn't work for me was the ability to add my own positive comments in the App Store. What's up with that, developers?
The naysayers clearly didn't read the instructions (spelled out in the Inky yesterday but not in the app) about how the Aurasma AR technology works in practice. This ain't rocket science. Once you've installed the free Inquirer AR app on your camera-equipped iPhone or iPad, you look for a photo or advertisement in the paper that has a little gothic "I" symbol in the corner. You then point your Apple device's camera lens at the same image. A few seconds later a companion video starts playing on the Apple screen and speakers.
Jonathan Takiff, Daily News Columnist
Time is running out, bargain hunters, to buy (or trade down to) standalone High Speed DSL internet access service from Verizon.
Come Sunday, the only way you'll be able to acquire Verizon's econo-class broadband is in a bundle with phone service from the operation, kicking up that $25-$40 internet monthly tab (depending on speed) by at least another $10 a month (for just metropolitan local service) and more like $20 for wider calling coverage.
Oh, and if you're now a Verizon DSL customer who has been thinking about quitting their phone plan, that option goes away on Sunday too. So does your right to move and continue to get DSL-only service.
Jonathan Takiff, Daily News Columnist
Comedy skits and movie bits often make object lessons of blabbermouths who spill their guts. Yet many Facebook users still need a clue that they're endangering themselves and others, by sharing too much information on the social network, says Consumer Reports.
Cover story of the June issue - on sale next week and online at www.ConsumerReports.org - CR's investigation of Facebook and its users found that 13 million (of 150 million) U.S. Facebook members don't think to use the site's privacy controls. And about 28 percent share all or most of their wall posts with more than friends, opening the door to all kinds of trouble - from gossip mongerers to stalkers to house-robbers who know you're out and about.
What other inadvertantly broadcast information can come back and kick you in the butt? Among CR's findings - 39.3 million users identify a family member in their profile and 20.4 million include their birthdate and year - great info for scam artists as well as birthday greetings.
Jonathan Takiff, Daily News Columnist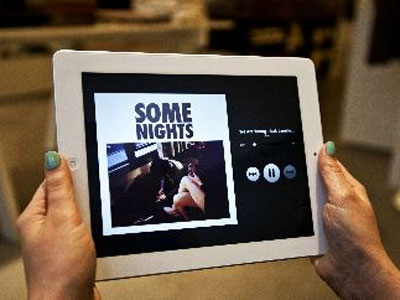 Subscription music services have been on-line for more than a decade - old timer Rhapsody launched in 2001. But nobody's jump started the concept of an "all you can eat" internet music buffet quite like Swedish-import Spotify, which joined the US fray last year and upped the game again today with the launch of its custom iPad app.
Designed to convert users of the free, ad-supported version of Spotify playable only on computers, the iPad app requires a $10 premium subscription, but is truly a thing of beauty and discovery. (Spotify claims ten million active users worldwide, three millon of whom are paying.)
Start with razor sharp graphics of album covers and a smooth, fast touch screen operation to calm even the most impatient of trigger fingers. No old school juke box has ever jumped "on a dime" like this app does from song to song, album to album, with butter smooth crossfades.
Jonathan Takiff, Daily News Columnist
Am I the only tech follower in America who sees a problem with the Pebble Smart watch and Jawbone's new Jambox? Who envisions disasterous results from the rumored move of Hulu behind a paywall? And don't get me started about PirateEye.
A Weighty Pebble: The news media have been frothing over the massive success of the Pebble Watch on the fundraising site Kickstarter. An e-ink touch screen watch that can read and relate to content (from e-mail to exercise programs) on an iPhone or Android smart phone, Pebble developers were looking for $100,000 in backing to get the project off the ground. Then they raised that amount in just two hours and have now accumulated more than $7,600,000 in funding from 51,300 Kickstarter contributers (average $148 per person).
Each backer will get a watch in return. But the thing is - will they actually want to use the device, after they handle it in person? I've got a Phosphor-brand timekeeper that uses a similar sized (though not touch sensitive) e-ink screen and can vouch that this thing is HUGE - more like a bracelet than a watch. It barely fits under my shirt cuff and is twice the weight of a conventional time piece. Its' cute name notwithstanding, Pebble may prove more like a boulder to some.