Archive: March, 2012
Jonathan Takiff

, Inquirer Columnist
While first brought to the states by Philadelphian Malcolm Bricklin in 1968 and Cherry Hill, N.J.-based these past 25 years, Subaru of America has never been on a roll like it is right now.
Have you caught the new, car-themed April issue of Consumer Reports? It rates Subaru as the number one brand overall, in a report card reflecting on vehicle performance, comfort, utility and reliability. Oh, and the newly redesigned, all-wheel-drive Subaru Impreza and Subaru Forester ranked first in their respective categories - Small Sedans and Small SUVs.
More positive buzz will surely be forthcoming at the New York International Auto Show next month, where Subaru will introduce a high tech electronic safety system for its rides, the likes of which has been only available to date in luxury cars from Mercedes Benz, Jaguar and Volvo.
Jonathan Takiff

, Inquirer Columnist

Video game pros like to remind us that their "interactive entertainment" business grosses more billions worldwide than the film industry, yet earns just a small fraction of the latter's respect. Maybe that will change some with a new exhibit and companion "coffee table" style book premiering tomorrow.

Both titled "The Art of Video Games: From Pac-Man to Mass Effect," the exhibit is being staged by the prestigeous Smithsonian American Art Museum in Washington, D.C., and runs through Sept. 30. In her forward to the companion book, museum director Elizabeth Broun hails video games as "a unique and powerful form of expression, in the same way that photography, film and many other types of art did before them." But as it marks its 40th anniversary, the interactive gaming medium is still in its relative infancy compared with those art forms, she adds, thus has potential for much more, exciting growth.

Designed for us short attention span readers, the well-paced, large format, $40 hardback from Welcome Books features big image screen grabs and short blocks of history and insight on 80 noteworthy games, arranged historically and by console format eras. The tech and graphics evolution takes us from early landmarks of pixelized programming like "Space-Invaders, "Pitfall!" and "Pac-Man" which are kinda hard to argue as great art, to recent beauts like "Shadow of the Colossus," "Uncharted 2: Among Thieves" "Bio-Shock" and the Philly inner-city image grabbing "Heavy Rain" which offer rich, innovative visuals, plus deeply immersive story lines that require gamers to make a moral commitment to save the planet and its good folks.
Jonathan Takiff

, Inquirer Columnist

Got a big stack of videodisc-based movies and TV shows you wish you could watch, instantaneously, on your laptop, mobile phone or TV without actually having the disc stuffed into the device?
Walmart and Hollywood movie studios are about to make that vision real.

The concept is called "Disc-to-Digital" and was announced yesterday by the retail giant and five major Hollywood studios - Fox, Paramount, Sony, Universal and Warner Bros.

Here's how it'll work, starting April 16. You take the discs into a Walmart and look for the special D-to-D kiosk. First the staffer will sign you up for an account with Vudu, the Walmart-owned movie streaming site currently available on "50 million TV sets and Blu-ray players, video game consoles, tablets and mobile phones," said company exec John Aden. Then hand over $2 a piece for each DVD or Blu-ray you'd like to access from that Vudu site in equal streaming quality. Want to upgrade a standard definition DVD to enjoy high def playback through Vudu? That'll cost $5 a pop. (You get the disc back, btw.)
Jonathan Takiff

, Inquirer Columnist

Wish you could be at the big South By Southwest (SXSW) music (and film, and tech) conference happening in Austin, Texas this week? In several ways, you can.

A bunch of shows will be live streamed on "The Warner Sound," Warmer Music Group's original YouTube channel, launching today at www.youtube.com/thewarnersound.

Philly-spawned singer/rapper Santigold is the big draw on tonight's concert bill, which kicks off at 8:30 p.m. East Coast time. But first, you may have to sit through the likes of Theophilus London, Churchie, Flux Pavilion, Doctor P, Outasight and Neon Hitch. Tomorrow night, same time, same, um, stream, you can click in and watch rockin' blues phenom Gary Clark, Jr., our favorite neo-string band Punch Brothers and the legendary Dr. John, plus the much buzzed about Dale Earnhardt Jr.Jr., Kimbra, Ed Sheerhan and LP. Thursday, the Warner party starts at 9:30 p.m. and boasts hip hop stars T.I., B.o.B. and Wale, with support from Meek Mill, Talley Currensy, Kirko Bangz, XV, Snow Tha Product and DJ Drama.
Jonathan Takiff

, Inquirer Columnist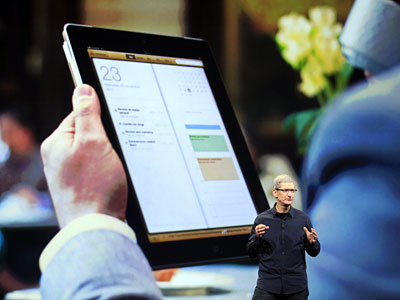 Readers have been hounding me with this question: "Which new iPad with wireless 4G connectivity is the better buying choice - the one working on Verizon's or AT&T's network?"
Let's consider.
Signal Reach: Verizon has been building out its 4G LTE network for more than a year, so now has a much bigger national "footprint" covering more than 200 million potential customers. AT&T is newer to the world of 4G LTE, now claiming access to 74 million potential users. Travel a lot? Advantage: Verizon.
Jonathan Takiff

, Inquirer Columnist

Here's the nitty gritty on "the new iPad" (that's its' name, not "iPad 3" or "iPad HD") announced by Apple in San Francisco today and going on sale worldwide Friday, March 16th.

What It Costs: To keep the "post-PC revolution" going, prices will still start at $499 for a 16 GB Wi-Fi only version, bumping up to $599 for 32GB and $699 for a 64GB tablet in your choice of black or white case. Also, the older 16 GB iPad 2 will stay in the line, at a more "school-friendly" price of $399, said Apple CEO Tim Cook.

Screen Improvements: The new iPad screen maintains the familiar 9.7 inch size of predecessors but now boasts QXVA 2048 x1536 resolution. That works out to 264 pixels-per-inch, versus 132 in older iPad panels. Expect much finer, smoother display of text and visuals, easier on the eyes, and (with better processing) a slicker look from video games, a point Apple pushed hard with a demo of "Infinity Blade Dungeons" customized for the new pad.
Jonathan Takiff

, Inquirer Columnist

"We've heard the rumors, too," said Dan Schinasi, senior manager for HDTV product planning at Samsung, when I asked what he knew about Apple's plans to introduce a multimedia-meshing Apple TV with unique control features.

"I think we're making the point today that we're already there," said the Samsung man. "We're ahead of the curve."

Meet The Future: He was referencing the just launching 5th generation of Samsung Smart TVs, most especially the top-of-the-line ES and PNE 8000 series of LED/LCD and plasma televisions which offer every kind of "smart" user interface known to man (living or dead) on top of the expected excellent picture quality (in 2D & 3D) and sleek cosmetics.
Jonathan Takiff

, Inquirer Columnist

Read a report that more than 70 percent of iPad owners plan on buying the new high resolution model to be announced tomorrow. If you're one of 'em, maybe today's the day to sell your current model - to beat the rush and potential crush of prices?

You'll find lots of takers on line (Gazelle.com stands out for generosity) and also at retail. Radio Shack jumped head first into the used electronics buying business laat year. And for this iPad re-cycle, more than 4,000 GameStop locations are accepting trade-ins for cash or store credit (which can actually be higher.)

What can you get for yours? Checking out the GameStop.com/iTrades site yesterday, I spotted the original iPad 16GB WiFi model with a trade-in price "up to" $160. A similarly scratch-free, "like-new" 32GB version could fetch up to $190, the 64GB version $220. Models with 3G are worth about $25 more.