Jonathan Takiff, Daily News Columnist
Be forewarned. If you've set up your DVR to record tonight's 12.12.12 benefit concert for Hurricane Sandy Relief, you might inadvertently miss the kick-off set by Bruce Springsteen and the E Street Band.
As of this morning, all channels listed as carrying the event on my DirecTV service had a program guide start time of 8 p.m. But an official missive delivered from the Madison Square Garden Company said the show at their New York city arena actually starts at 7:30 p.m - "everyone must be in their seat by 7:15 p.m." And a spokesperson told me that participating broadcast and cable channels will at the least "be recording starting then."
Could channels be doing a tape-delay number? Maybe to cut out discomforting comments from the likes of Kanye West (who did a major dump job on President George W. Bush during a Katrina benefit show) or other participants - Bon Jovi, Billy Joel, Eddie Vedder, Alicia Keys, Roger Waters, The Who, Eric Clapton, the Rolling Stones and Paul McCartney? All of whom are hurting for the Hurricane Sandy victims in New York, the Garden State and elsewhere.
Jonathan Takiff, Daily News Columnist
Nothing lasts forever in the world of consumer electronics. Take, please, rear projection TVs , now going down for the count as final product maker Mitsubishi exits the category. .
Mitsubishi was long the premiere "big screen TV company" in the era (1970s, '80s and '90) when rear-projection sets were the only way to bring home a self-contained, larger than 35-inch TV. The brand was a special favorite of independent audio/video dealers like Hi-Fi House, locally, which had the room and staff to properly showcase the TVs in a "living room" or "home theater" setting, then deliver/install the big bruisers in your house.
But in this age of increasingly large screened and relatively light weight flat panel televisions, Mits' bulked-up, 150 pound RPTVs have lost relevance. The product category's death seemed inevitable after last year's holiday season, when Sharp pushed 60-inch flat panel displays out the door for $999, robbing Mits of its last big bargaining chip, a lower price.
Jonathan Takiff, Daily News Columnist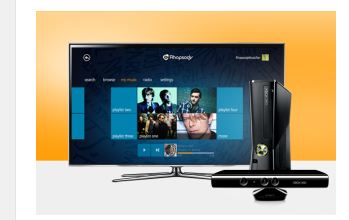 How useful are video game consoles for streaming music and video, too? Both Rhapsody and Netflix are newly touting the tech-connection.
Waxing Rhapsodic: The subscription music service Rhapsody has just introduced an Xbox 360 app with a user interface customized for the platform. Tile-styled graphics mimic the now abiding Microsoft home screen look. And cooler still - if your set up includes the Xbox Kinect peripheral, you can use voice commands and gestures to ease the process of finding favorite music on Rhapsody, with shout outs (literally) for commercial-free radio channels, new releases, popular albums and personal playlists.
While other streaming music services (Spotify, Pandora and current/future iTunes) get more media attention, the Rhapsody service is Gizmo Guy's primary go-to source. That's because it's a great deal (starting at just $5 a month), has the biggest song and album catalogue and is the most ubiquitous. Rhapsody is available and well integrated on most mobile phones and tablets (iPhone/iPad, Android, RIM Blackberry and Windows, Verizon Wireless and Metro PCS), plus computers and devices from Sonos, Philips, Vizio, SanDisk and HP.
Jonathan Takiff, Daily News Columnist
A third-generation Xbox game console (maybe named 720?) is coming by next Thanksgiving, "informed sources" have shared.
Reports from Xbox World suggest the new device will feature a mess of upgrades, including Kinect 2.0, a Blu-ray drive, a more sophisticated controller and an a/v port for tuning and maybe recording TV shows through the Xbox Live Interface.
The timing of this "leak," shared first by Bloomberg News, is more than accidental, we think. Microsoft sold a good crop of bundled-up Xbox 360 game consoles – about 750,000 – over this Thanksgiving/Black Friday wheeling-dealing weekend. But shoppers who hesitated are probably weighing the other options out there – including the new Nintendo Wii U and bigger screen 3DS systems and Sony's PlayStation 3 – the latter also likely to get upgraded next year. Spreading a little doubt in buyers minds, giving them reason to hesitate, is in the classic tradition of "vaporware" that Microsoft and other computer companies used to tout in the one-upsmanship age of the massive COMDEX shows.
Jonathan Takiff, Daily News Columnist
Standing on the bleeding edge of the Ultra High Definiition TV age, Sony hopes to avoid the "chicken and egg" dilemma that early HDTV adopters suffered. The set maker (and movie studio owner) is delivering content as well as a super new genration display to its well-heeled customers.
Ultra HD will be a big story (maybe the biggest) at this January's CES , with other major TV makers like Samsung, Panasonic, LG and Toshiba also showing large screen sets capable of displaying at least 8 million active pixels. That is, with four times the resolution of today's best HD sets.
Major films are now being shot digitally with compatible U-HD (formerly called "4K") cameras. But pushing even compressed U-HD content through a cable or satellite "pipe" takes way more bandwidth than the carriers are willing to give up. And even "bleeding edge" content sources like ESPN (early in on 3D) won't push the issue. The sports TV giant has already allowed it's years (maybe 5 or more) away from serving up shows in Ultra HD.
Jonathan Takiff, Daily News Columnist
While the spirit of Thanksgiving lingers on, more than 1000 worthy charitable and non-profit cultural organizations are hoping you'll "text-to-give" today as part of a new campaign launching as #GivingTuesday.
The Kimmel Center for the Performing Arts has jumped on board, for one, with the hope of raising big bucks $5 at a time. That's the automatic, low-stress donation you will make by texting the word KIMMEL to 202222.
"We recognize that people lead busy lives, but still want to support the arts," shared Anne Ewers, president and CEO of the Kimmel Center, in announcing the facility's participation. "Mobile giving is an easy, effective way to provide mass audiences a vehicle to support the Kimmel Center and the diverse programming represented on our stages."
Jonathan Takiff, Daily News Columnist
Two breaking stories today will both peak the curiosity of and depress video gamers!
Nintendo is launching a new, smaller and cheaper version of the Wii game system – though it has a more limited skill set and won't be sold in the U.S. just yet.
Jonathan Takiff, Daily News Columnist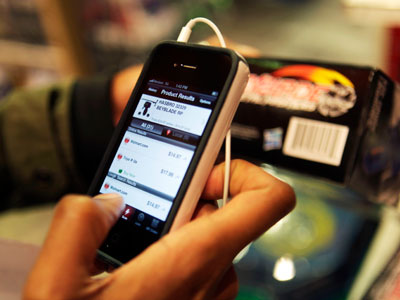 Shopping on line today? Join the crowd. And take these tips.
According to Shop.org, a branch of the National Retail Federation, about 122 million Americans are making internet site purchases this Cyber Monday. That's not much less than the 147 million estimated shoppers who visited conventional ("bricks and mortar") stores over the Thanksgiving weekend.
For sure, there are some good deals out there - from SanDisk 32 GB memory cards for digital cameras and game systems as cheap as $17 to a "recommended buy" (by Consumer Reports) Samsung PN51E7000 51-inch 3D plasma TV for $997. The latter deal is still to be found today (through midnight) at numerous sites – from Amazon to the fighting for survival Sears - which consistently offered excellent prices for TVs last holiday shopping season.