An old school image of a "sleuth" in a trench coat brandishing a magnifying glass decorated the official t-shirt on sale at this weekend's Investigative Reporters and Editors Conference at the Marriott.
But the pursuit of truth and justice is a high tech, mixed media thing, shared convention goers like KNBC-TV newshound Joel Grover and ABC News' Cindy Galli holding forth on a "How the Best Work Gets Done" panel. Also by former CIA and FBI agents Don Borelli and Barry McManus leading an "Interviewing Liars" discussion and The Center for Investigative Reporting executive director Robert Rosenthal– yes, the former Philadelphia Inquirer editor. His team was presenting on their new podcast/radio show Reveal with a how-to workshop for young, would-be emulators (there were many!)
Currently in monthly startup mode (Sunday afternoons at 3 p.m. on WHYY-FM ) but upping to weekly production in January, Reveal has been part of Rosenthal's agenda for CIR "to tell stories on every platform" since he arrived in 2008. Then staffed by 7, now close to 70 in number, the print-rooted team has long done the "occasional" collaboration with American Public Media's "Marketplace," PBS's "News Hour" and Bay Area powerhouse KQED-TV. But now the news diggers are being pressed to always think "cross-platform," to capture audio and video wherever.
Sometimes you look at a courting couple and wonder "what could they possibly see in each other?" Or ponder "how will they make this last?"
Then there's Dish Networks and T-Mobile, respectively the second largest satellite TV company and the fourth biggest (but fastest growing, almost neck-and-neck with Sprint) mobile phone provider in the U.S. In this case, all the rumblings about a potential marriage, now heating to a near-boil, make perfect sense.
Both Dish and T-Mobile are "we try harder" underdogs who've built their reputation as low cost providers, always ready to take great risks to gain market share and to hell with the consequences.
Another stalwart of pay TV has bent to the will of "cable cutters" and "cable-nevers."
Showtime announced today it will be available over the internet as a stand-alone streaming service. Combining at least one live channel and on-demand content, the on-line service likewise called Showtime will launch in early July with Apple as its first distribution partner (on iPhone, iPads, iPod touch and Apple TV) and with a free 30 day trial to lure in customers. The launch is timed to the new season of Showtime's hit series "Ray Donovan" and "Masters of Sex," premiering on Sunday July 12.
All that follows the playbook set by HBO with the recent launch of HBO Now, which was timed to the new season of "Game of Thrones." The streaming HBO instantly expanded beyond Apple-land to the Sling TV "over the top" service and will soon be accessible through Android and Chromecast hardware, too. After its Apple exclusive launch period Showtime on-line will find its way to "additional platforms and providers," announced CBS Corporation chief Leslie Moonves and Showtime chairman and ceo Matthew Blank.
Can a broken record ever be fixed? Major cable TV systems again ranked among the worst in overall customer satisfaction for TV service in the latest telcom survey released today from Consumer Reports National Research Center.
But take some cheer, Philly boosters. The small Midwest/Southeast operator Mediacom Communications scored the absolute lowest in the ratings in both TV service and bundled packages, "beating" Time Warner Cable in the race to the bottom.
Comcast, TW's former suitor, was, to put it optimistically, one step up (and away) on the badness/goodness scale.
If Federal Communications Commissioner Chairman Tom Wheeler sways his colleagues, low income Americans will soon get a "Lifeline" to the internet, a monthly subsidy that "empowers individuals to pursue new opportunities and build better lives."
First established in 1985 to subsidize telephone service for the needy, the Lifeline program currently provides a discount of $9.25 per month to phone subscribers who participate in one of many assistance programs, including Medicaid, the Supplemental Nutrition Assistance Program (Food Stamps or SNAP), Supplemental Security Income (SSI), Federal Public Housing Assistance, Head Start, National School Lunch Program's Free Lunch Program and others. The costs are covered by the "Universal Service" line item found on telephone bills from wireline telephone companies, wireless telephone companies and certain (but not all!) Voice over Internet Protocol providers. Last we looked, cable companies bundling internet phone service in their double or triple plays were not contributing to the Universal Service fund.
Wheeler's proposal Wednesday to "reboot Lifeline for the Internet age" does not specifically mention that loop-hole, but does "propose to make Lifeline more efficient and impactful by establishing minimum standards of service for voice and broadband, so both beneficiaries and those who pay into the fund can know that they are getting the best value."
There's a new Uber-ride cruising Pittsburgh, a Ford sedan crammed with roof-mounted cameras and radar sensors, reported the Pittsburgh Business Times, first with an alarming "self-driving" headline.
Actually, somebody is behind the wheel, assured a company spokeswoman in a subsequent "update." For the moment, at least, the car's being used to map city streets, as Google did for Street View and Apple has recently been undertaking in San Francisco.
Still, with a sign "Uber's Advanced Technologies Center" glued to the side of the ride, and Uber chief executive Travis Kalanick making bullish remarks about automating his "ride share" service to cut costs, we may soon see a day when the pronouncement "No one came to pick me up" is considered a good thing.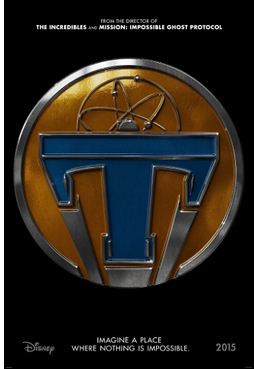 The messaging gets muddy, the "gotcha" moments of "Tomorrowland" might seem illogical, even to Mr. Spock (who's been there, done that.)
But if you're a "next big thing" tech watcher like me and maybe remember without irony a "future so bright you gotta wear shades," you owe to yourself to hop aboard this 2-hour Disney action-adventure ride.
After consulting the Magic 8 Ball, it seems "very likely" that "Tomorrowland" will be the big hit flick this holiday weekend. And true to its time-warping nature, the film is being sneak-peaked at a few local theaters tonight (Thursday) - 7:40 p.m. at the Narberth Stadium 2, then at midnight (ok, 12:01 am.) at Rave Cinemas University City 6 and AMC Deptford 8.
There's more to life than music, Spotify has decided. So the world's leading (but not yet profitable) streaming service is taking "a massive leap forward" hailed CEO Daniel Ek this morning, adding podcasts and videos, plus original audio/video content and customizable playlists suited to the time of day and your activities.
A special focus, Spotify Running, will calculate the tempo of your run and listening history to serve up music "with seamless transitions between songs to ensure you never miss a beat."
First phase of the Spotify evolution into a "24 hour entertainment destination" is rolling out today, first to iPhone users.