Jonathan Takiff

, Inquirer Columnist
By right, the announcers at 88.5 FM ought to be introducing their adult alternative music station as the "WXPN radio network." Now more than ever.
Today, WXPN announced it is purchasing yet another public station in Central Jersey – WNTI in Hackettstown, New Jersey – a 5,000 watt outlet at 91.9 FM currently owned by Centenary College.
WNTI was already carrying the XPN-generated World Café show, twice daily, but was otherwise student-run. When blended in (starting Thursday) with the core signal plus XPN-owned WXPH in Middletown, PA (plus repeater) and the most of the day/night signal-spreading affiliate WKHS in Worton, Maryland, the reach and influence of the Philly-based non-commercial music format and specialty shows will now map "up to the New York border to the north, down south to Annapolis, Maryland, out west to Harrisburg and east to just in from the Jersey shore," said station general manager Roger LaMay.
Jonathan Takiff

, Inquirer Columnist
With its' back-to-back announcements of new "StartupPHL 'Call for Ideas'" Awards and a major British life science company's decision to establish U.S. headquarters at the Navy Yard, the current city administration keeps pushing the transformative tech/entrepreneurial agenda in its waning months in office.
Today (Friday), Deputy Mayor Alan Greenberger announced that the British biopharmaceutical company Adaptimmune will locate its U.S. HQ and Clinical/Manufacturing Operations at the Philadelphia Navy Yard, in the process creating more than 110 new jobs. The 47,400 square foot facility will house a state-of- the-art manufacturing facility designed to support clinical development and initial commercialization of Adaptimmune's engineered immunotherapies for cancer. The work utilizes the body's own machinery – the T-cell- to target and destroy cancer cells. GlaxoSmithKline is a strategic collaborator and licensor of the therapy. First spawned in Oxford, U.K. in 2008, Adaptimmune currently calls University City Science Center its' U.S. home.
Yesterday, several grassroot and youth startup concerns were endorsed in the latest round of "Call for Ideas" grants.
Jonathan Takiff

, Inquirer Columnist
Sometimes, it's a good thing when it rains . . . and pours. Certainly for the gang at Scholly, the Philadelphia startup that developed an app giving students a fast and easy way to find scholarships for college.
Earlier this week, Scholly founder Christopher Gray presented and won a $100,000 investment (convertible to a stock payback) from investor Steve Case in the "Rise of the Rest" pitch competition here.
Today Mayor Michael Nutter added to Scholly's growth potential, announcing that the Startup PHL Angel Fund has likewise made a $100,000 bet on the project. It's the ninth investment in two years ($1,149,997 total) made to a Philly startup by the Angel Fund, a partnership of PIDC (Philadelphia Industrial Development Corporation) and First Round Capital.
Jonathan Takiff

, Inquirer Columnist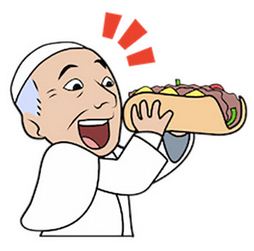 Did you know - Pope Francis has his own social media command center at 1415 Fairmount Avenue ( lent by Project Hope) ?
And his own Philly "street team" working the Benjamin Franklin Parkway and Independence Hall historic zones?
Distinguished by their blue "I got my Pope Moji" t- shirt, the latter (two dozen strong) are spreading the message "Pope is Hope." They're documenting the Pontiff's visit – and those of his followers -with Instagram, Vine and Periscope images. And urging folks they meet to also chat it up and post pictures on social media with the hashtag #GoodIsWinning."
Jonathan Takiff

, Inquirer Columnist
"Hey Siri, I was supposed to get the new iPhone 6S on Friday. Is it coming?"
"Sorry Jon. According to past supplied information stored in our cloud, you reside in a Phil-la-dell-phi-ah delivery zone that will not be visited by UPS trucks on Friday or Saturday. That is because of street closures and security measures while Pope Francis is visiting in Phil-la-dell-phi-ah. UPS has posted that pickup and deliveries will be affected in the following zipcodes: 19102, 19103, 19104, 19106, 19107, 19109, 19123, 19130, 19146 and 19147. We have found some consolation – New Yorkers won't be getting their phone deliveries either, because of 'divine intervention.' That is a joke, making the rounds. Ha... Ha."
"So Siri, I spoke to a guy at the UPS Store on 4th below South. He said if a new iPhone – or any other package – can't be delivered because of the Pope-invasion, it will likely be held at the main UPS depot – 15 E. Oregon Avenue – with pickup available there. Does that sound right?"
Jonathan Takiff

, Inquirer Columnist
The reputation has always been "You can't kill a diesel engine." But Volkswagen's newly unmasked deceit - rigging VW and Audi diesel-powered vehicles to behave differently and hide the noxious fume output during emission tests – will likely set back U.S. sales of diesel-powered cars to zilch for another ten years, as VW is far and away the leading marketer of the technology here.
For the moment, VW is pulling all 2015 and 2016 "TDI" (turbocharged direct injection) diesel models from sales lots – a dramatic and costly move as these so-called "clean diesels" accounted for 23 percent of U.S. VW sales in August. (Not so much in Audi land).
The carmaker also faces a major dilemma in fixing 482,000 diesel cars sold since 2009, undone by telling road tests conducted by West Virginia University and the California Air Resources Board (on behalf of the EPA) which showed VWs emitting nitrogen oxide at levels 30 to 40 times higher than the regulatory standard.
Jonathan Takiff

, Inquirer Columnist
"Did Amazon just murder the tablet business?"
The electronics product and retail website TWICE suggested as much today, on news that Amazon will be putting a $49.99 Fire tablet on sale for the holiday season, half the price of its predecessor 6 inch Fire tablet.
Grumbled one retailer on reading the news, "Hey Jeff" (Bezos, Amazon CEO), "do us all a favor And JUST GO AWAY."
Jonathan Takiff

, Inquirer Columnist

Been thinking about trying out your new video camera-equipped drone high flyer to capture the pomp and circumstance of the Papal visit?

Buzz off, bub. The U.S. Department of Transportation's Federal Aviation Administration has just issued a not-so-gentle reminder to residents of and visitors to Philadelphia, Washington, DC and New York that "these cities and surrounding communities are No Drone Zones from September 22 through September 27, 2015.

"If you plan to attend any of the Papal visit events, please leave your drone at home," said FAA administrator Michael Huerta. "Anyone flying a drone within the designated restricted areas may be subject to civil and criminal charges."