Jonathan Takiff, Inquirer Columnist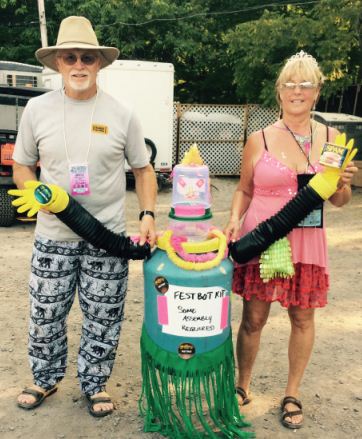 How do we un-do the bad karma and bad press, Philadelphia's unfortunate, un-kind to-robots reputation? Maybe with Fest Bot – a most musically minded robot with the urge to ramble, sure 'nuf, introduced yesterday at the final mainstage concert of the Philadelphia Folk Festival in Upper Salford.
As noted by concert co-emcee John Flynn, "The city really took a p.r. hit with Hitchbot" – that hitchhiking Canadian robot whose journey abruptly ended in a Philadelphia be-heading/dis-arming earlier this month. "But with your help we can send Fest Bot out on a tour of other music festivals, and hopefully next year she'll return with stories to tell."
Fest Bot is a brainless beast made of assorted plastic containers, with arms formed from the kind of flexi-hose you'd use to vent a dryer. A grass skirt is some giveaway it's a "she," though a fair share of folk fest gents were also wearing manly Irish kilts on the grounds yesterday to get a chill on in the Sunday heat. Your clue she's a folk devotee? Fest Bot was adorned with PFF and Martin guitar stickers.
Jonathan Takiff, Inquirer Columnist
There may be fewer local TV channels on the air next year in Philadelphia and other markets, if broadcasters are willing to take the money and run or downsize their operations as participants in the so-called "broadcast incentive auction" firmed up by the Federal Communications Commission on Thursday.
"We've got sixty days to say if we'll participate," said a local station manager talking "off the record, so as not to tip our hand. Of course we're considering the options. The potential payouts are staggering."
Philadelphia ranks as the fourth biggest television market in the U.S. by audience rating service Nielsen. But given the heavy demands – now and in the near future – contemplated by spectrum-craving mobile phone companies, our beach front broadcast properties rate third most valuable nationwide, in a projected compensation chart put out by the FCC to encourage auction participation.
Jonathan Takiff, Inquirer Columnist
Have old cassette tapes lying around, gathering dust? Philly-based indie psych-pop faves Dr. Dog and their new-found creative partners at Pig Iron Theatre Company hope you'll bring some along to contribute to a grand experiment at Union Transfer next month. To, um, help charge up the magnetic flux unlocking secrets from the great beyond. Mysteries the artists aim to unravel in a concert and theater spectacle called "Swamp is On."
A high profile production of the Philadelphia Fringe Festival, "Swamp is On" is described as a "DIY concept-concert with shades of the 'X-Files.'" The surreal deal includes a bunch of dark and buggy new tunes from Dr. Dog, visually translated by Pig Iron performers and designers with eccentric live video feeds.
Transmission will begin Wednesday, September 9 to Saturday, September 12, each night at 8 p.m. at the Spring Garden Street club. Onlookers will be pressed for a $30 donation to the study (make yours at www.utphilly.com or www.fringearts.com.) Proper footwear is advised as there will be no seats for the experiments (with danger a-foot?) Following the mixed media event, Dr. Dog vows to lay down a full set of favorites - hopefully yours as well as theirs.
Jonathan Takiff, Inquirer Columnist
Big on holiday connections, the Grateful Dead staged what was ostensibly their last-ever "Fare Thee Well" shows on the July 4th weekend in Chicago, with much fanfare and a multi-media marketing attack that allowed Philly folks to take in (and even write about) the shows as webcasts, pay-per-view and closed circuit club/movie theater happenings.
Today comes word that most, but not all of the original surviving members will keep on truckin' as Dead & Company, making their debut on Halloween at Madison Square Garden.
What's dif? Phil Lesh is out, Oteil Burbridge (of Allman Bros. fame) is in as bassist.
Jonathan Takiff, Inquirer Columnist
Wonder what the President of the United States thinks about all you tech innovators?
Take a gander at his remarks from the first Demo Day at the White House.
4:14 P.M. EDT
Jonathan Takiff, Inquirer Columnist
Should the classic ditty "Happy Birthday to You" be freed at last, free at last?
A hearing in California federal court on Wednesday inched the idea forward. But Judge George King was not prepared to blow out all the candles, let alone rule on new found "smoking gun" evidence supporting the music's long-a-coming liberation.
Arguably the most familiar song ever written, "Happy Birthday to You" is the first tune you learned as an infant, likely the last song you'll remember in dotage. Not a second goes by when it's not being heartily sung, somewhere on earth.
Jonathan Takiff, Inquirer Columnist
How do you measure the success of an outdoor music festival?
The high quality of the acts? The record-breaking number of attendees? The increased internet buzz?
Clearly, this weekend's adult-alt-rocking XPoNential Music Festival in Camden had all that going on.
Jonathan Takiff, Inquirer Columnist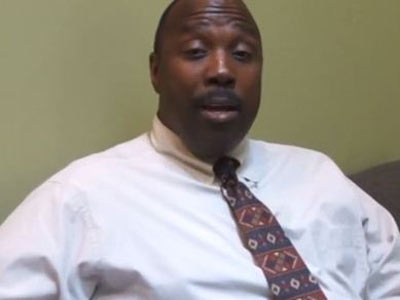 With high tech means and good old fashioned conversation, African-American men visiting neighborhood Philadelphia barbershops will soon be encouraged to "cut through" the misinformation about the political process. To re-shape and re-style their often-negative and dismissive thinking about elections and civic engagement.
Championed by Duerward "DJ Woody Wood" Beale, Youth Outreach Adolescent Community Awareness Program executive director (and former DJ for the hip hop heavies Three Times Dope), the project is called Sharp Insight. It's just won a $250,000 Knight News Challenge grant designed to get politically cynical and dis-engaged black men interested in the civic process and returning to the polling booths.
"Barber shops are trusted spaces in the African American community where black men talk about everything from sports and entertainment to marriage and politics," observed Beale in his winning project proposal. "Some researchers refer to them as the 'black man's country club.' Black men of all ages and socioeconomic backgrounds come together in the Barber Shop. We will recruit, educate barbers and provide them incentives for getting their male customers to take our surveys on iPads, read our nonpartisan election information, and continually discuss the importance of civic participation. The barbers that enroll will have their names listed on our radio partner's website and those that disseminate the largest amounts of information will have a special radio promotion about their shop. "