Amazon Introduces New Kindle Line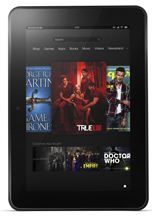 More for less. That's the takeway from today's Amnazon press conference introducing an enlarged line of Kindle tablet computers and e-Readers.
Amazon Introduces New Kindle Line
Jonathan Takiff, Daily News Columnist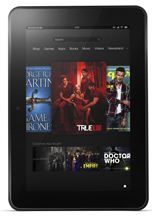 More for less. That's the takeaway from today's Amazon press conference introducing an enlarged line of Kindle tablet computers and e-Readers.
Topping the lot is the Kindle Flre HD with 4G LTE, packing an 8.9 inch HD screen (1920x1200 resolution), 32 GB of storage memory and front-facing camera with custom Skype application priced at $499. That's versus $729 for a comparably equipped "new iPad." Sweetening the deal more, Fire HD tablet buyers can pull down 250 MB per month of data and access 20 GB of Amazon Cloud storage for an annual fee of just $49.99. A similar data plan for the iPad costs $230 annually, noted Amazon's Jeff Bezos.
Amazon also unveiled a $299 Wi-Fi version of the same HD tab, a $199 7-inch version and a second generation Kindle Fire with a speedier processor, double the RAM of its' predecessor and a lower (by $40) price of $159.
Available on November 20, all these new tablets download content faster by integrating a dual mode (2.4 GHz/5 GHz) Wi-Fi receiver. Users might need to upgrade their home modem/router to enjoy the improvement. The in-plane HD displays will fade less in bright light thanks to an "Advanced True Wide" polarizing filter and glare resistant "custom laminated touch sensor." Performance enhancing Dolby Digital Plus audio is included "for the first time on a tablet," it's claimed. Battery life for the (most energy efficient) 7-inch Kindle Fire HD is quoted at 11 hours.
Just Read To Me: Care more about Kindle E-Readers? Amazon's expected retort to the self-illuminated Nook is the new Kindle Paperwhite, boasting a patented front-lit (LED) display that guides light "underneath an anti-glare layer and down towards the display away from the reader's eye. This means a reader can stare at the screen for hours "without eye fatigue," claims the maker. This button-free model also boasts a higher resolution touch screen with "62 percent more pixels, 25 percent higher contrast" and 8 weeks of standby battery life. The version with "free 3G" (plus Wi-Fi) wireless connectivity will fetch $179, the Wi-Fi only version is $119, both shipping October 1. And for bargain hunters, Amazon introduced "a smaller, lighter" (6 ounces) "and faster" new Kindle, available today at $69.
You can watch the press conference here.