Jonathan Takiff, Inquirer Columnist
Sometimes, it's a good thing when it rains . . . and pours. Certainly for the gang at Scholly, the Philadelphia startup that developed an app giving students a fast and easy way to find scholarships for college.
Earlier this week, Scholly founder Christopher Gray presented and won a $100,000 investment (convertible to a stock payback) from investor Steve Case in the "Rise of the Rest" pitch competition here.
Today Mayor Michael Nutter added to Scholly's growth potential, announcing that the Startup PHL Angel Fund has likewise made a $100,000 bet on the project. It's the ninth investment in two years ($1,149,997 total) made to a Philly startup by the Angel Fund, a partnership of PIDC (Philadelphia Industrial Development Corporation) and First Round Capital.
Jonathan Takiff, Inquirer Columnist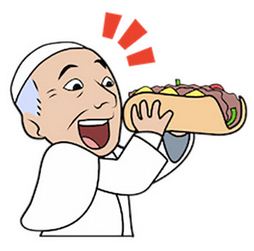 Did you know - Pope Francis has his own social media command center at 1415 Fairmount Avenue ( lent by Project Hope) ?
And his own Philly "street team" working the Benjamin Franklin Parkway and Independence Hall historic zones?
Distinguished by their blue "I got my Pope Moji" t- shirt, the latter (two dozen strong) are spreading the message "Pope is Hope." They're documenting the Pontiff's visit – and those of his followers -with Instagram, Vine and Periscope images. And urging folks they meet to also chat it up and post pictures on social media with the hashtag #GoodIsWinning."
Jonathan Takiff, Inquirer Columnist
"Hey Siri, I was supposed to get the new iPhone 6S on Friday. Is it coming?"
"Sorry Jon. According to past supplied information stored in our cloud, you reside in a Phil-la-dell-phi-ah delivery zone that will not be visited by UPS trucks on Friday or Saturday. That is because of street closures and security measures while Pope Francis is visiting in Phil-la-dell-phi-ah. UPS has posted that pickup and deliveries will be affected in the following zipcodes: 19102, 19103, 19104, 19106, 19107, 19109, 19123, 19130, 19146 and 19147. We have found some consolation – New Yorkers won't be getting their phone deliveries either, because of 'divine intervention.' That is a joke, making the rounds. Ha... Ha."
"So Siri, I spoke to a guy at the UPS Store on 4th below South. He said if a new iPhone – or any other package – can't be delivered because of the Pope-invasion, it will likely be held at the main UPS depot – 15 E. Oregon Avenue – with pickup available there. Does that sound right?"
Jonathan Takiff, Inquirer Columnist
The reputation has always been "You can't kill a diesel engine." But Volkswagen's newly unmasked deceit - rigging VW and Audi diesel-powered vehicles to behave differently and hide the noxious fume output during emission tests – will likely set back U.S. sales of diesel-powered cars to zilch for another ten years, as VW is far and away the leading marketer of the technology here.
For the moment, VW is pulling all 2015 and 2016 "TDI" (turbocharged direct injection) diesel models from sales lots – a dramatic and costly move as these so-called "clean diesels" accounted for 23 percent of U.S. VW sales in August. (Not so much in Audi land).
The carmaker also faces a major dilemma in fixing 482,000 diesel cars sold since 2009, undone by telling road tests conducted by West Virginia University and the California Air Resources Board (on behalf of the EPA) which showed VWs emitting nitrogen oxide at levels 30 to 40 times higher than the regulatory standard.
Jonathan Takiff, Inquirer Columnist
"Did Amazon just murder the tablet business?"
The electronics product and retail website TWICE suggested as much today, on news that Amazon will be putting a $49.99 Fire tablet on sale for the holiday season, half the price of its predecessor 6 inch Fire tablet.
Grumbled one retailer on reading the news, "Hey Jeff" (Bezos, Amazon CEO), "do us all a favor And JUST GO AWAY."
Jonathan Takiff, Inquirer Columnist
Been thinking about trying out your new video camera-equipped drone high flyer to capture the pomp and circumstance of the Papal visit?
Buzz off, bub. The U.S. Department of Transportation's Federal Aviation Administration has just issued a not-so-gentle reminder to residents of and visitors to Philadelphia, Washington, DC and New York that "these cities and surrounding communities are No Drone Zones from September 22 through September 27, 2015.
"If you plan to attend any of the Papal visit events, please leave your drone at home," said FAA administrator Michael Huerta. "Anyone flying a drone within the designated restricted areas may be subject to civil and criminal charges."
Jonathan Takiff, Inquirer Columnist
Got an e-card and an e-book in your "electronic wallet"?
The Free Library of Philadelphia is hosting a special sign-up event on Wednesday for its new Virtual Library Card, a promotional show-and-tell at the Municipal Services Building with Library President and Director Siobhan A. Reardon and in-house tech support team.
But the irony here – and the message they'll spread – is that you no longer need to go anywhere, not even to a Library branch, to score a Virtual Library Card. The whole process can be accomplished in as little as 90 seconds just by taking your internet-accessing self (and device) to http://freelibrary.org/anywhere/.
Jonathan Takiff, Inquirer Columnist
Comcast aims to crank up its entire U.S. cable network with blazing fast internet speeds in the next two years, shared Robert Howald, Comcast VP of network architecture, in a telling chat with telecommunications trade publication FierceCable.
The sooner the better, we say. An early 2015 study from digital traffic company Akamai ranked average U.S. internet connection speeds (48.8 megabits per second) as 17th "fastest" on a global scale, trailing not only high tech bastions like Hong Kong, Singapore, South Korea, Japan and Israel but also relatively backwards nations like Romania, Uruguay and Latvia. The moral here: Sometimes it helps to be late to the party, because when you finally do arrive all the bottles are uncorked, the bash is in full swing.
The U.S.'s much older cable infrastructure, built in less demanding (or imaginative) times, is the big bottleneck: antiquated "plants" that Comcast and other cable companies now aim to upgrade with a more efficient telecommunications transmission standard called DOCSIS 3.1 developed by Cable Labs.