Archive: September, 2012
Virginia A. Smith

, Inquirer Staff Writer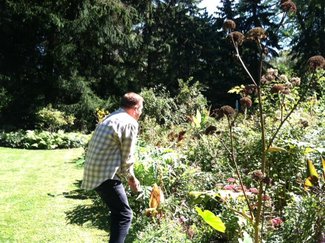 And to think: I've put most of the self-sowers in my garden on an enemies' list. Along comes David Culp, the wellknown plantsman with the huge hellebore and snowdrop collection, to blow my assumptions away. Far from considering these easy growers a pain, David encourages them. In this photo, he's scattering seeds of the statuesque angelica to help the process along.
He likes other self-sowers, too, like poppies, feverfew, verbascum and .. sorry, Dave, this one's my nemesis .. bronze fennel. "I do a design and self-sowers lighten it up," he says, "making the garden not so studied. It loosens things up."
Self-sowers also weave the beds together. "They cheer you on. They're my biggest helper," Dave says.
Virginia A. Smith

, Inquirer Staff Writer
This is one small piece of the 2-acre garden in Downingtown created by David Culp and Michael Alderfer. Now there are two old Pennsylvania names! And I can't think of a better place to spend such a beautiful day than in this inspired and interesting place. David has just written his first book; he is so wellknown, I thought he'd written several already. It's called The Layered Garden: Design Lessons for Year-Round Beauty from Brandywine Cottage, from Timber Press, and once you see his garden, you understand the layered bit.
The concept is more nuanced than succession gardening, though that's hard enough for most gardeners. Here are his words: "More than just making sure one blooming plant follows another, layering is the art of creating a series of peak garden moments, the anticipation of which gets me out of bed in the morning."
David is an exuberant gardener and guide. You'll not find a more knowledgeable plantsman. It was a treat to spend three hours with him today. And guess what? As I got in the car to head back to the city (do I have to?), I said, "Are you going to work in the garden now?" He said no ... he would do other things first and save the garden work till the end of the day. "It's my reward," he said.
Virginia A. Smith

, Inquirer Staff Writer
It was quite a summer. Actually, not quite a summer. Too hot to go outside, construction in the back of the house ... For most of the season, I ventured out only to pick herbs and vegetables and lingered not one extra minute. Which means that the summer of 2012, may it rest in peace, was a disaster - little maintenance and hardly any weeding, to say nothing of no enjoyment! I surrendered early on. So imagine my surprise - a pleasant one, after so much heat, humidity and other unpleasantnesses - to discover this enormous pot of rosemary, which was hiding behind some other potted plants in a far corner.
It's perfect. Too bad I don't cook with rosemary much. But it doesn't matter. I'll enjoy the look and feel of it - the soft needles, the mounded shape, the sheer heft of a plant that came to life, hidden away, over the summer when no one was looking.
Virginia A. Smith

, Inquirer Staff Writer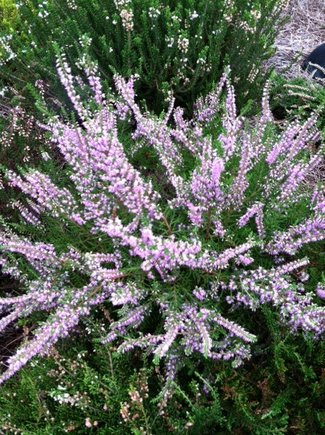 Ah, the romance of heather. Can't shake those images of the fuzzy mounds of heather blooming on the Scottish moors ... I never thought of heather as a plant for Philadelphia gardeners, but Paul and Jane Murphy, owners of Hickey Hill Heath & Heather near Oxford, in rural southern Chester County, think - know - otherwise.
I spent a very pleasant couple of hours with these folks last week, on another hot, humid and rain-threatening day, discussing the joys and pitfalls of heath and heather, which are different genuses in the same family and so alike I couldn't figure out which was which. Generally, though, a lot of heath are winter-bloomers and more heather bloom in summer.
(That sounds strange, doesn't it - one plus one heather equals two heather.)