Archive: August, 2013
Virginia A. Smith

, Inquirer Staff Writer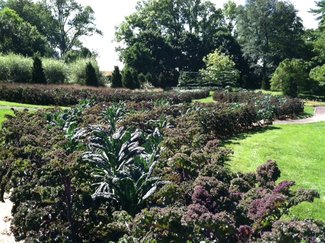 Chanticleer any day is a treat, but it was especially so today. The morning was sunny, clear, cool. I wore a fleece, for heaven's sake. The gate had just been opened, and within minutes, the parking lots were pretty full. Not everyone is at the Shore, although I like it when everyone goes away. I can get a dinner reservation pretty much when and where I want, traffic's (almost) manageable, the neighborhood is blessedly quiet.
So I was a little surprised to see so many people at Chanticleer - lots of young mothers with children, some grandparents, some couples and a few strays like me. It was a perfect day.
Interesting to see the serpentine planted with two types of kale, a darker, moodier serpentine than I've seen before. Lots of people didn't know what the kale was. So much for kale being the "it" vegetable. Kale was also scattered about in some of the other gardens; quite a surprise when you come upon it.
Virginia A. Smith

, Inquirer Staff Writer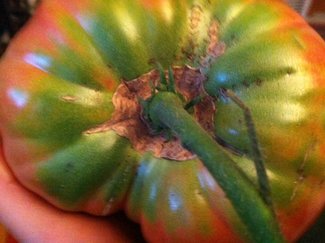 Good grief, has anyone had a decent crop of tomatoes this summer? Heard from a friend this morning who is the most skillful grower I know of tomatoes and all else. She's a master gardener and canner and even she's had a bad time of it.
I bought four grafted heirloom tomatoes, touted as the biggest, the tastiest, the toughest. They started out well and then the rains came. Then record-busting heat. I actually lost one of those grafteds. Another one doesn't even have blossoms on it. A third has green fruit but shows no signs of ripening. And the fourth plant, the only producer in the lot, has given me exactly three tomatoes.
Were it not for a hybrid called 'Fourth of July,' which puts out about one smallish, not great-tasting, tomato every other day, I'd pratically have a shut-out.