Archive: August, 2012
Virginia A. Smith

, Inquirer Staff Writer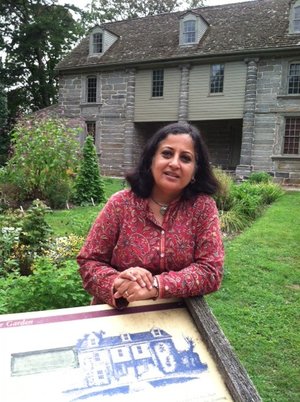 Actually, a lot of folks already know Maitreyi from her work at PHS. She's a senior VP for programs and planning, the most recent of many positions she's had at the society over the past 19 years. Maitreyi's always a pleasure to talk to and work with and now, she's about to become the boss lady at Bartram's, a place that never fails to strike visitors as "special."
It's hard to define, but Maitreyi feels it, too. She starts the new job Aug. 30 and is conscientiously finishing up her projects at PHS. We had a great couple of hours of conversation yesterday before the skies opened up and dumped about 3 tons of rain on us. It was also fun to see all the changes - not just the new Garden Shop and Green Room, but the organic farm, the new orchard, the community garden, the bike path and best of all ...
About a dozen tiny little snapping turtles, just hatched, in the compost pile! Talk about serendipity. Inquirer photographer Ron Tarver captured the moment. Story coming Friday, Aug. 24. You'll learn a lot of cool things about Maitreyi and maybe get as close to a snapping turtle as you're ever going to - or want to, for that matter!
Virginia A. Smith

, Inquirer Staff Writer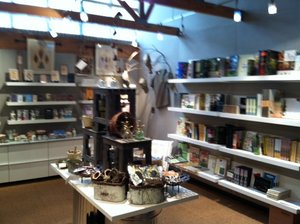 Been to Bartram's lately? I haven't been for awhile and was pleasantly surprised yesterday to see the beautiful new Garden Shop. What a nice job! Like the garden, it's open Wednesday through Sunday from 10 a.m. to 4 p.m. It sells an interesting variety of stuff - seed-saving kits, garden tools and note cards, Franklinia jewelry, books, honey from the garden, Bartram-inspired botanical prints, cookbooks - my fave was Soul on Rice: African Influences on American Cooking - toys, growing kits and seeds.
The staff is very excited about another new feature - a bathroom for visitors! No longer will they be using the staff restroom. Say hey!
Since the store was officially closed during my visit, I'll have to return to do some shopping. Had my eye on Bartram's honey, a pendant, and maybe a cookbook and some notecards. Like I need more ...
Virginia A. Smith

, Inquirer Staff Writer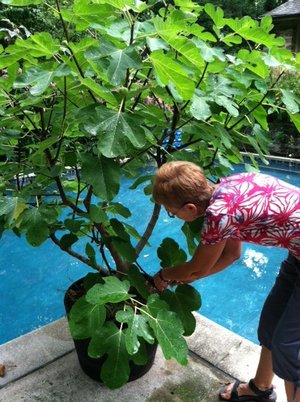 How's this for a healthy fig tree? It's loaded with green figs that will keep their bright color as they ripen. Me, I prefer the look of the brown varieties, but a fig is a fig when it comes to taste. My friend Lois cuts this one back hard in early spring and it sits by the pool. Looks like Italy, no? It gets harder and harder every year to lug this big guy back inside when the season changes.
I've solved that problem by planting a fig that's hardy in these parts. My neighbor's fig tree, which came from mine, has produced several rounds of ripe fruit already, whereas mine and Lois' are just ripening up now. My neighbors asked if I would harvest their figs while they're gone. Are you kidding me? Those figs never make it back to the house.
It's been a crummy summer for so many things in the garden. I'm hearing horror stories about tomatoes, for example. But for figs, the summer of 2012 is shaping up to be a bonanza. I can't wait to grill fig kebabs that have been marinating in honey or bake figs filled with goat cheese. If I can save a few on that trip back to the house, that is.
Virginia A. Smith

, Inquirer Staff Writer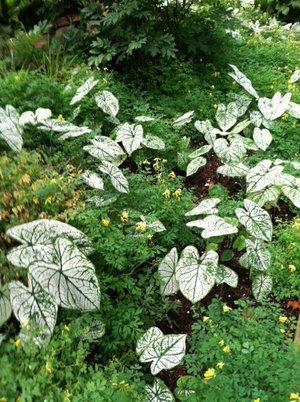 Here's an easy idea for a cool summer landscape - green and white caladium or elephant ears and feathery yellow corydalis. This lovely combination was put together by a friend who has a back yard ringed by mature trees. Like me, he finds shade gardening even more interesting than the choices available for sun. He stores his caladium corms in the basement come fall, replanting in the spring. Every year his landscape changes, but caladiums are often part of the new year's design.
It's not completely accurate to call caladiums elephant ears; that moniker is more suited to colacasia. But in common parlance, that's what we call them all. They do look like ears, almost translucent ones, and they thrive in partial shade. Interestingly, they often do OK in sun, especially the newer varieties. But shade really brings out the brightness of the reds, pinks, greens and whites.
This is a simple look, one that refreshes on a hot, humid evening. With good friends, great food from the garden ... it's all about the gift of summer.
Virginia A. Smith

, Inquirer Staff Writer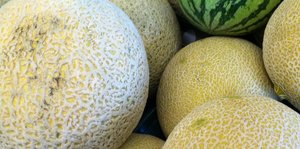 My cantaloupes won't look anything like these luscious numbers in a farmers market in Oakland, CA, a few weeks ago. But I wasn't planning on growing them at all - till I saw a few on the bargain table at a garden center back in June for $1. Bought one, threw it in the ground and paid no attention till this week, when I saw a monster cantaloupe vine overtaking a bird bath, a large planter and some celery in the garden.
Truth is, the weather's been so crummy this summer I've made few trips out there and only to pick whatever's ripe - and, of course, basil, which goes in or on everything at this time of year, including salad. So who knew what was happening in the far corner?
This weekend, if the hail or rain or whatever else we're supposed to get lets up, I just might look around for baby cantaloupes. Rumor has it the fig tree is loaded this year, too.
Virginia A. Smith

, Inquirer Staff Writer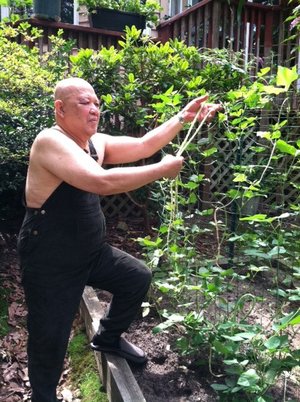 Ray Soriano is a retired pathologist from Thomas Jefferson University, so he has lots of time to fiddle with things in his garden in Southampton, Burlington County. This is long bean or Asian bean or yard long bean that Ray cuts up and uses in one of his signature Filipino stews. He's got lots of it growing in containers and in the garden. They can grow to 36 inches or so!
You may have guessed that Ray's a good cook, as is his wife Edith, a retired R.N. She's also from the Philippines, which is probably the most significant thing I can tell you about this couple. Their culture and heritage, expressed in what's growing in the garden and bubbling on the stove, is extremely important to their identity, and it's fun when they shared that with me and photographer Akira Suwa this week. Got me to thinking about what our gardens say about our DNA. Would anyone guess, from looking at yours, what your heritage is?
Besides the long beans, Ray grows bitter melon, sweet potato, and purple hyacinth bean, known as batao in Tagalog. He actually uses those rosy-purple hyacinth beans and pods in stews, which surprised me. People have told me they're poisonous. (Guess not!)