Archive: July, 2012
Virginia A. Smith

, Inquirer Staff Writer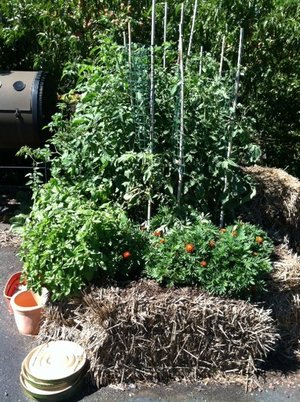 Actually, Joel Karsten is the son and grandson of farmers, and he got the idea for using bales of straw to make unusual "containers" to grow things in about 15 years ago. He remembered as a kid how bales would occasionally fall off the rack and get kicked to the side, where they'd just get wet and start decomposing. "Before you knew it, all kinds of seeds of things that had fallen on top of the bale grew like crazy," he says.
By now, Joel's the country's most visible proponent of straw bale gardening, a system he swears by in a booklet, soon a book, online, and in dozens of speeches he gives around Minnesota, where he lives.
It's an interesting system - you stack straw bales and tie them together, fill the middle and cover the tops with compost, add a little nitrogen-rich fertilizer to get things cooking, and plant your vegetables. By the end of the season, you can take the bale apart and it becomes compost for next year. In the meantime, Joel says you get lush growth, way fewer insects and weeds, and a lot less work and expense than you would with traditional in-ground gardening.
Virginia A. Smith

, Inquirer Staff Writer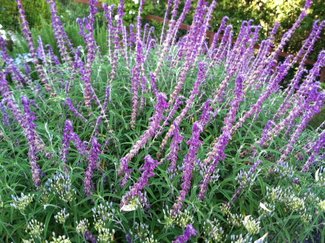 You can wake me up anytime - today at 5 a.m., for instance, because it's raining and I need to close the windows. Was there ever a more welcome sound? Which makes me think of my recent trip to California. I noticed a lot of plants like this one - lavender - that are beautiful, extremely architectural, and tolerant of dry conditions. Regardless of your thoughts on climate change, you can't go wrong with these guys. Consider the last few summers in our region. This year, farmers are experiencing the worst drought in 25 years.
So be glad you're not a farmer. And stock up on lavender, and also agastache, yarrow, coreopsis and something I saw a lot of in Colorado a few weeks ago - Jupiter's beard. If you think this category of plant isn't attractive, you're just dead wrong. Look this one up: Centranthus ruber 'Coccineus.' It's planted in drifts in Colorado. Also: gaillardia, helianthus and coneflower, though mine typically turn crispy in the heat.
A friend recently gave in and decided to install an irrigation system. He's been watching my sad adventures in this regard - three years after installing an expensive drip system, I'm still shelling out $30 an hour to someone to help me get it placed correctly and fix everything that went wrong, including holes inflicted this year by - ewwww - squirrels and rats desperate for a drink. My friend finally understands why this tedious chore is best done by a system - a father of three with a long commute to work, he's spent hours watering over the last month. But being a smart fellow, he's hoping to avoid my mistakes. It's nice to feel useful, if only as the standard for misery and stupidity.
Virginia A. Smith

, Inquirer Staff Writer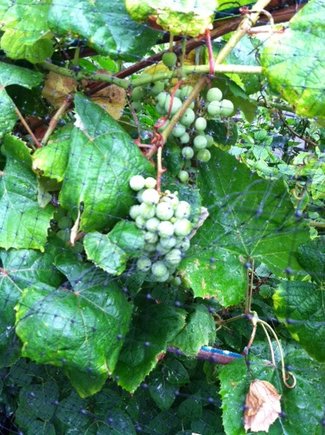 Cyrus Gordon is a man who doesn't eat fruit. Even more incredibly, he grows lots of it! "I'm a steak and potatoes guy. If I could grow them, I would," he says. Throughout my 90-minute interview with him today, the tape loop in my mind kept wondering, "Who doesn't love fresh fruit?"
I need to get over it, because Cyrus is for real. He grows for his kids, grandkids, wife and mother. These are some of his seven varieties of grapes - he's not fussy about names, so I don't know the variety. He also has two plum trees, two peach, two Bing cherry, lots of banana trees (but no bananas - they need a longer growing season), five kinds of blueberries, five kinds of blackberries, raspberries, kiwis, tomatoes, peppers, cukes, kumquats, limes, lemons, two tangelo trees and some mandarins. And some beautiful 'Sugar Baby' watermelons, those small, round ones that are so verrrry sweet.
All this in Ventnor, where the neighbors have gardeners and lots of hydrangeas. Cyrus's garden really stands out, as you can imagine. His home is on one lot, the garden on a second, one block from the beach. His family's lived in this house since 1900; he and his wife, only the last 11.
Virginia A. Smith

, Inquirer Staff Writer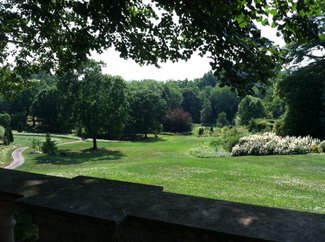 You can't dress up weather like this. It's horrible. The garden's frying, despite the watering. We desperately need rain. And wait till we get our electric and water bills.
But a visit to a public garden can help. There, you're able to be outside without screaming.
This photo was taken from the terrace of the big house at Chanticleer. If you've been there, you know I'm sitting in one of those beautiful (and comfortable) wooden rocking chairs overlooking the lawn, which - maybe this thought popped into mind to trick me into thinking it was cooler - looked like a grand sledding hill!
Virginia A. Smith

, Inquirer Staff Writer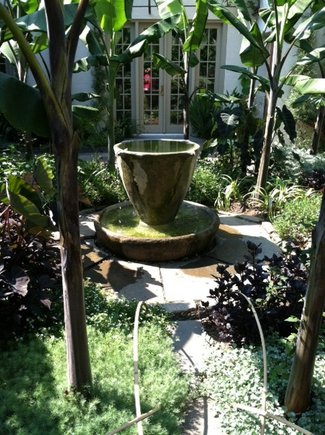 The Teacup garden at Chanticleer is a bold change-up from previous years, which is a nice thing to ponder. How fun to have the money, time and talent to do something completely different every season! This summer it's a tropical theme in purple, white, silver and silvery green, with the "cuppa" ringed by banana trees. Sounds like a jumble, which it certainly would be if I tried it, but this is really beautiful.
The height (no idea) and number of trees (20, I think) was surprising, which is something this garden does regularly and well. I have to say, though, just about every time I visit I'm wanting to know what I'm looking at. A plant list inside a box is just too much work. I know, this is a pleasure garden and nothing - by design - is labelled, but when I go to a pleasure garden it's usually because I want an escape, my brain is fried, I'm exhausted.
Everything needs to be very easy, and that's certainly true about the pleasure part of Chanticleer. I come away with ideas, and that's easy, too. Figuring out what stuff is ... not so easy.
Virginia A. Smith

, Inquirer Staff Writer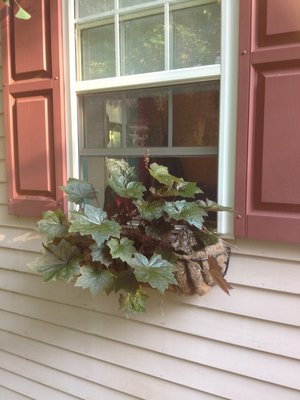 I never thought of heuchera as a plant for window boxes, but a reader emailed this morning to tell me that and something else: "And a true joy of heuchera besides using them in window boxes, is that deer don't eat them!"
Like some humans I know, deer will eat anything if desperate enough, but it's great to know that heuchera - otherwise known as coral bells ... see story in today's paper - isn't their number one choice. And how nice does this window box look? Talk about easy.
Virginia A. Smith

, Inquirer Staff Writer
With temperatures nudging toward 100 degrees, July 4 may not have been the best time to visit a public garden, but on the up side, there was plenty of parking at Chanticleer - and lots to see, including the new three-acre Bell's Woodland, a shade garden featuring ferns, sedges, azaleas, trilliums, and other natives plants, that replaces a hodgepodge of invasive weeds. The new garden also features what I've previously described as "a bridge sculpted to look like a fallen beech tree."
That's technically accurate, but until I saw it yesterday, I had no idea how interesting this utilitarian work of art would be. This photo shows the entrance to the hollowed-out tree/bridge. It's very hard to describe, so for this (and many other reasons) you need to go to Chanticleer yourself.
On a hot day, the woodland garden is a relief - and, like the rest of this very intentional place, meticulously planted. The ferns are wonderful, didn't look overheated at all, and I noted masses of coral bells (that's my story in tomorrow's H&D section) used as ground cover, which is a wonderful takeaway idea.
Virginia A. Smith

, Inquirer Staff Writer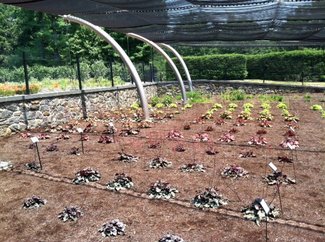 Judging strictly by the names of these heucheras, it's hard to know whether we're expected to plant or eat them. I mean, serious marketing going on here when you have names like 'Raspberry Chiffon' and 'Dark Chocolate,' 'Root Beer' amd 'Berry Smoothie.' What about 'Tiramisu' and 'Pear Crisp,' 'Pistache' and 'Caramel'? Mouth watering yet?
Actually, it's hard to take in the dozens and dozens of heucheras in the latest Mt. Cuba trials and not salivate. This is one terrific plant, although I think consumers could do without the piling on that seems to be occurring. The thinking goes something like this: If one purple heuchera is good, many more is much better, sort of like the unimaginative group-think in Hollywood that if one movie is a blockbuster, a clone-like sequel is a great idea!
There are other colors, of course, and these are the ones that a lot of us like - the reds, pinks, bright greens. There's great variety in foliage, too; some leaves are curly, some are huge, new growth on some purple ones comes out as red. Beautiful.