Archive: July, 2011
Virginia A. Smith

, Inquirer Staff Writer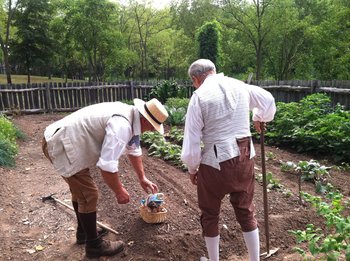 The garden at the Antes Plantation is 44 feet by 44 feet, surrounded by an oak fence that more or less keeps the deer out. The tools are all reproductions of 18th-century tools - I particularly liked the T-handled shovel. Looked indestructible.
Jacqueline and the other volunteers have planted mostly heirloom varieties - Bull's Blood beets, which are strong enough to dye cloth; Dragon's Tongue bean, Hutterite soup bean, Jacob's Cattle Bean; and West Indian Gherkin cucumber, a tiny, spiny cuke that Jacqueline pickles and gives to visitors. "Delicious," she says.
There are several rows of cabbages and onions, and back in the day, there likely were many more than that. Jaqueline says cabbages, turnips and onions were the backbone of these folks' diets - a legacy of the Old Country, southern Germany, where they began theire journey. They arrived in Pennsylvania, via the port in Philadelphia, in the early 1700s in search of economic opportunity and freedom from religious persecution.
Virginia A. Smith

, Inquirer Staff Writer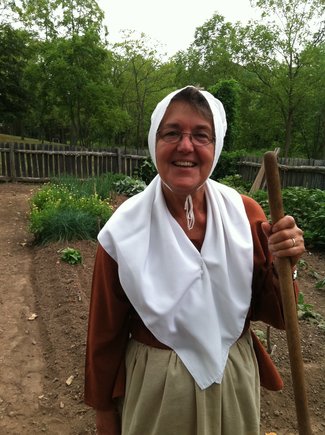 This is Jacqueline Daley, who showed me around the kitchen garden at the Henry Antes plantation in Perkiomenville today. Never heard of the Antes Plantation, you say? Me either, and I suspect that's true of a lot of folks.
A search of the Inquirer archives turned up practically nothing, which is a shame, because this is a special place. I'll be writing a story about it for Friday, Aug. 12, which is the first day of their 2-day festival, a celebration that's been going on for 45 years!
Jacqueline and her husband Bill are among 730 members of the Goschenhoppen Historians, who put on the festival. It's their primary fund-raiser, bringing in as much as $20,000 - or costing them money. Depends.
Virginia A. Smith

, Inquirer Staff Writer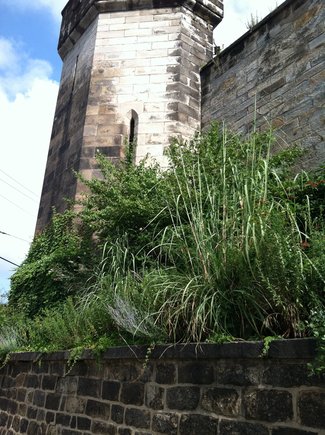 ESP - that's Eastern State Penitentiary on Fairmount Avenue, which I pass every day on my way to and from work. Lately I've noticed the garden around the perimeter. It's wild! and I like it that way.
Yestererday Julie Snell from PHS gave me a walking tour. She calls this a "terrace garden," and I gotta tell you, that is some terrace. It's 800 feet long, 10 feet wide, smack up against 30-foot walls in a hot, south-facing exposure.
The plants that thrive here are tough - ornamental grasses, butterfly bush, a few crape myrtles, the biggest viburnums I've ever seen, hundreds of bulbs, lavender, santolina and yarrow, and lots more that I'll detail in a story on Aug. 5.
Virginia A. Smith

, Inquirer Staff Writer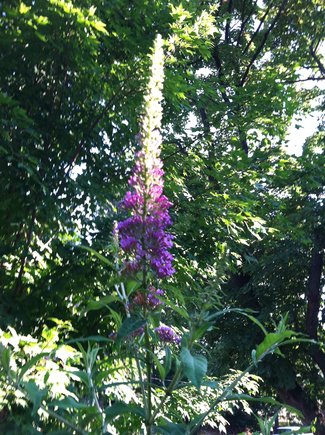 What to make of this? For several weeks, we've been wondering whether this is a desirable plant or a weed. Somehow it didn't seem like a weed, but it didn't flower or progress in any way. It just got taller and taller, sticking its head out of a stand of phlox - which, by the way, seems to be doing great this year, not nearly as much powdery mildew - looking very conspicuous.
"What's that thing?" people called from the sidewalk. "Gonna pull it out?"
I hung in there.
Virginia A. Smith

, Inquirer Staff Writer
For years, I've been reading about purslane, that plump, glossy-leaved, so-called weed that's supposed to be delicious in salads. Last night, I pulled some out of my garden, washed it, chopped it up (stems and all) and tossed it with tomatoes, avocado, basil, olive oil and balsamic vinegar.
Mmm, mmm, weeds!
An online search just now yielded many recipes for purslane, which has healthy Omega-3 oils and a lot of vitamins (D and B) and minerals (calcium and iron). It's crunchy, too, with a lemony zing to it. Who knew it was so delicious?
Virginia A. Smith

, Inquirer Staff Writer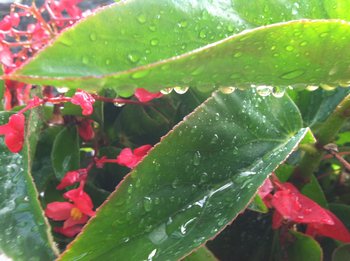 I'd given up hope that any of those "scattered thunder showers" being touted on TV would ever hit my part of the city, but last night, as I pedaled away on a stationary bike at the gym, I saw the rain coming down outside.
Several of the guys were upset. Their playoff baseball game would be cancelled! They couldn't take that late-night run they'd planned! I commiserated. "That's a shame," I told them.
But woo hoo! My garden was happy. It rained for awhile, and this morning, everything looked perky and back in focus.
Virginia A. Smith

, Inquirer Staff Writer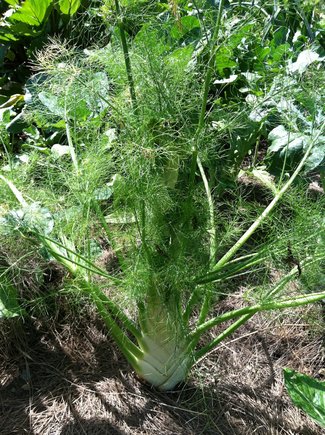 Already the catalogues are touting seeds for fall vegetables, and it's amazing to see the beauty of some varieties. You really wouldn't mind showing off these cabbages and kales in your front garden or container. They're as ornamental as any perennial and then some.
The place to see such vegetable beauty in real time is Chanticleer in Wayne, where I chatted with Doug Croft the other day. Doug is one of seven horticulturists at Chanticleer, and he's in charge of the vegetable and cutting gardens. There's always something really interesting going on in his gardens. This year, Doug and another gardener refinished a stunning wooden bench that's placed inside the fence, so you can sit and admire the frilly purple kale, among other delights.
Of course, this is where your nongardening friends roll their eyes. They probably can't imagine doing such a thing on purpose ... only if someone tied you up and made you look. But we know better, and our under-control blood pressure proves it. There's so much to see in a vegetable garden!
Virginia A. Smith

, Inquirer Staff Writer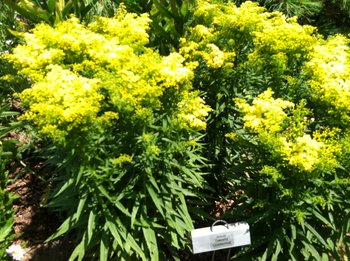 One of the fun things about visiting public gardens beyond our region and comfort zone is the fact that you see new plants that you can easily envision in your own garden. This one is a new Solidago canadensis - goldenrod - called 'Sweety,' which was growing nicely at Blithewold in Bristol, R.I. (See earlier posts)
I was struck by how full it was, and indeed, it's a new dwarf variety. It gets only about a foot tall, with lemony yellow flowers that have a pleasant airy look, (supposedly) bloom for a long time and attract butterflies. Additional bonus: This one's bred to be a good cut flower, too.
You might not think of goldenrod as a candidate for cutting, but 'Sweety' is short enough that the stems look like they'd hold up - and make a beautiful filler in a big bouquet or as a standalone. The goldenrod in my garden is more old-fashioned. Pretty, but long-stemmed and floppy before the flowers even open.