Archive: July, 2010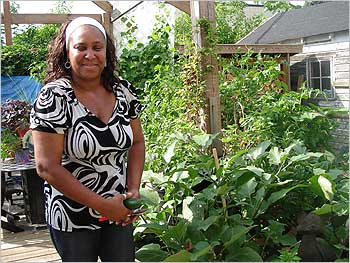 Cindy Bly doesn't do this for the money. She grows vegetables on every spare inch of her back yard because she loves it. Cindy is part of the Growers Alliance, which I wrote about in my last post, and her garden is the smallest of the 15 in the program so far. She lives in a rowhouse in Lawncrest, and her back yard measures 13-feet-by-24-feet with a deck, table and open gazebo in the middle. Neighbors on either side must be amazed. Their yards are relatively blank. Cindy's is lush and beautiful, filled with tomatoes, collards, kale, cukes and eggplant, which she sells to Weavers Way food co-op and gives away to her uncle's senior citizen complex. The program is funded for three years by the USDA and run by the Pennsylvania Horticultural Society, and applications will be accepted for the next "class" till Aug. 6. (Story on Friday gives details) Cindy grew up in West Philly, but spent summers as a child at her grandmother's house in Norfolk. "Momma," Cindy says, had a yard the size of a small farm and the woman could grow anything. Cindy always hated to come back to the city, but it wasn't until she moved to her current house that she had any room to speak of for planting. Now, she has a community garden plot near the airport, too. She gets home from her job at SEPTA around 3:30 every afternoon, and you can just imagine how she goes to town at that point. Cindy's a great example of how much you can do in a small space, when you have the energy and the excitement about gardening that she has. Doesn't hurt to have the federal government, and PHS, behind you either!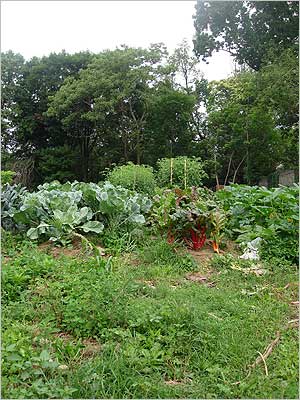 My phone call interrupted Amanda Staples' ice cream break - Breyers vanilla with fresh blueberries on top - but she was eager to talk about the "farm" she and her husband Matt McFarland are working in Germantown. They own this lot on Penn Street and live next door in a cooperative house. The lot's a half-acre, that Amanda and Matt have cleared and planted. "Cleared" doesn't do justice to the excavation they had to do, unearthing two abandoned ice-cream trucks (that had to be hauled away on a flatbed truck), piles of rubble, weed trees and multiflora rose that was 15 feet high. As you can see, they're on their way, with 10 raised beds filled with tomatoes, chard, collard greens, kale, beets, turnips, peppers, eggplants, potatoes and beans. Amanda and Matt grew up in Upper Darby. He's a computer programmer, she majored in religion at Temple. But she says she wants to be a fulltime farmer when she grows up. (She's 30) Her grandmother had a nursery business for awhile, and over the years Amanda developed a romantic notion about farming that she hasn't lost, despite the hard labor. I spoke with Amanda for a story about the Growers Alliance, a new program run by the Pennsylvania Horticultural Society and funded for three years with a $300,000 grant from the USDA. The story will be in the paper on Friday. It was fun to hear all the exciting things people are doing to grow and sell fresh vegetables in the city, even folks with much less than the half-acre Amanda and Matt have. Like Cindy Bly.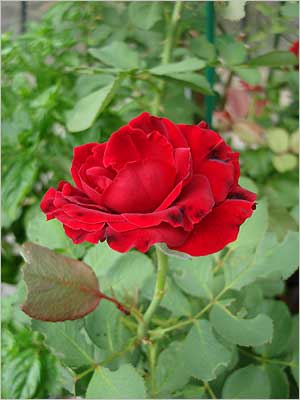 Every summer it's a high-wire act trying to achieve the right mix of heat and rain in the garden. Last year, it was a soak fest with disastrous consequences. The spring of 2010 started out well and then, on came the drought or what felt like one. It's been 90 or above for 13 of the last 19 days, according to the National Weather Service. Rainfall also is about double the norm, with 6.15 inches measured at the airport. That's 3 1/2 inches above normal and it all seems to fall in buckets and sheets for intense periods flanked by days of choking, dry heat. We swing from one extreme to the other, worrying that even the toughest perennials will fry, that the tomatoes will shut down in the heat or, with so much rain, develop the fungal diseases that devastated the crop last season. There are whole sections of my garden I'd like to put behind a curtain. On the positive side, a few of my roses are blooming again. This is 'Don Juan,' a fragrant climber that had a wimpy first bloom but has redeemed himself in July. What to make of all this? These last few years have impressed upon me, as no other time period has to date, that for all the work and energy we put into our gardens, we are utterly helpless before the weather gods. I am also realizing that my garden not only will never be "done," it may never be in the kind of shape where I can rest and enjoy it for more than a week! For with the extremes of heat and rain have come weeds like I've never seen, huge and everywhere. And I'm preoccupied with thoughts of redoing sections that look exhausted or chaotic or for some reason didn't turn out as I'd hoped. Those with more experience would say this is just a typical - unpredictable - year in the garden. You want a no-work garden? You want predictability? Live in a condo and try house plants. In the meantime, relaxxxx ...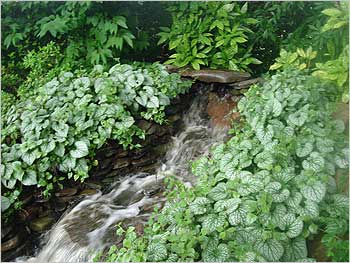 I'm not talking rain-water world, but the watery oasis created by John Thinnes, a businessman and gardener in Hatfield, over the last decade. John loves water. He has a 220-gallon aquarium, though it's more like a terrarium these days, and even as a child he was the one looking for frogs and turtles at family picnics. He's built himself quite a garden on 1/4-acre of his one-acre plot. I visited John and his wife Kathleen (story this Friday) recently on yet another of this summer's horribly hot and humid days. But John's built so many water features in his garden, it was a quite a bit cooler back there and a lot more manageable. He's got three waterfalls - here's one flanked by the beautiful 'Jack Frost' brunnera - along with three small ponds,a stream, a gazebo and an archway he calls a "tunnel." There are about a dozen sitting areas, bird feeders and baths and a small, irregularly shaped grassy lawn, the only grass in the back of the house. From the front, the Thinneses live in a conventional colonial house. They are one of the few remaining original owners in their tract-house development, built in 1972. John's completely self-taught and claims to have made few mistakes. That's probably because he approached each project with study and planning, drawing out his plans on graph paper over the winter. I don't know too many gardeners with such patience and presence of mind, but tell you what. It's paid off. John has a lovely garden, and he's eager to share it with Inquirer readers. It'd be worth the trip. You might get to dip your toes in the water.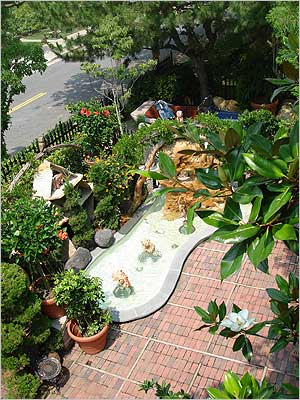 My coworkers keep asking whether I stuck my foot (or more) in the ocean this morning when I went to Ventnor to interview Harry Hasson and see his incredible garden. Answer: Very funny! I was working. No time to play. And it was hot at the Shore, especially for fully clothed people like me, so hot, in fact, that Harry and I ended up inside his house talking for awhile before heading out to the garden for a walkabout. Harry's garden will be on the first-ever Ventnor City garden tour on Saturday, July 17. My story about him will be in the paper the day before, with details of the tour. There are 25 gardens on this loop, more than I've ever heard of, but I guess everyone wanted to be part of the new fundraiser. This is the view of Harry's garden from the second-story deck. Pretty inviting! Besides having a 50-year career as a florist, servicing several Atlantic City casinos for 30 years, Harry is an interesting gardener and a sculptor of wood and stone. His garden sits on the corner of Ventnor and Oxford Avenues, pretty busy for a Shore community, but inside the fence, it feels like a tropical island. Constant water sounds from his unusual waterfalls muffle the noises of cars and buses. He likes to carve faces and animals, like the turtle suspended from a tree over the large waterfall. Fun stuff. The tour is $15, self-guided, meet at 9:30 a.m. in front of the Ventnor library. Or email ahead to vcgardens@aol.com for a $12 advance ticket. All info will be provided once you have a ticket. And here's a nongardening tip: Somewhere during your day in Ventnor, do not - repeat, do not - forget to stop by Sack o' Subs at 5217 Ventnor Ave. for the best sandwich or hoagie you have ever had in your life. My "deluxe veggie" half-hoagie, eaten inside my air-conditioned car as it sped down the AC Expressway, was just compensation indeed for the day's beach deprivation.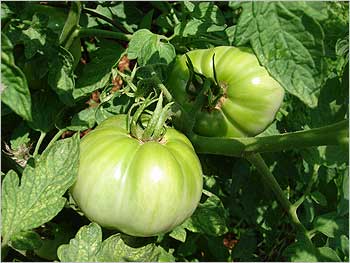 All the home gardeners I know are gearing up for the harvest, which is a polite way of saying they're hovering over the tomatoes and peppers with the eagerness of lawn fanatics watching grass grow. So this would seem a good time to remind everyone of Share the Harvest, a program run by Philabundance, the hunger relief organization, that encourages home gardeners to grow extra vegetables to donate to folks who need and would really appreciate some fresh food this summer. It's pretty easy. From July 17 through Sept. 25, Saturdays only, you can donate your surplus produce from 10 a.m. to noon at 10 drop-off sites in the region - Laurel Hill Gardens in Chestnut Hill; in Bucks County, Carousel Gardens in Newtown and Seasons Garden Center in Washington Crossing; in Chester County, Gardner's Landscape Nursery in Chester Springs; in Delaware County, Rose Tree Park and Linvilla Orchards in Media and Terrain in Glen Mills; in Montgomery Cuonty, Albrecht's in Narberth, St. Asaphs in Bala Cynwyd and Rhoads Garden in North Wales; and in Camden County, Springdale Farms in Cherry Hill. Philabundance folks say produce donations are down 45 percent this year due to things like a harsh winter down South, the earthquake in Chile and the inevitable "higher fuel prices." At the receiving end of things, we don't really need reminding that this past year was a tough one for almost everyone, especially those who lost their jobs. So if your garden grows well this summer, think of sharing it with more than the neighbors. It's easy; last year, gardeners gave almost 11,000 pounds away. (Info: www.philabundance.org) And while you're dropping your extra zucchinis off at the garden center, be good to yourself. Take a walk through the aisles. There's always room for one more plant!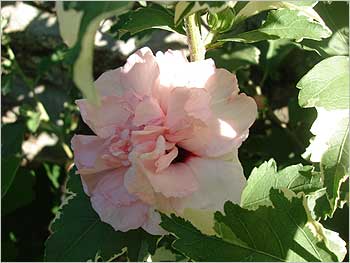 Rose-of-sharon has never been on my list of favorites. Something about it has always shouted "junk tree" to me. But I think those days are over. This is 'Sugar Tip,' one of a new breed of ROS that I could like a lot. Its pale pink, double blossoms are set against creamy green leaves and, at least so far this summer, it has a nice vase-like shape. I like the idea that in late winter or early spring I can prune it hard, and down to one main stem, to encourage it to grow more like a tree than a shrub. And it can be espaliered. My only issue with 'Sugar Tip,' which gets 8-12 feet tall, is that these lovely pink flowers quickly fade to white. But that's minor. It looks like a heavy bloomer so those faded whites will soon be overpowered by pinks. I was drawn to this plant early this morning, out in the garden checking on the tomatoes and bird feeders, both because it's started blooming and because it occurred to me that this would make an outstanding privacy hedge or screen between neighbors or around a pool. A lot of folks read my story last Friday about Ric Venzie, the Cherry Hill gardener with 35 different types of bamboo in his wonderful garden, and reinforced the idea that bamboo, despite all the warnings, remains a hot button out there. Interestingly, for all our tell-all habits on social media sites, turns out, we still like our privacy. I heard from many readers wanting to know more about growing bamboo to hide from the neighbors. I've said it before - bamboo scares me, no matter what the type, even though I know the clumping varieties are supposed to be safe. So why not be absolutely sure - and try one of the new rose-of-sharons instead.