Archive: June, 2013
Virginia A. Smith

, Inquirer Staff Writer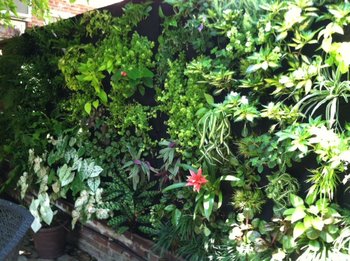 Ed Tawyea built this green wall himself - it hosts about 200 plants, each placed in a synthetic felt pocket. It's irrigated throughout with water from a small pond and fertlized (mostly) by fish waste in the pond. It was not easy. It took 150 hours, cost about $1,200 and was an exercise in experimentation.
Next year will be simpler, for sure, although Ed's thinking he'll add a ribbon of color - purple, maybe - as contrast to the many shades of green.
The wall is 16 feet long and 7 feet high, covered with sedum, mini-hosta, philodendron, fern, coleus, mondo grass, hakone grass, impatiens (New Guinea), creeping jenny (yes, and it's perfect for this), bromeliad, lantana and ... basil. Basil is very happy on the wall. (Ed is a pesto guy).
Virginia A. Smith

, Inquirer Staff Writer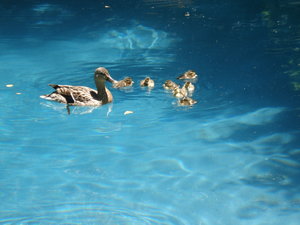 Gardening friends in Chestnut Hill have some charming new house guests. Here they are relaxing in the pool. Hey, I wouldn't mind a weekend at this spa myself!
Virginia A. Smith

, Inquirer Staff Writer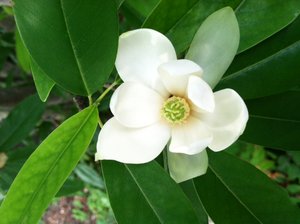 It's payback time! If you've ever been the subject of one of my stories - or been photographed for one - you may be in for a treat. This Friday, the tables will be turned. I'm writing installment #3 of the saga of my city garden, and despite my pleas to the contrary, the powers that be insisted that I be photographed for it.
I always tell folks, oh, don't do anything crazy for the photo shoot ... no makeovers, no getting dressed up. Just be yourself. Well, by the time Inquirer photographer April Saul arrived at the house last Friday, I'd already been working outside for almost two hours. Despite the temperature (57), I was hot and sweaty, really a mess. Before you shoot, I told April, let me go inside and brush my hair. She looked at me with mouth agape! WHAT???
Come on. If your face were about to be plastered on a section front of the newspaper, wouldn't you want to get yourself together a little bit? (Actually, I'd have preferred a paper bag over the head). After "freshening up," I still did my best to keep head down, out of April's line of vision - to no avail.
Virginia A. Smith

, Inquirer Staff Writer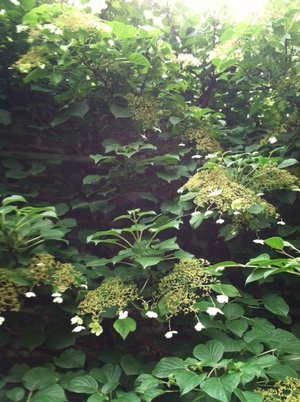 Gardening is not for the faint of heart or the impatient, which would disqualify most of us if we had to be accepted into a program of some sort in order to do it. But gardening is also a democratic sport. So I'm in, even though this Hydrangea anomala petiolaris was an exercise in frustration for quite a few years.
It'd leaf out - oh boy! And then no blooms. Year after year.
Planted on a brick wall in 2005, it took five or six years before there were any blooms at all. But it has redeemed itself since then. Look at this! I love the thick tiered effect and the moody light. Mostly you see this vine climbing walls, but it's also used as an unusual - to say the least - ground cover. I prefer it on a wall. Wouldn't want to walk through it.
Virginia A. Smith

, Inquirer Staff Writer
Sure glad I went to see Jim Bray yesterday instead of today! How dark is it outside? Looks like it's 9 p.m.
Jim and his wife Jeanne live on about an acre in Lower Makefield Township. Jim's the gardener in the family, and he's done a fine job. But I visited not to tour his garden - more to talk about native plants. Jim's the author of the township's native plant ordinance, which requires new developments, both commercial and residential, to have native-plant-only landscapes. Passed in 2007, the ordinance was copied by Schuylkill Township, Chester County, in 2009.
Jim and Jerry O'Dell, his counterpart on the Environmental Advisory Council in Schuylkill Township, recently did a program on native plant ordinances for Audubon Pennsylvania at the Peace Valley Nature Center in Doylestown. Although turnout was small, Jim declares confidently that "native plants have gone mainstream."
Virginia A. Smith

, Inquirer Staff Writer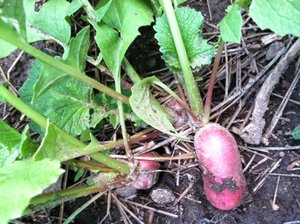 Radishes are not a wildly popular thing in this country, probably because the ones available in supermarkets are so nasty - limp, not crunchy, bitter. I've tried growing them a few times, but gave up in disgust. Sure, they sprout in a matter of days but when to harvest? I never got that quite right. Pick too soon and they're inedible. Pick too late and they're inedible.
This year, I bought seeds for French Breakfast heirloom radishes at the flower show. Buying seeds on the last day of the show, when I'm blessedly off-duty, is something I look forward to all year. You can see and read the seed packets. You can talk to Barbara Melera, owner of Landreth Seed Co. You can chat with other gardeners perusing the seed racks. Good deal.
Well, the first crop is in. I was weeding over the weekend and came across about a dozen red radishes poking above ground. I pulled them out, washed them up and am here to report that they were not nasty! which is about as good as it gets with radishes at my house.
Virginia A. Smith

, Inquirer Staff Writer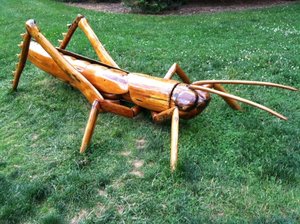 Been to see the Big Bugs at Morris yet? I saw them on Sunday. David Rodgers' sculptures are lots of fun. This is a grasshopper made from black locust.
As recounted in the Inquirer's Weekend section by Elizabeth Horkley in April, Rogers, a former cabdriver who lives on Long Island, was originally inspired by a tree in Vermont that reminded him of a backbone. He began with dinosaurs and moved on to insects.
His insects debuted at the Dallas Arboretum - great place, if you get a chance to go - and have been touring ever since. This is their second visit to Philadelphia. You can see them at Morris till the end of August.
Virginia A. Smith

, Inquirer Staff Writer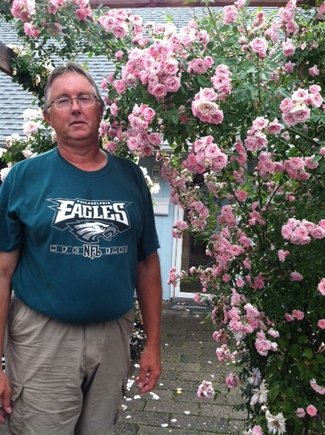 Bill Kozemchak, aka "Bill K" in the rose world, is a master rosarian who grows 1,050 roses (700 different varieties) on his quarter-acre property in Levittown. I've been hearing about this guy for awhile and finally got up there. Unfortunaterly, it was the hottest, most humid day of the year to date. Miserable! And it'd been raining heavily for a couple of hours when I arrived. But the rain stopped, and we ambled around the garden.
Bill has an astounding collection of just about every type of rose there is, everything from the common Knock Out series to the rare and weird-looking Green Rose, which Bill says flower-arrangers love but his wife, Kathy, hates. "It's a conversation piece," he says.
The roses are marked, and Bill hosts many visitors. Later on the day of my visit, he was expecting a busload of gardeners from Uruguay. We both mingled with them this past Sunday at Morris Arboretum, where the Philadelphia Rose Society was holding a show.