Archive: June, 2010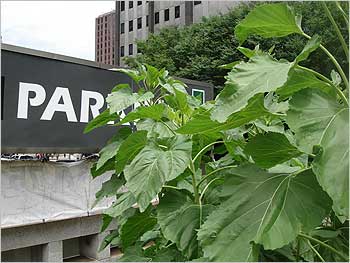 You can't underestimate the power of sunflowers to cheer up a gloomy day/week/life, and lately, there's a lot of gloom to spread around, what with oil spills, high unemployment, political insanity, disasters at every turn and, in my world, the probability that work life is about to get a lot harder (again). Just when you think it can't get any worse ... So it was a happy surprise to come across these sunflowers (Helianthus annuus) at the entrance to the parking garage at JFK Plaza the other day. They bring a smile to the saddest face, although no one else seemed to notice. That's not good either! Perhaps these cheerful American natives are open by now. Squirrels got mine again this year. Think I'll take a walk a little later.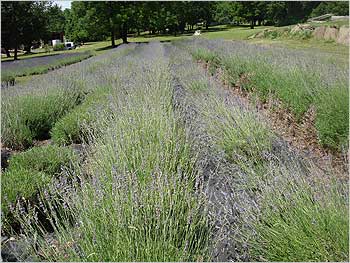 Patti and George Lyons operate the Peace Valley Lavender Farm just outside Doylestown, on a hilly property overlooking Lake Galena. If you've never been to this part of Bucks County, take a ride sometime. It's a very special place, and if you like lavender, all the better. I've never been much of a lavender fan, mostly because I don't cook with it. But after spending half a day with Patti and George, I could be persuaded. They own five acres, but only one is planted, and clearly, these lavenders like their digs. They like it hot and sunny, which the farm has in abundance, with good drainage, which is why they're planted on a slope. June is bloom time, so the hillside is a blur of purple dotted with bees and butterflies, mostly the cabbage white variety. The Lyonses live next door in a 19th century house and built the barn for their business, which relies on the harvesting and drying of lavender to make all sorts of products - soaps, lotions, sachets, candles, culinary herbs and a large lavender cookbook. As I'm learning from other interviews, all for a story scheduled to be in the paper on Friday, July 2, lavender is getting to be semi-big business. Lavender farms and pick-you-own places are popping up all over the country, with Washington State leading the way. Peace Valley offers group tours, but other farms serve as wedding venues, B&Bs and other fun ideas. I do like the lavender scent, and the lavender products, especially the ice cream I tasted at Tabora Farm & Orchard, just a few miles from Patti and George's place. Understand, I bought myself one scoop strictly for research purposes. It was so good, I'm thinking of going for a master's degree: Lavender studies. I can see it now.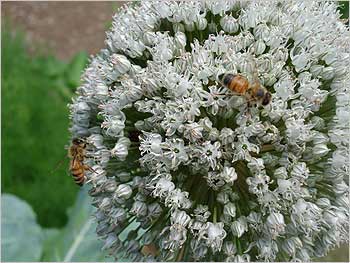 Everywhere I go these days, it seems the conversation goes to honey bees - how good they are for gardens (pollinators) and how good their honey is. We know they love ornamental allium, such as these guys chowing down in Chanticleer's cut-flower garden. During a visit yesterday, the place was literally a-buzz, about the only sound discernable in the thick, midday heat. But alliums aren't the only flower these beloved creatures enjoy. Here are some others - butterfly weed, aster, borage, cosmos, purple coneflower, bee balm, sunflower, Russian sage, fennel ... the list goes on and it's quite a list. Leaving bees aside, these are great plants for any garden. Why not plant a two-fer, then? Beauty and the bees. (Couldn't resist.)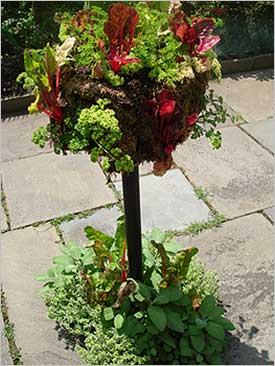 You may not think "vegetables" when the name Chanticleer comes up, but during a visit yesterday that was one of the pleasant surprises. (There are always many, visiting this place.) There were veggies everywhere. The right kinds, used decoratively, can actually be quite beautiful, at least for a time. So it was fun to see crayon-colored stems on Swiss chard and this topiary-like creation, and climbing sweet peas with the pods on, parsley used as a container "garnish," and bolting lettuce left in the pot or ground to provide a little verticality and fun in - where else - the vegetable garden. Some of these things were also scattered in the Teacup Garden, the ornamental beds and other areas, including by the front restrooms. You may think the latter is a strange place to plant vegetables, but I suggest you check out these restrooms. (Not what you'd expect either!) I promptly went home and planted some green beans and sweet peas that had been languishing in my seed storage basket, victims of my fatigue and other priorities. Seeing what the clever folks at Chanticleer have done with lettuce - celebrating those frilly pyramids of red and green - makes me feel less guilty about leaving the bolted arugula (white flowers), mustard greens (yellow flowers) and cauliflower (Martian-like antennae) where they are. No sense rushing things, especially now that I can see them in a new light.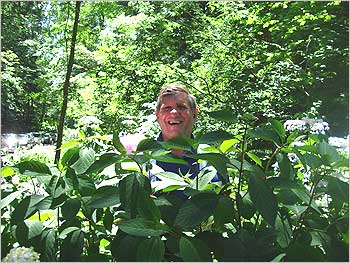 John Feliciani isn't a name you read about often, which is funny, given that he's been working at Winterthur for 50 years - 39 fulltime, 11 parttime, since he was 10 years old. That alone is impressive. But John is the fourth generation of his family to work at this lovely old du Pont estate outside Wilmington, the last three in the garden. He's retiring as director of horticulture at the end of this month, and yesterday I spent several hours with him walking around the garden and talking about his experiences there. It was a beautiful day. Though the city was baking, Winterthur's garden was pleasantly warm and breezy. John's had quite a time. He told me he still gets lost in the museum, but he knows every inch of the garden. He's survived hurricans, blizzards, drought and terrible rains, but the worst period was probably the 1980s, when the garden was so overgrown and neglected, John says, "We didn't even advertise that we had a garden." With others, John undertook the garden's restoration in 1986. Today, more than 20 years down the road, it's time to start over. But that's how it goes in the garden. "It never ends," he says. Story coming soon, and we wish John much happiness in his retirement. Goes without saying, he'll be busy. He plans to work hard in his two huge vegetable beds, do more trout-fishing and spend a lot more time with his wife, Helen. Sounds like a great idea to me.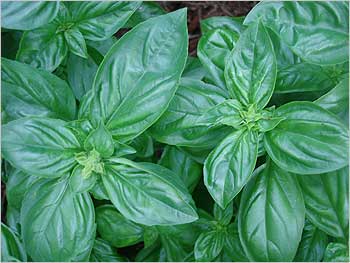 This is very healthy Italian basil growing in my tomato patch, but I plan to keep a close eye on it. Vegetable disease experts at Cornell University, who got the word out last year about tomato late blight, are warning that there's another scourge we need to watch for - downy mildew on basil. The first instances of this in the U.S. occurred in Florida three years ago, and the Cornell folks are warning that it's spreading up the coast, toward the Midwest and California. The mildew shows up as faint yellow bands on the top of the leaves, with tiny gray dots on the undersides. It won't kill you but sounds pretty unappetizing. The best preventative is to plant basil in open sunny areas with plenty of air circulation. That's true, too, of tomatoes, if you hope to avoid another round of late blight, which was so devastating last summer. Unfortunately, this week Rodale.com and Organic Gardening magazine warned that the pathogen has already popped up in Maryland and other places and could, as they say, be heading this way. Last year, though the company denied it, Bonnie Plants of Alabama was blamed for supplying infected seedlings to box stores and nurseries. This year, the source hasn't been identified, but it's a good idea to be on guard. The signs are pretty gross: a nickel-size olive or brown patch on the leaves, with some white gunk on the underside. Sometimes the spot has a yellow halo around it - bad casting there - or looks water-soaked. Once the plant's infected, there's not much to do beyond yank it (gently, so as not to release more disease-spreading spores into the air) out of the ground, put it in a plastic bag and send it out with the trash. Don't compost it. The spores can spread from your compost pile, and they do spread - 30 and 40 miles in the wind and rain. Last spring, we had so much rain and humidity, conditions were perfect for blight. This spring has been different, so I'm surprised to hear that it's showing up again. What next? Fingers crossed.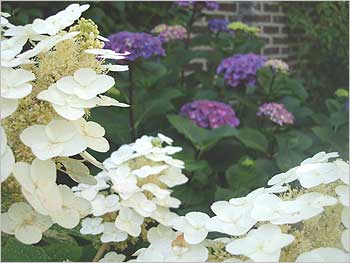 This is an astonishing spring for hydrangeas. Have you noticed? Last year, with so much rain, the hydrangea display was short-lived and unimpressive. This year, this morning, incredible! Here we have a photo of my oakleaf hydrangea, five years old almost to the day, and a truly remarkable Mother's Day hydrangea that not only survived its stressful time on the assembly line, but adapted to an outdoor garden in Zone 6 and now, at five feet tall by five feet wide, is thriving. I can't help noticing hydrangeas all over the region. These perennial favorites, literally and figuratively, are big, beautiful and showing off in this lovely spring.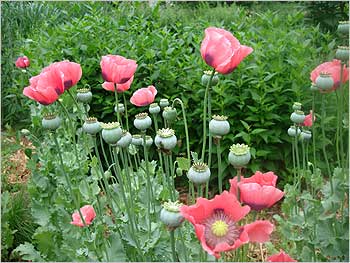 After an exhausting weekend of working in my own garden, it was pure pleasure this morning to visit Ric Venzie in his. Ric has two acres in Cherry Hill, right off Route 41 and all that THAT entails, that he's developed over the last 16 years into a richly planted habitat. These poppies are among the few splashes of color at the moment, along with purpletop vervain (aka Brazilian verbena) and some random purple coneflowers. A lot of Ric's plants, especially the natives that are so prized by insects, birds and other critters, will be bursting forth later in the season. He looks forward to joe-pye weed, pink swamp milkweed, tickseed coreopsis and purple anise hyssop, among others. For now, there is beautiful foliage on his half-dozen Japanese maples, a stunning variegated gingko, a small "forest" of redwoods - yes, redwoods! Ric lived in California for many years - and green, black and golden bamboo, which is kept neat and under control. Standing inside his bamboo grove, he says, is "like being in a cathedral." For those who think blossoms must be, as Ric says, "cha-cha" colors, he seems to gravitate toward more subtle white flowers, like Hydrangea paniculata and a poison hemlock, which resembles Queen Anne's lace or carrots. Covered with bees and butterflies, these creamy blooms make you stop and stare and rethink the notion of color in the garden. Ric has carved out a lot of beds, including a large round one right in the middle of the yard that his father - this has been the family home for more than 60 years - was intent on keeping wide open. Ric is the sole homeowner here now, and his ideas are very different. His goal is to eventually have beds everywhere, connected by grassy paths, rather than grass everywhere there isn't a bed or border. He's getting there, slowly, given that he still has a fulltime job running a frame shop/glass gallery/coffee shop in Haddonfield. Monday was his (only) day off this week, and he was going to spend it - you guessed it - talking about his garden and then working in it. Sounds like a perfect day to me.