Archive: May, 2013
Virginia A. Smith

, Inquirer Staff Writer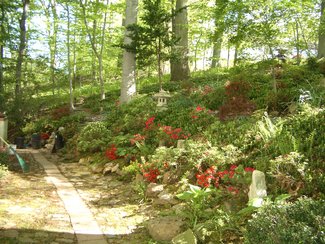 That's how Charlie Dagit described the gardens he visited in Kyoto and other Japanese cities more than 20 years ago, and it aptly describes the sensibility he strives to achieve in his garden in Gladwyne. I visited Charlie and his wife Alice in the fall of 2010 for a piece on Japanese-style gardens.
Charlie emailed recently to say hello and attached several photos of the steep hillside garden behind the house, which he designed and helped build in the 1970s. They brought back memories of a happy time spent exploring the plantings and paths, water basins, rocks and stone benches that loom above the busy traffic below.
Not sure I felt a "spirit of sacredness" up there, but "serenity and oneness with nature" definitely apply. And, in this suffocating, prematurely-summer heat, I'll add one more characteristic: cool. Cooler, rather.
Virginia A. Smith

, Inquirer Staff Writer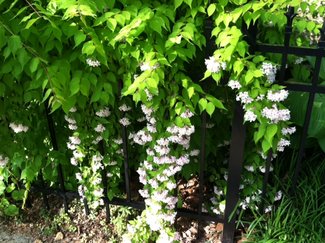 You know the old saying. In its first year, a plant sleeps. In the second year, it creeps. Come the third year, it leaps!
This, as you may have learned, is so true. Take the Kolkwitzia amabilis, otherwise known - perhaps more aptly - as beauty bush. What an outstanding plant! I have two of the 'Dream Catcher' variety. They were little squirts when I acquired them. Nothing much happened for two years. Since then, whew! They've taken off.
Now they stand side by side along a fence, about five feet tall, their wand-like branches hanging over and, depending on the time of day, reaching out to people passing by. Yesterday, a young mother and her toddler stopped to admire them. Mom wanted to know what they were. Of course, she hadn't ever heard the name.
Virginia A. Smith

, Inquirer Staff Writer
Peter Smith is already wellknown for his ultra hip urban garden shop - City Planter - in Northern Liberties. Now, he's become the kokedama guru. Koke-what?
It's an interesting and highly decorative way to hang houseplants. But there are no pots. Plants are inserted into a mud ball - now we're talking fun - the ball is covered with sheet moss (live or dried), tied every which way with twine or string and hung from the ceiling.
Peter made this kokedama for our recent visit, but he has several others hanging in the shop. You'll be hard-pressed to find someone to teach you how to do this - Longwood Gardens had one workshop in March and won't have another till 2014. Peter plans one on June 7 at City Planter (cityplanter.com).
Virginia A. Smith

, Inquirer Staff Writer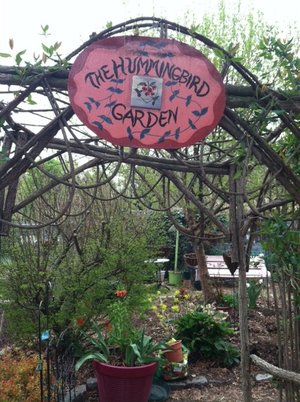 Over the weekend I received an update on the Horticulture Center gardens in west Fairmount Park. They're known as the Centennial Gardens, named for the 1876 Centennial that was celebrated there. You may recall my story and earlier post on super-volunteer Pamela Sodi, who was practically singlehandedly attempting to restore 10 overgrown and neglected garden beds.
After the story ran, readers responded. Pamela says she now has 14 volunteers. They've revived 8 of the 10 gardens and were just assigned an 11th. She even heard from someone who directed her to some grant money for public gardens!
Pamela's new cadre of volunteers has a name now, too - the Centennial Garden Tenders. Wish them luck.
Virginia A. Smith

, Inquirer Staff Writer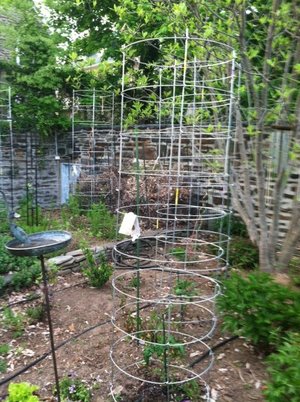 I'm talking tomato cages here. These are 24 inches' diameter and 6 feet tall with 2-foot extensions! I need 'em this big to accommodate the grafted tomatoes I bought last week. Those, you'll recall, have heirloom tops grafted on to hybrid root stock for a combination that Burpee promises will produce the delicious fruit of an heirloom and the increased soilborne disease-resistance of a hybrid.
These plants supposedly grow to heights of 12 feet or more. No way would my crooked old cone cages suffice for such a beanstalk. Last night I placed the new cages around four grafted plants. I tried, anyway. Word of advice: Find a good spot for the cages, then plant the tomatoes. I did the opposite, and found myself trying unsuccessfully to pound the 18-inch posts into the ground. Forgot how much rock is hidden below the soil line in my garden.
Finally got things squared away, and I'm hopeful my 'Mortgage Lifters' and 'Brandywine Pinks' will shoot up the cage and gently fold themselves over for the trek down. Otherwise, I'll need a ladder - or a giant - to harvest for me.
Virginia A. Smith

, Inquirer Staff Writer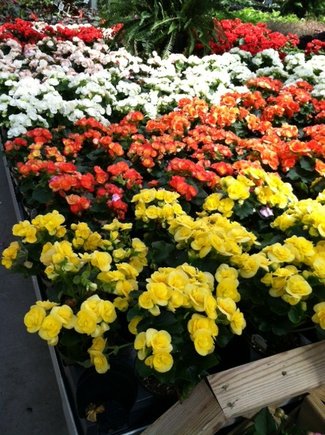 Every garden center I've visited this spring has been selling at least a few Impatiens walleriana, the common impatiens that has been dogged by - fatal - downy mildew the last few years. I understand that some customers won't take no for an answer, but isn't this where garden centers and box stores can step up and educate people?
There are plenty of alternatives to this immensely popular bedding plant - caladium, turenia, and begonias, which are pictured here. I saw many types in my travels to Lancaster County last week, and there are plenty available in the Philadelphia region, too. These were beautiful - note the bright yellow one. It's a tuberous begonia called 'Blitz.'
Actually .... maybe it's time to replace some of those high-maintenance annuals with perennials - though I am the last person to tell you that perennials require little care. (Talk to me sometime about what I do on weekends!)
Virginia A. Smith

, Inquirer Staff Writer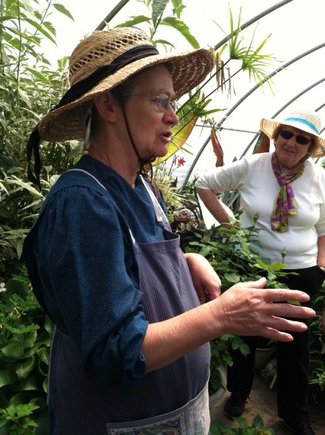 What an outing! Yesterday I tagged along with four ladies from the Maple Glen Gardening Club in Montgomery County as they made their annual trek to plant nurseries in Lancaster County. All told, we made nine stops - yes, nine, which included lunch at the Town Hall Restaurant in Blue Ball. (When was the last time you had a $2 sandwich?)
The ladies bought a lot of plants. I, on the other hand, was the model of self-control. (If only I weren't working!) It was an exhausting but wonderful day, one that included stops at Conestoga, Black Creek, Briar Rose, King's Herb Nook and Willow Brook, among others.
One of my favorites was Martin's Greenhouse in Narvon. This photo is of Marian Martin, a lovely Mennonite woman who grows some spectacular plants. Her nursery is behind the house, filling up almost two acres, and it's known simply as "Mrs. Martin's place."