Archive: May, 2012
Virginia A. Smith

, Inquirer Staff Writer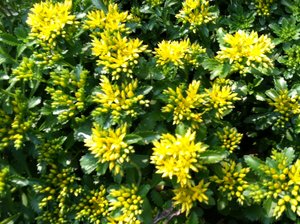 Don't know about you, but my garden is a jungle! Went away for four days and returned to an explosion of color and vegetation. Hard to walk the aisles! And it seems just about everything is blooming. Even the hydrangeas and hibiscus are gearing up in this weird spring.
Roses, sedums (like this 'Angelina'), nepeta, baptisia, climbing hydrangea, clematis, spiderwort, balloon flower, yarrow, native wisteria, and on and on. It seems like one big season out there - springsummerfall, with none of the subtleties of transition from one to the other.
And everything's coming up in one-size-fits-all: humungous.
Virginia A. Smith

, Inquirer Staff Writer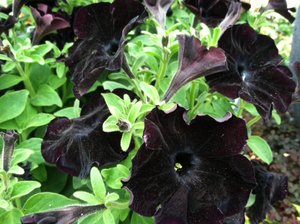 I'm thinking of writing more on this, but for now, consider the black petunia. Called 'Black Velvet,' it came on the market in 2011 to generally favorable reviews. Growers loved it, but there was some hesitation, too. Black - far as I know - has never been a popular color in the garden, and some folks hesitated. But this petunia really is cool.
I found it at Terrain at Styers in Chadds Ford the other day, along with 'Phantom,' another black petunia with a cream/yellow star in the center. There's at least one other black petunia - 'Pinstripe' - and a few other darkly dark flowers out there, among them hollyhocks and pansies.
Do these plants fade into the background? Get lost in the sun or mismatched too often with the wrong partners or venues? No doubt, black is tricky, but the online gurus suggest white and chartreuse flowers or foliage as good partners. (Happy to see they do not advise red.)
Virginia A. Smith

, Inquirer Staff Writer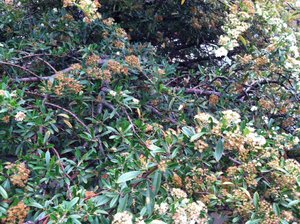 This picture shows why the experts are forever emphasizing the idea of multi-season "interest," that something ought to be happening in every season in the garden. These so-called bridal wreath spireas line 16th Street near Vine and do they look pooped or what? These shrubs are old-fashioned favorites, but I've never seen the appeal - beyond about a week in spring, that is. For that brief moment, they're spectacular. Then ... they turn brown, a slow death, like this one, and that's it, folks. We're stuck with an unruly, brown and green blob for the rest of spring, and all of summer and fall. (And, oh yeah, it stinks.)
Nothing else in this bed, which is why I thought of the "interest" thing. It's a simple concept that, oddly, is really hard for gardeners to figure out: Plant stuff that blooms or colors up or has an interesting feature (bark, foliage, flowers) in every season. When I interview expert gardeners at home, they all have something going on out there, even in deepest winter. Winter jasmine, or red twig or yellow twig dogwood, or witch hazel.
I'm getting there ... slowly, with a little kick from ye olde bridal wreath. From here on, you'll find me on the other side of the street. Looking for something a little more ... interest-ing.
Virginia A. Smith

, Inquirer Staff Writer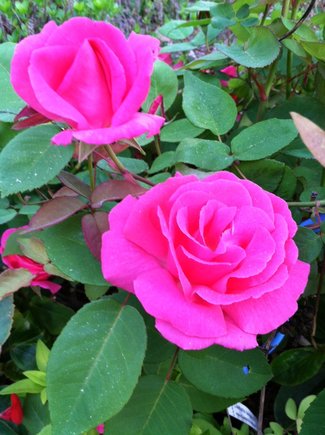 Like everything else this crazy spring, roses are early. Way early. Frankly, this couldn't happen at a better time; times are tough all around, and it seems everyone you meet is depressed over something! My pink double Knock Outs are blooming with abandon, and while you can argue with this blockbuster's lack of fragrance and bemoan its ubiquity, you can't (seriously) knock it - it's reliable, it's not bad looking, and it grows no matter what you do or don't do to it. It fills in inconvenient gaps in the landscape.
Somehow, though, Knock Out doesn't provide the lift - the thrill - that some other, more unusual, roses do. Maybe it's because it's like wallpaper these days. Everywhere you turn, there's a lonely Knock Out in the middle of a weedy bed in front of McDonald's or the bank.
The roses in this photo are the famous 'Zephirine Drouhin.' Gorgeous, no? They're planted in a giant pot with some native honeysuckle, scrambling up a post on a pergola. The pink is fresh and clear. This is an old Boubon rose, dating to 1868, and it's remained popular for good reason: It climbs well, has a sweet, clean fragrance, blooms more than once, and is virtually thornless, something I especially appreciate after tangling with some pain-inflicting shrub roses over the weekend. And one more thing - the canes are reddish, providing outstanding contrast with the leaves and buds.
Virginia A. Smith

, Inquirer Staff Writer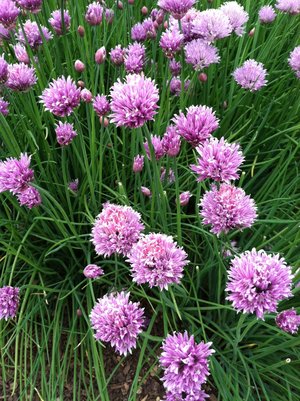 Look at this stuff! Chives make any flower garden pop. Saw these in the Idea Garden at Longwood yesterday. Big clumps anchored the four corners of almost every bed in the herb garden there and let me tell you, on a chilly, gray day, they were standouts. Lately, it seems, everyone's into herbs for their ornamental value, which for chives is considerable. What part of your garden wouldn't be enhanced by a show like this?
Chives are useful in many ways, too. You can eat both flowers and leaves, usually in salads. Both also can be sprinkled atop or around a plate for dramatic effect. Chives are very high in vitamin C, and were used in herbal medicine to help with digestion. They were put to other uses, too, but I'll spare you the details. One wonders how the ancient herbsters ever came up with some of these things. Let's see. You have hemorrhoids? Ah yes, let's try leeks for that. (Wait - I promised not to go there.)
Chives look cool in pots in the kitchen and the leaves can be frozen, which has never occurred to me. Some recommend drastic cutting back a couple of times during the growing season to promote a denser plant. I like snipping a few stems, cutting them into bits, and sprinkling on fresh tomatoes or a garden-lettuce salad. There we can definitely go.