Archive: May, 2011
Virginia A. Smith, Inquirer Staff Writer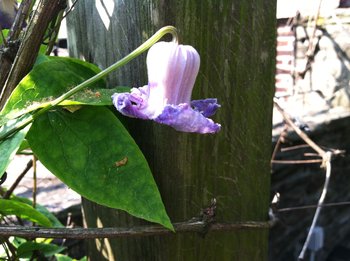 Don't know about you, but I clocked a lot of hours in the garden over this three-day holiday, to the point where a) I was thoroughly exhausted and b) it was difficult to enjoy the place.
This morning, somewhat refreshed but still sore, I made some tea and decided to walk around a bit, intending to take stock of what had been done and what remained on the never-ending to-do list. It was at that point that I came upon this delicate little Clematis integrifolia 'Rouguchi' in bloom, a tiny, bell-shaped flower on a vine that isn't really a climber, but can be trained up the posts of a pergola, as this one is.
Came just in time. I've been weighed down by problems and undone tasks, someone who, even when others find beauty and joy in my garden, launches into a litany of all that's wrong.
Virginia A. Smith, Inquirer Staff Writer
I love it when local experts, who know our climate and growing conditions, recommend plants that will thrive in Philadelphia-area gardens. It helps that those doing the recommending aren't selling anything. These suggestions come from the folks at Jenkins Arboretum in Devon, which has been making three annual Green Ribbon Native Plant awards since 2003:
Cinnamon fern (Osmunda cinnamomea) - pictured here in a photo by Beth Miner, formerly of Jenkins, now at Awbury Arboretum - is a great color for the garden and has this added curiosity: Tiny white hairs on the tightly curled fiddleheads unfurl and mature and turn into this "great color."
Hummingbirds collect the hairs to line their thumb-size nests. Cool! Cinnamon fern likes wet woodland habitat and its fronds can get up to 4 feet long. You can see lots of examples at Jenkins.
Virginia A. Smith, Inquirer Staff Writer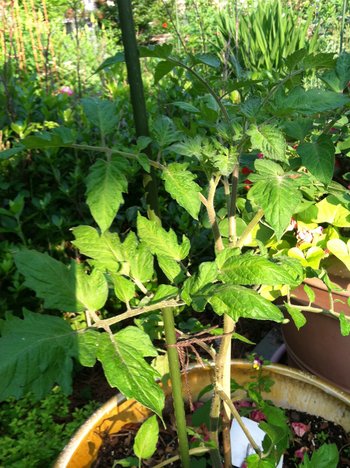 This is a nice healthy tomato plant, one that Meg McGrath, an associate professor of plant pathology at Cornell, no doubt would wish for all of us. McGrath, an expert on late blight, suggested recently that the soggy spring of 2011 has folks once again wondering about - read fearing - this highly destructive disease that spread throughout the northeastern United States in 2009, destroying whole tomato and potato crops on farms, in addition to plants in many backyard gardens.
Late blight is, for lack of a better word, challenging, she says. For one thing, it cannot be "lived with" or managed. If your plants show signs of having it, they must be destroyed immediately - not composted, but burned or disposed of in the trash. Otherwise, the whole crop/garden goes down.

Symptoms include brown spots or lesions on the stems, with white fungal growth, causing the stems to soften, then collapse.

Virginia A. Smith, Inquirer Staff Writer
Spent a lovely afternoon at Nemours yesterday with Grace Gary, executive director, who's a whiz in a golf cart and an entertaining guide. We were there to get an update on restoration efforts which, to tell the truth, are never-ending. The first phase was completed in 2008, requiring the place to be closed for three years and costing $39 million from the Nemours Foundation.
This is the former estate of Alfred I. duPont, a modern-day Versailles with 77 rooms, a reflecting pool that contains 800,000 gallons of water and covers 1/3 acre, two-acre Sunken Gardens, a Temple of Love, a maze garden, formal parterre, grassy terraces and fountains, fountains, fountains.
Going forward, Grace says Nemours will be spending about $2.5 million a year on other projects, which I'll outline in a story to come on June 3.
Virginia A. Smith, Inquirer Staff Writer
This is the signature view at Nemours. Actually, the view back to the mansion from the Temple of Love, which features a gorgeous statue of Diana the huntress. She's been restored to a sheen and the ceiling of her temple painted a lovely light yellow, its original color, replacing a jarring blue.
In this video, Nemours executive director Grace Gary describes the quarter-mile vista from temple to Beaux-Arts house. It's a series of grass terraces, leading to the reflecting pool that was used by the duPonts for swimming and boating (replica of Alfred's rowboat right in front), the Colonnade and sunken gardens.
You can't see the Temple of Love in this video. I have a photo I'll download. Even in photo form, it's not to be missed.
Virginia A. Smith, Inquirer Staff Writer
Here she is - Diana the huntress, cast by Jean-Antoine Houdon, who was a friend of Benjamin Franklin when Franklin was minister to France.
Diana faces the Nemours mansion, one of the best views in the joint. Her temple roof has been redone, and the ceiling returned to its proper color, a creamy, light yellow. While we were admiring all this, we noticed a mother robin sitting on a nest nestled near the ceiling, one of many bird sightings we had.
You can see the nest, if not the mom, in this photo.
Virginia A. Smith, Inquirer Staff Writer
This is Elsie Hossack on the terrace of her 25th-floor condo at the Kennedy House on JFK Boulevard. She has spectacular views of City Hall to the left, 30th Street Station on the right, Liberty Place in front, and so many other landmarks.
I went to see Elsie's terrace, actually, to talk about highrise gardening - what plants can take the brutal sun, heat and wind. Before we even got into that, I had to sit down - away from the rail. My legs were turning to jelly, but not Elsie.
She stood right on the edge. Elsie's a brave woman - 82 years old, with a long business career behind her. Unable to keep still, she still works - as a volunteer - at the Kimmel Center several times a week.
Virginia A. Smith, Inquirer Staff Writer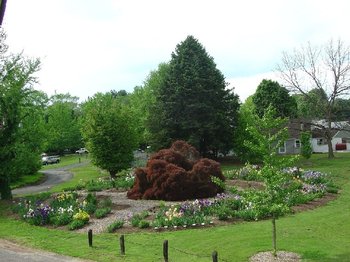 That would be the iris, and this photo is of the Carol Ann Moyer Iris Garden, now in full bloom at Delaware Valley College in Doylestown. (Photo by Mary Boyle, of DelVal)
Moyer is a retired science teacher, master gardener and iris champion. She designed and planted this circular, 80-foot-diameter garden (with help from her husband and son) back in 2007 to hold 11,000 irises. It's beautiful today.
Often called "flags" or "friendship flowers," irises are blooming all over the region. My favorites are the fragrant bearded varieties. Their scent wafts over the fence from my garden, stopping passersby.