Archive: May, 2009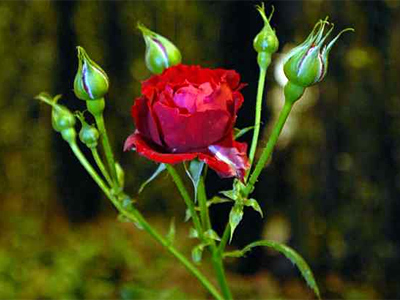 Isn't this a beautiful thing? Kohlrabi. Not exactly a household word. Never had it, never bought it, but a friend - whom I call "veggie guru" - gave me some seedlings and they have really taken off. Kohlrabi is German for turnip, which explains why it's often referred to as a "cabbage turnip." Looks like a Sputnik. Kinda weird. But I love the smokey purple color and the stalks coming out and just had to take its raindrop-covered picture. I'm told it tastes like peeled broccoli stalks and is good eaten raw. Tonight we're going to stir-fry the bulb and the greens - the bulb is actually considered an enlarged part of the stalk - with some crunchy brown rice another friend gave us. She had, oh, about 20 pounds in the cellar, leftover from a big party. So tonight we're on the dole. A delicious dole, compliments of the vegetable garden - and a few good friends!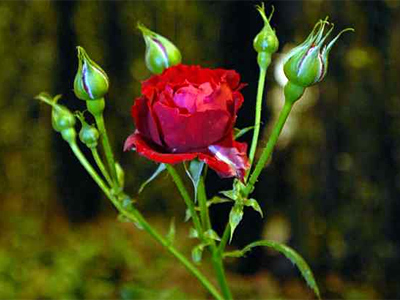 You know how we're always told not to plant till all danger of frost is past? Who does that? I've ignored that for years and suffered no consequences. Well, friends up in Blakeslee, in Luzerne County in the Poconos, paid attention to that warning and dutifully waited till after Mother's Day to plant their vegetable garden. The seedlings were coming up nicely - and then, one morning last week, the temperature was 23 degrees! The seedlings already above ground looked OK and chances are the ones yet to germinate will be fine, too, because the soil is warm enough even if the air isn't. But look at this Pieris japonica - fried, Northern-style. Our friends' woods are full of trees with similar damage. It appears the ones whose leaves are fully out are OK, but the ones with leaves just starting to open are cooked. The trees will survive, but it struck me as odd. Wouldn't you think these trees would be used to the unpredictability of Nature in these parts? This is a place where thunder storms roll down the Lehigh River with tremendous booming, loud enough that you wake up and stand by the window in awe in the middle of the night. This is one of the joys of living where they do. Nature is all around you, glorious and destructive, in all its fascinating detail.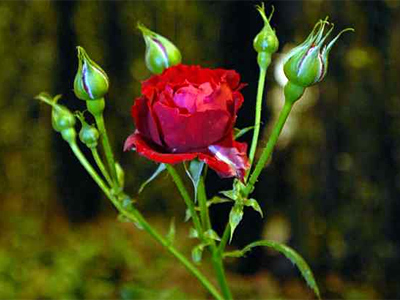 Every morning now, I'm cruising around looking at the garden. As the perennials get taller, I see fewer weeds. Blessing or not? I'll take blessing for the moment. And I understand four-season "interest" in the garden, I appreciate the different seasons' offerings, but tell ya what. This is the greatest time of year. We all need a lift these days, and nothing works for me like time in the garden. Almost every day there's new growth or a new bloom somewhere. This morning it was this beautiful rose - the first one on my 'Joseph's Coat' climber. This isn't a rare rose. It isn't particularly old - 1964. But it's reliable, disease-resistant, at least moderately fragrant and a vigorous climber. I wasn't sure what to expect. Some photos of this rose haven't appealed to me. But this combination of cherry red, pink and gold with glossy leaves is quite lovely, don't you think? And I'm beginning to like the open aspect of roses like this. It's a nice change from the cabbage-rose look.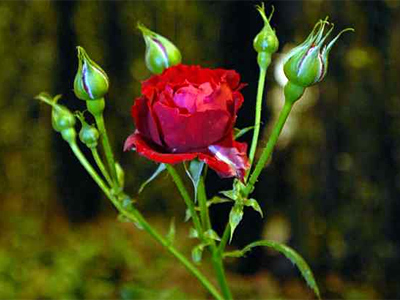 Scott Calhoun is a big-name garden designer, author of Designer Plant Combinations (Storey Publishing, 2008), whose name (and book) popped into mind this morning as I walked through my suddenly-beautiful garden. (The sparkling weather may have something to do with this perception but I'll take it!) Sometimes, without even meaning to, we create lovely color combinations, such as this one of spikey catmint or Nepeta 'Walker's Low" and geranium ground cover. Catmint is a favorite pathway liner at my house. It grows fast, reblooms after a haircut and fills the gaps nicely after even one season. It also gets by with no watering.
Calhoun has some stunners in his book. He pairs hummingbird mint (Agastache cana) with Russian sage and 'Moonshine' yarrow - coral-pink/purple/gold. Round-blossomed, pink garden phlox is planted successfully with Russian sage, too, and I realize, after a few pages, that this is a plant I have a love-hate relationship with. Its outline is dramatic, purple wands every which way, but when I go out West I see it everywhere. It's drought-tolerant and basically no care, thus, in demand, sometimes to the exclusion of all else. And with all that sun, it can look unruly and bleached out. But you have to admit. It's an easy plant to work with.
Calhoun also likes ornamental grasses planted with red sages or globe thistles or - I love this one - purple verbena and rust-colored coleus. And it sure helps when you have masses of each. Which perhaps explains why my humble combo struck me this morning. These plants have been steadily growing for a few years now and suddenly seemed big enough and worthy enough to admire. I guess this is why patience is a virtue, especially in the garden.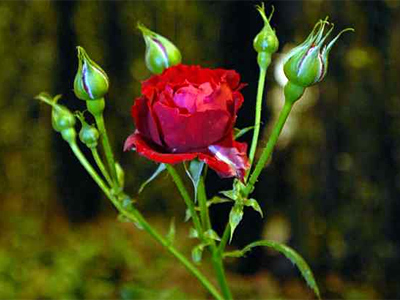 Spent the morning at Wyck House, yet another historic place in Philadelphia that's tucked away in a verdant pocket of the city but still retains its urban flavor. Wyck, a national historic landmark on the corner of Germantown Avenue and Walnut Lane, is a beautiful stone house with a rose garden that dates back almost 200 years. The roses are just beginning to open and if you visit, you'll see that they're not like the roses you find everywhere else these days - no 'Carefrees' or 'Knockouts,' though no one's knocking them. They serve a purpose, which is to put landscape color where it wouldn't otherwise be and to entice more folks into gardening. But the roses at Wyck are old - not just heirloom or antique, but really old. And while there isn't universal agreement on what constitutes an "old rose," it's safe to say these are old European roses (no Asian influence) with fabulous fragrance, a one-bloom season, very tough and low maintenance. What's not to like? I was a goner in this garden. The fragrance alone sent me into orbit. I'll be writing about Wyck's rose collection next week but had to share the morning's experience. Couldn't have asked for a lovelier day and what better way to spend it than literally smelling the roses. This one is called Rosa wichuriana 'Tausendschon.' Its two-inch wide, pale, papery pink blossoms - how's that for alliteration - are climbing daintily up the house. And good news for rose-lovers: Wyck is hosting an Old Rose Symposium Saturday May 30 from 10 a.m. to 3 p.m. Information: 215 848 1690 or email horticulturalist Nicole Juday at njuday@wyck.org. Some of the country's top rose experts will be there - Judith McKeon, Stephen Scanniello, the Rev. Douglas Seidel, Arthur Tucker and Dennis Whetzel.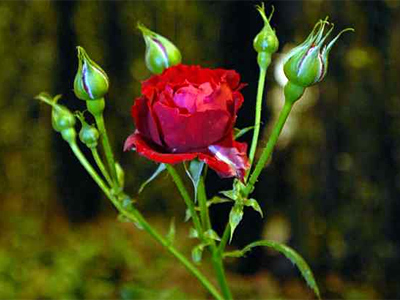 Can there be any doubt rose season is under way? It's a thrill every year to note how much the roses have grown. Mine started out like gangbusters a few weeks ago and I'm chagrined to note that many of them now have leaves covered by black spot. Eventually, this maddening disease will denude my plants. With luck, the blooms will keep coming but it's a rather hideous sight to see beautiful roses atop skeletal bodies. I'm loathe to start nuking them with chemicals, though I understand the impulse. I may try - before it's too late - a home remedy I read about recently: one teaspoon baking soda, one or two drops of vegetable oil, in a spray bottle filled with water. Let me know if you have any ideas. Meanwhile, this is my Fourth of July climber, winner of an All-American Rose Award (always a good indicator) and an early bloomer. Sure enough, it was the first to bloom in my garden this year and fortunately, it has no black spot. What a stunner! I know you're probably thinking you prefer roses that are one color or soft pastel blends. I usually do, too. But after I saw this rose on a garden tour last summer, I was struck by its dramatic, open flowers, bold colors (red and white) and festive, ruffly sprays. The literature says its fragrance resembles fresh-cut apples (I'm going to have to check that out some more) and recommends placing it on a white trellis to echo the white stripes. My trellis is green and it looks great. Last year, Fourth of July's inaugural, I had just a few blooms. Already this year, the trellis is loaded. May it continue.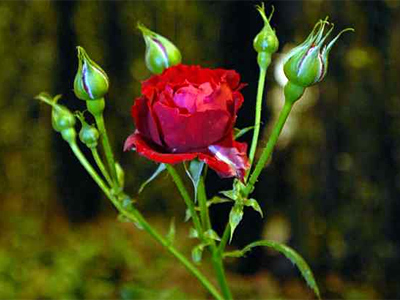 For gardeners with a plant addiction (is there any other kind??), these are tough times. I've been quite restrained so far this spring, although I did drop a good chunk of change on container plants last weekend. I won't tell you how much, but the total reflects my desire to be super creative this year and we all know creativity has its price. Enough about that. Jenkins Arboretum is one of many places in the area to have an annual plant sale, and this year they decided to extend the sale through this weekend because last weekend's weather was so bad. So you have another chance. Thousands of perennials, wildflowers, ferns and conifers will be for sale. This is what Jenkins people live for - to spread the word about great native plants and to make them accessible. Lots of them will be small and inexpensive, so even if you're late on your Mother's Day selection, you'll have plenty to choose from. (www.jenkinsarboretum.org) This photo was taken at the Jenkins pond this morning. I really liked what arboretum director Harold Sweetman said as we looked at this sylvan scene. He said that it wasn't colorful in the conventional sense. No big flashy blooms, except for the Chinese wisteria. It was, instead, a palette of greens. "Green is a wonderful color," he said. Now there's a statement a lot of folks nowadays would quibble with. Who doesn't want splashy color in the garden? But look at this - the pond is a green landscape. Soon white water lilies will be blooming around the perimeter. Is this not beautiful? Harold then suggested that experienced gardeners, as they mature and learn, often come to realize that a garden doesn't always have to be in bloom to be beautiful. "Green is a workhorse," he said, "and it's magical." I think I have some growing still to do, but I liked that.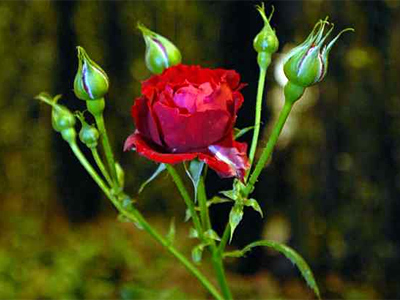 I spent my morning in this heavenly place - Jenkins Arboretum in Devon, one of many surprising little gems in the Philadelphia area. Just 46 acres, it's in the middle of suburbia, minutes from the King of Prussia mall and the expressway maze of the Schuylkill and 202 and 422 and so many others it gives me an anxiety attack just thinking about it. But right past Swedesford Road is Jenkins, its entrance so inconspicuous I drove right past. This is one of the best times to visit. It's azalea and rhododendron season and Jenkins is famous for its collections of both. This shot was taken from a little golf cart that arboretum director Harold Sweetman was driving on our tour of this marvelous garden, which I hadn't visited for a couple of years. Last time it was for a bird walk. You have never heard so many birds, even in winter; 109 species have been identified inside the arboretum and I swear, every one of them was in full voice today. The azaleas at this moment are riotously colorful - yellow, orange, fuschia, salmon, pale pink, white-white, creamy white. I've never seen so many. The garden paths are designed to zig and zag so there are unexpected delights and views around every corner. It's amazing, too, to see that with only six fulltime staff and a core group of 15 volunteers, the grounds are in pristine condition. The mood at Jenkins is high not just because it's springtime. Everyone is celebrating the new $2.4-million education center - with good reason. It's a modern design, very angular, simple, full of light and air, with every energy efficiency and a butterfly roof. Sitting inside, you truly feel as if you're in the middle of the woods. With today's cloudy light, the trees' emerging chartreuse leaves and the profuse azalea display, the scene was breath-taking. And guess what - Jenkins is free. It's free and open 365 days a year. Can't beat that.