Archive: April, 2013
Virginia A. Smith

, Inquirer Staff Writer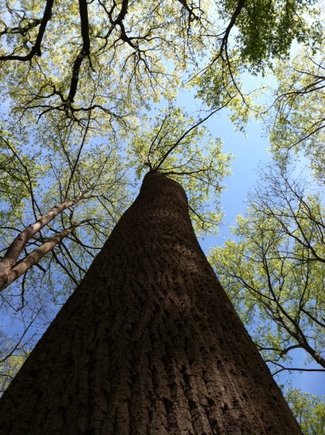 That's how Thomas Jefferson described the tulip poplar tree whose seeds he sent to a friend in Paris in 1805, according to the Thomas Jefferson Encyclopedia. It's a tree worth admiring today, as well. This was one of many encountered on a hike through the Schuylkill Center over the weekend.
These days I'm channeling our second president, having just bought A Rich Spot of Earth, the newest book by Peter Hatch, director of the gardens and grounds of Monticello since 1977. I spoke to Peter a few years ago for a story about olive trees, I think, and he was full of marvelous tales about Jefferson's fascination with them. And all else, which is why Monticello is on my list of "must visit" places!
Virginia A. Smith

, Inquirer Staff Writer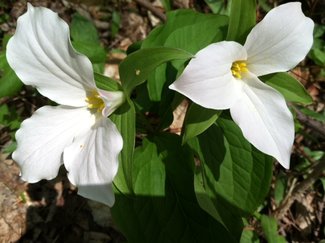 I have no trilliums in my garden - yet. I say yet because soon I'm going to have to have one - or more! These bright white native wildflowers naturalize, which is great news. But I confess I didn't know what this was when I came upon it in the woods. Spring ephemeral, yes. Wildflower, yes. But which one?
Trillium grandiflorum, the big guy. It's perfection, love those three petals, great for shady spots. Two things in the negative column. No fragrance -- :( -- and while this doesn't affect me, it does a lot of gardeners in the area: deer love it.
Virginia A. Smith

, Inquirer Staff Writer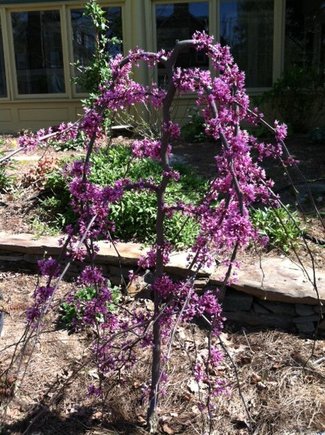 It's redbud season! A spin around the neighborhood last night turned up about a dozen in glorious bloom. Mine is the only weeper, and I love its compact style. Consider this a shout-out to the variety known as 'Lavender Twist.' It should only get about 6 feet tall. It's just right for the spot it's in - small garden, semi-shade, front and center, for all to enjoy. May it live a long time.
Virginia A. Smith

, Inquirer Staff Writer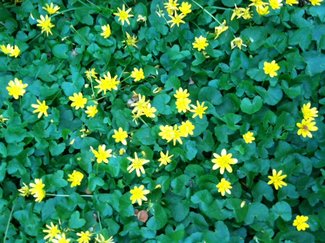 What a weird name for a plant! And one that, if you can suspend your animus, is so pretty. Unfortunately, this one's pretty awful. It's blooming now, and many folks think it's a desirable addition to their garden. It's sold online as such, along with many other nasties. (I'm still dealing with a passionflower Goliath and five leaf akebia, both of which were sold to me by a garden center years ago.)
If you've seen lesser celandine blanketing a forest floor, you'd marvel at how cheery it is ... bright green leaves, snappy little yellow blossom-dots, great coverage, and welcome color in early spring.
Problem is, lesser celandine, also known as fig buttercup, spreads quickly and smothers all those beautiful native "spring ephemerals" that are trying to come up for air - blood root, trillium, Virginia bluebells, wild ginger. Smother is the operative word. This stuff is like a toupee tightly woven across an expanse. (Not that I'm terribly familiar with toupees.)
Virginia A. Smith

, Inquirer Staff Writer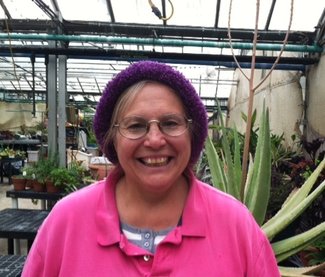 Pamela Sodi is a woman of many talents. Raised on a farm in New Jersey, she knows how to do just about everything related to plants and flowers, from propagating, putting them in the ground, nurturing them through the winter in a greenhouse, saving seeds, and designing a garden. You'd do well to have about 10 of her if you're a staff-starved organization.
Where were we? Oh yes, Fairmount Park's Horticulture Center at Belmont Mansion and Montgomery Drives, in the designated Centennial DIstrict of the park. Every time I visit this part of the city, which isn't nearly enough given that it's literally minutes from my house, I'm amazed at how wonderful it looks. This, despite tough, tough times.
Pamela and a small group of volunteers - how about four - make up in enthusiasm what they lack in resources. They're doing the best they can, and Pamela is spending a good bit of her own money and free time in the process. She's propagating plants for nine small gardens around the center, which is open to the public almost every day of the year.
Virginia A. Smith

, Inquirer Staff Writer
I've wanted to build teepees in the garden for a long time, and actually tried it once. After doing a story about kitchen gardens, I craved the teepees I saw in a book - great big bamboo poles painted bright blue. So I ordered the biggest bamboo poles I could find online, painted them blue - not asy - and then tried to get them in the ground. I couldn't pound them down deep enough, so they toppled over in the first heavy rain. Then the paint peeled. Then the bamboo cracked.
Emily, my fantastic garden helper, arrived on Saturday morning for our "work day" with a sack of bamboo poles and more energy than I've seen in a long time. Were you up early on Saturday? I was outside at 7 a.m., after a big rain the night before, and I think it was the most beautiful morning we've had all year. Birds were socializing and singing, the light was soft, and everything looked fresh and new -'cept me. Even after some sleep, I was tired. Long week.
Emily set about building four teepees, five poles each. She tied each pole individually and then wrapped them all together, pushed them into the ground and planted peas, which will climb up and give us, after years of me planting insufficient numbers of seeds, enough peas to actually eat at a meal. Once the peas are done, Emily wants to plant cucumbers or melons. Support is a wonderful thing for vegetables and fruits - and people!
Virginia A. Smith

, Inquirer Staff Writer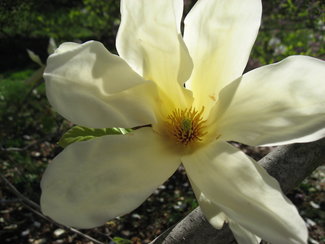 This is magnolia season, a glorious time of year. I swear, my pink saucer burst into bloom literally overnight this week with the bright sun and warm temps. So did the white star magnolias all over the neighborhood. But look at this one. This is 'Elizabeth,' a pale, buttery yellow variety that's still little known among us ordinary folk.
The yellow magnolias bloom a bit later than the rest, and should be in flower by next week, says Paul Meyer, who sent me this photo of 'Elizabeth' from last year at Morris Arboretum. Morris has quite a collection of yellow bloomers. I don't know about you, but I'm going to get myself over there next week to see.
'Elizabeth' is so elegant, you might think it's named for a queen. Alas, no. Might as well be!
Virginia A. Smith

, Inquirer Staff Writer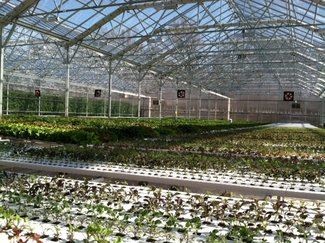 This is a new greenhouse on the old Patterson Farm in Yardley. Guess how big? 56,000 square feet, the same area as Michael Jordan's mansion outside Chicago, the one that just went on the market for $29 million. I visited on Friday, and am writing a story for next week's Food section.
The greenhouse was built by BrightFarms, Inc., an interesting company out of New York that's growing fresh tomatoes, lettuces, greens and herbs for supermarkets. Yardley's is the first greenhouse, but CEO Paul Lightfoot tells me he's got a total of $70 million worth of contracts in hand - St. Paul, Brooklyn, St. Louis, Oklahoma City ...
The Yardley operation supplies several McCaffrey's Markets near the greenhouse and two SuperFresh supermarkets in Philadelphia, one at 10th and South, the other on Girard Avenue, in the city's new hipster zone. Produce is delivered the day it's picked, sometimes within hours. Imagine.