Archive: April, 2012
Virginia A. Smith

, Inquirer Staff Writer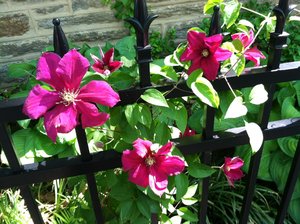 Looked all over the internet and found almost nothing on Dr. Ruppel, the hybridizer of this fabulous clematis. All I could find was "Argentina, 1973." Regardless. It's a lovely spring (and late summer) bloomer that popped open on my black fence this past week and caused spontaneous happiness among dog-walkers. This one came from the Morris Arboretum plant sale, which, if you haven't been to it, is one not to miss. It's May 12 this year (for the public).
To digress: This is plant sale season, and there are wonderful places to buy. Check out Eva Monheim's column this Friday (called It's Time To ...) in the Home & Design section. She has suggestions for what and where to buy, but for a good roundup of sales at public gardens in the area, go to greaterphiladelphiagardens.org; they've compiled a roundup. After going to a lot of these, I think I'll never again buy plants at box stores - if I can help it. Local garden centers and area plant sales are the way to go.
At the local sales, plants are grown there by knowledgeable people who often are on site to answer your questions. That was my experience at Morris. I described the site - shady - and my desire for a spring rebloomer, and the mysterious 'Dr. Ruppel' was suggested. Good choice. It's got large (6-8") flowers with ruffled petals and a darker pink stripe down the middle. The color is described as pale "orchid purple" or fuschia, and it's billed as a good cut flower, though all I ever do with cut clematis is float them in a bowl of water.
Virginia A. Smith

, Inquirer Staff Writer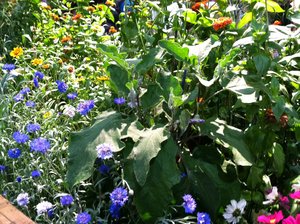 It goes something like this: ornamentals plus edibles. Big trend, and nowhere have I seen it done better than at the PHS' City Harvest exhibit at the flower show. I blogged about it then, and was moved to do it one again after a colleague recently asked PHS, and then received by email, the plant list for that exhibit. It's quite a long list for the whole exhibit, which also included the lettuce wall, the vegetable/community garden, the fragrant wall, not practical for the home gardener - or, at least, anyone without "help."
But it you're interested only in what's shown here, what was called the celebration garden, a mix of edibles and ornamentals, I can give you the plant names. There are only 18: alyssum ('Snow Crystals'), basil (Genovese), calendula (Kablouna mix), cardoon, celosia ('New Look Yellow'), cilantro, cleome (Queen Mix), cosmos (Sonata mix), dill ('Bouquet'), kale (dwarf blue curled), rosemary, purple sage, stachys ('Helene von Stein'), sunflower ('Firecracker'), verbena bonariensis, and zinnia ('Persian Carpet,' 'Gift' and 'Red Cap').
It's a riot of color and texture, and I think even if you don't use the exact varieties listed here, you can get the general idea. Herbs play a surprisingly big part and a lot of the plants are familiar and easy to come by. The only stopper for me is cardoon or artichoke thistle, a fabulous-looking plant that, now that I think about it, has got to be easier to grow than to cook. We can only hope.
Virginia A. Smith

, Inquirer Staff Writer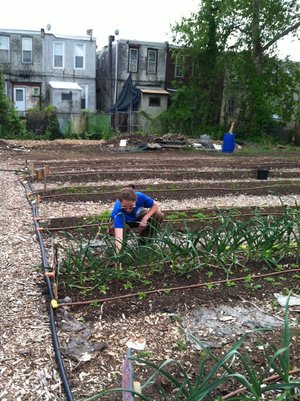 Here's urban farmer Annie Preston, wearing sunglasses after being stung by a bee on Monday, weeding at the Urban Tree Connection's farm at 53d and Wyalusing. You can certainly see the urban nature of this spot, and just imagine its former lives as garage, a storage area and, according to one oldtimer in the neighborhood, a plant nursery. Must've been a long, long time ago! Finally there was a fire and then blight set in. Neighbors recall all sorts of unsavory stuff going on in there.
Today, the place is quite savory, I can assure you, in both the cultural and culinary senses of the word. Yesterday Annie was pulling grass and lamb's quarters, an irritating weed that chefs now use in salads and other dishes, from the rows of spring onions. The weeds this year - as you may have seen in your own garden - are plentiful. I'm on the third or fourth round of pulling in mine ...
After watching Annie working slowly, slowly, down the row, you can understand the problems of scale experienced by farmers. One of Annie's coworkers grew up on a farm in Ohio. He tells of his still-farming grandfather's shock and puzzlement over the fact that his grandson's tiny urban farm takes so long to plant and weed. It's because this farm is organic, and everything is done by hand - the old-fashioned way.
Virginia A. Smith

, Inquirer Staff Writer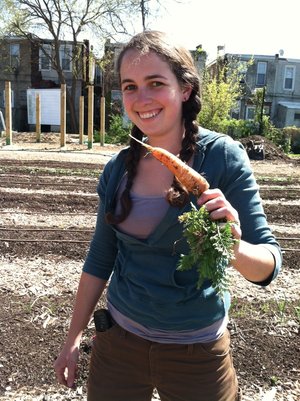 This is Annie Preston, who's chosen "urban farmer" as her current and future profession. She helps manage a 3/4-acre organic farm at 53d and Wyalusing, in the Haddington section of West Philly, that's surrounded - you might say protected - by rowhouses. It's an interesting place, one that I'll be visiting again tomorrow to talk to Annie again and to check on the progress of the crops - radishes, chard, spinach, carrots - Annie gave me this one - potatoes, garlic, onions, collards, kale, spring onions, beets, green beans ... and the list goes on.
There's one bee hive, and a desire to harvest and sell honey, a tidy composting operation, kids' programming, a farmer's market, cooking classes, and a healthy network of neighbors and volunteers helping out. It's all done under the auspices of the Urban Tree Network.
Tell you what. I put that carrot in the pocket of my jeans, then on the seat of my car, and its fragrance carried me home at the end of a long week. I made a carrot/orange/ginger soup a few days later.
Virginia A. Smith

, Inquirer Staff Writer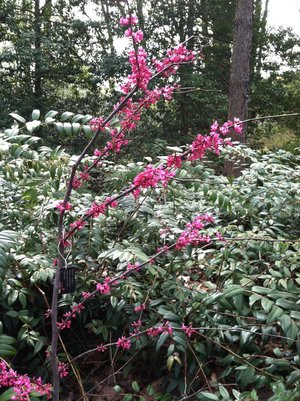 Our native redbud is getting more popular, thanks to the tree-planting programs so active in the city and region. Salutes to them, really. They are making such a difference. I'm seeing redbuds and other great street trees all over my neighborhood and others in my travels. Not so many Bradford pears anymore, though they were the rage in the '80s.
Bradford pears, which are nonnative, turned out to be problematic on several fronts, including the fact that at a certain point, they start falling apart. They have "weak wood." And they're susceptible to disease, although they're not the only street tree this is true of. They are pretty in spring, no question, and remain an extremely popular tree for roadsides, homes and municipalities.
But the Eastern redbud is gaining ground as an alternative choice, something that was brought home to me by Steve Wright, the aforementioned curator of plant collections at Jenkins Arboretum. He's in my story tomorrow saying that he loves all the redbud choices out there now, including the one pictured here - a so-called (because it still looks pink to me) red redbud! It's outstanding against a solid-green background.
Virginia A. Smith

, Inquirer Staff Writer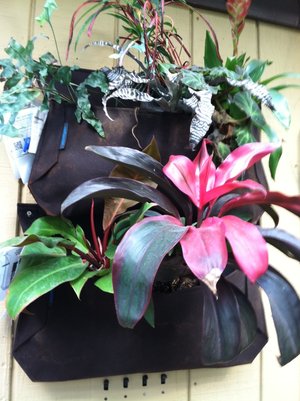 Vertical gardening, the "hot new trend" that's been around for awhile now, is taking an interesting turn with products like this one. It's called Wally, the Indoor Living Wall Planter, a virtual "woolly pocket" that you fill with plants. You can buy them with one, three or five pockets, but they're by no means the only dog in the show. This single-pocket version ($41) is one of several vertical arrangements on display at Meadowbrook Farm's revamped gift shop.
Wally's made from 100 percent recycled plastic water bottles. It has soft-sided pockets and is made in the USA, all good. Here it's used indoors, but I guess it could be hung outside, as well, and filled with herbs, succulents, tropicals. At the flower show, I saw one made from a large shoe holder, like the ones you hang on the closet door. It was mounted with screws on a simple wooden fence, but you could attach it to a chain link fence or stone/brick walls and nestle plastic pots right inside the pockets.
Wally has a watering system that won't rot out whatever it's attached to and won't leak, which would be anyone's major concern if the thing's in the house. Sounds fun, and it certainly would be a conversation piece in your dining room - or on the deck.
Virginia A. Smith

, Inquirer Staff Writer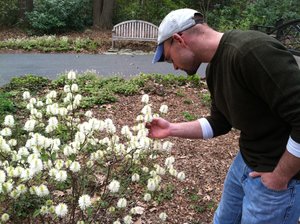 I used to dismiss fothergilla. Though intrigued by the name, I thought its flowers were boring. Then I met Steve Wright, curator of plant collections at Jenkins. He's the first to hold the job since Jenkins was designated a national collection of azaleas, rhodies and mountain laurels by the American Public Gardens Association, which means the collection is open to botanical institutions that might want to take cuttings and germ plasma. Steve is a native plant enthusiast, to say the least.
Which, during a lengthy chat last week, led us to the subject of dwarf fothergilla (Fothergilla gardenii), pictured here in full spring bloom - and then to the plant itself, which is growing happily in Jenkins' Green Ribbon Native Plant garden. Fothergilla is in the witch hazel family, which is obvious from the blooms. They also have a faint honey scent. Very nice. Steve loves this plant in no small measure because of its fall color; the blue-green leaves turn red, yellow, purple, all at once. "All in all, a great plant for the home garden," he says.
And talk about versatile. It grows about 3 feet by 3 feet in anything from full sun to full shade. Looks especially cool in masses. And, hard to believe, fothergilla is not especially prone to disease or insect pests. Sounds too good to be true.
Virginia A. Smith

, Inquirer Staff Writer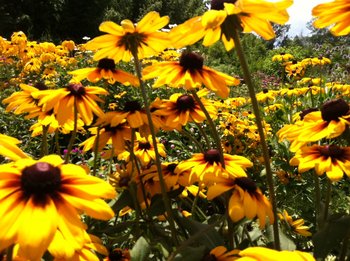 You're familiar with the slow food movement. Now comes its slow flower cousin, a growing trend (in more ways than one!) toward locally grown, pesticide-free, cut flowers. Debra Prinzing's new book "The 50 Mile Bouquet" explains and celebrates this, and she was kind enough to send me the names of flower shops and floral designers in the Philadelphia region who adhere to this philosophy.
You know of Jennie Love, of Love 'n Fresh Flowers in Philadelphia (lovenfresh@gmail.com, www.lovenfreshflowers.com), which does weddings and other events only, whom I've written about, but there are quite a few more, including:
Market Blooms at the Reading Terminal Market (steve@marketblooms.com, www.marketblooms.com/flowers/market-blooms-farm), where the organically-grown flowers come from its own South Jersey farm. Steve DeShong says he's added 10 new sunflower varieties, new zinnias, and a lot more callas, which seem to be gaining in popularity; Kate Parks of Lilies and Lavender in Doylestown, who grows on a cut flower farm there, kate@liliesandlavender.com; and Cari Bonifacino of Bucktoe Creek Flower Farm in Toughkenamon, Chester County, summersun33@verizon.net.