Archive: April, 2010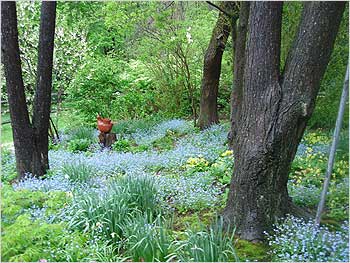 How's this for what ails you? This is Ann Rosenberg's woodland garden in Bryn Mawr, an airy cloud of forget-me-nots, yellow primula, mountain bluets (also known as Quaker ladies), and other plants that are rock-garden and non-rock garden, native and nonnative. Ann likes everything, remarkably grows it all from seed, which she exchanges by the hundreds. She is well-known in many arenas, but especially rock garden circles, where she is a prodigious ribbon-winner. Ann and husband Dick, both long retired, have a one-acre property, quite a bit given over to this woodland. I visited on a rainy day, but the colors were more vivid under cloud cover. I initially thought - even though I had my glasses on - these little blue flowers were bluebells. I forgot my forget-me-nots! Ann especially loves bluets, a North American native; they remind her of her childhood in the Poconos, where they grow quite happily. She said they've taken a couple of years to get established but they look right at home to me now. Unfortunatley, Ann, like so many gardeners in our area, has a problem with deer. Every night, about 20 of them arrive for dinner, so lately she's been putting cages over the beds. Still, a walk in the woods at the Rosenbergs is a treat - in any weather.
They're everywhere and we could do worse! Here's another tiarella or foam flower - 'Brandywine,' which was one of the plants featured at a native plant talk last night in my East Falls neighborhood. Garden designer and writer Charlotte Kidd spoke to about 20 folks who came out in the rain to learn more. Her talk began, as native plant talks do, with a discussion of exactly what constitutes a "native." Basically, it's a plant that, over time, has become acclimated to a region's soil, weather and moisture. It's a plant with high value to wildlife, that produces seeds and fruits in sync with that area's birds, insects and animals. So far, so good. Why, then, do natives have a reputation for being blah? I guess when you put them up against the rock 'em-sock 'em newbies that appear on the marketplace stage every year, that's true. But really, many natives are more subtle, easier on the eyes and, with some exceptions, the knees and back, as well having value added for critters. Charlotte showed pictures and passed around potted natives with lovely flowers and foliage. We learned about tiarella, of course, but also columbine, baptisia, phlox, hardy geranium, winterberry, penstemon, coreopsis, Solomon's seal, elderberry, carex, heuchera, nepeta, amsonia, monarda and more. All of them are terrific plants - in the right place, of course, which is a lesson I still struggle with. Charlotte's talk, and a companion presentation by Antonio Federici, a master gardener, Audubon adviser and manager of the city Water Department's backyard buffer program, were part of a "green" series hosted by the East Falls Development Corporation. It was a smart, high-caliber experience. Let's have more.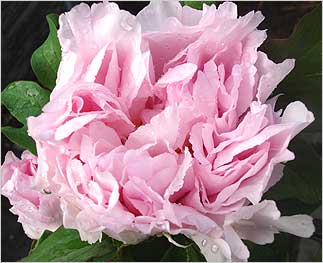 Can there be anything more beautiful in springtime than this, a fully open, pink peony after an evening's rain? The fragrance is sublime - clean, fresh and old rose-like. It's said that the pink and white varieties are more fragrant than the reds, and though you might think the price for such opulence is a difficult nature, not so. Peonies have a fairly easy reputation, requiring good drainage and sun and not a whole lot else. Easy to understand their prominent place in Chinese history and culture. Easy to see why they captivate.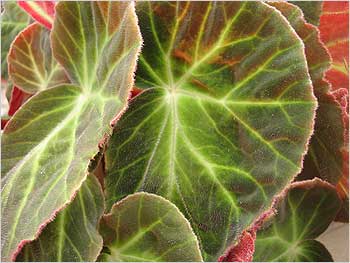 Came across this heirloom begonia on Monday at Lloyd and Candy Traven's Peace Tree Farm up in Kintnersville, Bucks County. It's called 'Caravan.' Check out the chocolate-green leaves, the radiating chartreuse veins and what Lloyd calls its "red underwear." 'Caravan' is a rhizomatous begonia, which means its stems or rhizomes grow on the surface of the soil . Rhizomatous begonias are the largest group in this family, and they're known for their outstanding foliage. As you can see! This one also produces large clusters of fragrant white flowers, though I learned this week in interviews with several "begoniacs" that for most of them, the flowers are secondary to the leaves. A tour of the Travens' greenhouses illustrates why. If you've ever puzzled over the appeal of begonias, probably because all you know are the wax ones so common in annual beds, you should call Peace Tree Farm (610 847 8152) and arrange a tour in the off-season. The Travens have three organically-certified (USDA) greenhouses, where they grow a huge assortment of herbs and vegetables, coleus, succulents and ornamentals, in addition to unusual and heirloom begonias. To see them is to love them, but a lot of folks never even see them. Lloyd was on the Martha Stewart Show in early April, and says that immediately afterward, Peace Tree Farm had 30,000 hits on its website (www.peacetreefarm.com) and 300 emails. To me, that says the market is out there. The Travens don't sell directly to the public, but their begonias are in certain garden centers (info on website). Come fall, they plan to start online sales. Be sure to read up a bit before you buy, so you don't make the mistake so many folks, including me, have made. Seduced by the wild foliage, we made our first purchase a rex begonia, which Lloyd says is notoriously difficult to grow. I'm in the process of killing my third one. Be sure, too, to read my story about Lloyd, Candy and the other "begoniacs" in tomorrow's paper. The photos alone are worth the price of admission.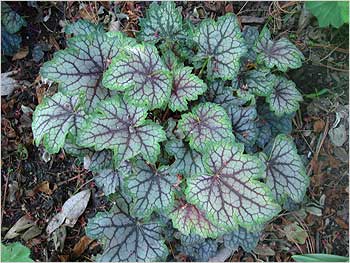 This is another plant from Ann Stookey's garden in Chestnut Hill, and it illustrates perfectly her interest in filling her extensive beds with green plants that have rich color or unusual markings or texture. It's a tiarella. Ann chose it for the green of its leaves and the outstanding burgandy veins. She never mentioned the flower! In fact, with other plants she's chosen for their foliage, she actually clips the flowers off, especially yellow or red ones. Now red is the acknowledged bad boy in garden design. You either love it or hate it, and a lot of gardeners hate it. (Some brave souls use it to punch up a section of the garden, then add complementary or contrasting colors.) Yellow may be another story, although lately I've met more than a few gardeners who avoid it for the same reason Ann does. It's bright. It can be jarring. She likes the smootheness of green, what she calls the "zen" of green. Tiarella is definitely in and of that "zen" moment.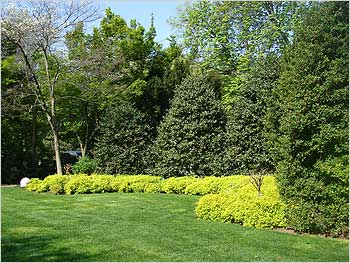 Have you ever thought of creating a green garden? That sounds rather obvious, but I mean using green as the dominant color in the landscape. This is Ann Stookey's front lawn in Chestnut Hill. I visited today to talk about her green garden. Green is an underused and, counterintuitively, underappreciated color in the garden, a concept I first thought about in a conversation with Harold Sweetman, the executive director of Jenkins Arboretum in Devon. We were walking around the arboretum's pond, and Harold pointed out the many layers and hues of green that surrounded it. He found it beautiful, even as it defied the popular view of what a garden should look like. More often, gardens are filled with color. Green is often used in woodland or shade gardens - hostas, ferns, hellebores - but rarely do you see it throughout. Here, Ann confessed to making two trips to Produce Junction and loading up on every 'Golden Sunshine' spirea she could find. "Nine is better than one," she says. Ann thinks big. Behind the spireas are six giant hollies, some evergreens and a Magnolia grandiflora that took a hit this winter. The layering effect, the different greens, are quite dramatic and up close you can appreciate leaf shapes and tree forms. Just another way of looking at things.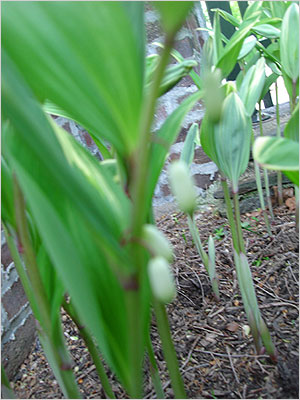 This is my favorite-du-jour - variegated Solomon's seal, which supposedly is related to lily-of-the-valley. You can see the resemblance in the tiny, cream-colored blossoms. This is a woodland plant, which a reader reminds is native to North America in its all-green form but not this variegated one. I love it anyway! It takes a little while to get established. This year, in my increasingly full woodland garden, these guys are spreading and shooting up overnight. They have graceful, arching stems and elegant flower clusters that draw long-tongued bees and hummingbirds, though I've not been on the lookout for them in this part of the garden. I have them planted in two fairly shady corners, with coral bells, foam flower, native ferns and Indian pinks nearby. This morning I noticed how grown up - in a good way - these corners have become and how interesting they now are. We gardeners are often unhappy - our plants get too big, they get a disease, they fail to grow or grow in ways we didn't anticipate and don't want. With so much bad news out there in the world and my own back yard, how wonderful every now and then to find something delightful.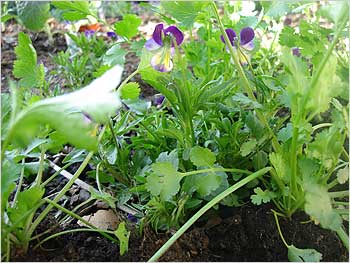 So the very day I'm celebrating another attempt at growing cilantro, the New York Times has a page one story about this pungent herb's mixed reputation. People all over the world, especially in Asia and Latin America, love cilantro and yet there are many "cilantrophobes" - I know more than a few - who cannot stand it. They think it smells like soap or stinky gym socks (no kidding) and other unappetizing things that I'm just going to put out of my mind right now. It does have a strange smell, grant you that, but there's nothing better in Thai or Mexican food. I was celebrating the fact that I finally have separate garden beds for cool- and warm-weather crops, and the cools are in - chard, beets, kale, broccoli, cauliflower, brussels sprouts and a bunch of herbs. I don't think cilantro falls into this category, but I couldn't resist and it's in! No dirty gym socks for me. The addition of a second bed has required the removal of six shrubs. Last weekend I took out three that had gotten huge and were beginning to resemble an unruly carpet. It was no easy task to get them out but I thought I'd done so with a minimum of damage to my middle-aged back. Last night at the gym, let's just say the realization came to me that perhaps I had done some damage after all. This gardening gig is tough stuff, but once the bushes are out, along with some out-of-control St. John's wort and even some chelone or turtlehead that, silly me, I also thought would behave itself ... once that's done, and the bed cleaned up, it should be tomato time. And, cross your fingers, I should still be able to walk upright.