Archive: March, 2013
Virginia A. Smith

, Inquirer Staff Writer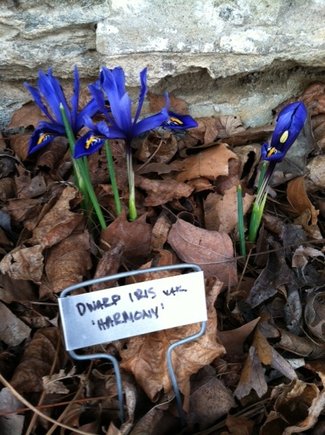 Hail the dwarf iris! I'm a newcomer to the joys of these little beauties. My gardening buddy Emily planted these and other spring bulbs around the yard and in the garden last fall. I forgot about them until this morning. These miniature Iris reticulata 'Harmony' are growing alongside my mangled driveway. Mangled from bad patch jobs over the years and lately, battered by trucks and construction crews and all manner of other wheeled and four-legged visitors.
What a joy they are - the little irises, I mean, especially these. They're the color of bluebirds, bright and vibrant. Emily planted other bulbs. I'll have to go exploring this weekend. There's so much bad news in the garden at this time of year - weeds went nuts over the winter - it's nice to have something pretty and fun to balance the story.
Everyone should have a little 'Harmony' in their lives, don't you think?
Virginia A. Smith

, Inquirer Staff Writer
This bucolic scene interrupted a very gray landscape this morning on my walk to the train station. It was chilly, lightly snowing, very hilly and not much fun if you'd rather be sleeping past 6:30 a.m. Note the chic "distressed" look of the fence. Nice touch, don't you think?
But it was the fuzzy yellow flowers that have caught my eye all week on this dreary journey down the hill in the morning and back up in the evening. Before early light or just as darkness falls, there's literally not much that beats witch hazel in March. There are lots of beautiful ones at Chanticleer, but there is much else that's beautiful at Chanticleer in March, too. In the city? In a concrete neighborhood partial to English ivy in the "front yards" of its row houses? It's quite unusual to see this kind of thing.
And did you know we have Peter Collinson, John Bartram's plant-crazy pen pal in England, to thank for the introduction of witch hazel to the U.S.? That man is everywhere.
Virginia A. Smith

, Inquirer Staff Writer
So, everybody make it through flower show rehab? took me a week to recover. It was a great week, in all - exercise, sleep, museum-hopping, reading ...
Speaking of reading, it was amusing to see the email comments that followed my colleague Harold Brubaker's story on the 17 percent drop in flower show attendance (from last year). I spent show week talking to lots (and lots) of people, and honestly, it was impossible to generalize about how the show was going over. The very thing one person loved the next person hated, whether we were talking about the central feature (with video), the showcase gardens, the marketplace, etc. The only things everyone seemed to coalesce around were the new Hamilton Horticort (excellent), Aramark food (needs improvement) and the cost of a ticket (too high).
This week I'll be writing a story about some new plants that debuted at the show or, if not new, were highlighted there. Spring is coming THIS WEEK, folks - Wednesday - and I don't know about you, but I'm ready. I've got big plans for my garden this year, which I'll be writing about later, so spring of 2013 is an exciting time at my house.
Virginia A. Smith

, Inquirer Staff Writer
This woman actually said that to Phillip Watson, the QVC personality - and how - who sells plants, designs gardens and always fills the seats at the flower show. He's a delightful speaker - and he knows horticulture. I caught up with Phillip, whom I last saw in June for a long interview at his home in West Chester, in the hallway before his talk - English-Style Gardens for Americans. He was eating a power bar. Quick lunch.
Just as an aside. This was the first show in awhile where I met a good number of people who said they found plants they could use at home. The Hawaii show was cited several times as a difficult or unpopular theme for that reason. "Hawaii's plant material was so foreign to me. I can't palnt anthurium in Chester County. This show has a more natural feel," said Tom Watkins.
Then there was Christine Garner, a first-time show visitor from New York City. Good thing she didn't come last year. She was positively "wowed by these over-the-top exhibits," but complained that "I thought there would be more ideas for semi-serious home gardeners at this show." Which is why she wanted to hear Phillip speak. "I'm hoping he'll have ideas I can relate to," she said.
Virginia A. Smith

, Inquirer Staff Writer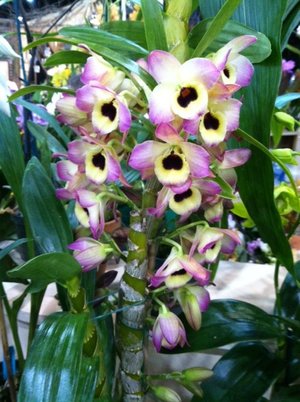 I chose an orchid to illustrate this post 'cause it's a work of art, isn't it? And after Brilliant! comes art. Let's back up.
The flower show team has a tradition: They announce the next year's theme in the middle of the current show. And so it is this year.
The 2014 theme is ARTiculture, "that long love affair between art and nature - and the artistic expression found in great garden and floral design." Hyperbole lives! (Did anyone doubt?)
Virginia A. Smith

, Inquirer Staff Writer
If you don't believe me, head over to the Horticourt and check out the agaves and haworthias. You'll also find books on them in the AIA bookstore, near the entrance to the show. And there are lots for sale in the Marketplace. In short, succulents are huge.
And that is no accident. They're low-maintenance, require little water, and pound for pound, they're about the coolest looking plant going. They're perfect for dish gardens, window sills, containers and terrariums. I use them for ground cover. It's not about the flowers for me, although are beautifu. It's the chubby leaves and weirdly beautiful geometric shapes and exquisite color combinations, including shades of blue.
Look them up: aeonium, agave, aloe, cactus, echeveria, euphorbia, haworthia, sedum, sempervivum .. and you can find them in any garden center now. They are particularly attractive to younger gardeners, a demographic everyone wants to capture.
Virginia A. Smith

, Inquirer Staff Writer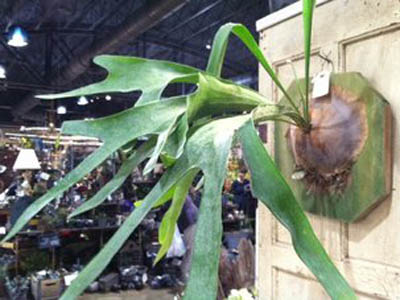 This photo is not cockeyed. This is a staghorn fern that I found at Jerry Fritz' Linden Hill Gardens booth at the show (two booths combined, 300/401). It's one of the more spectacular plants he carries and my editor actually carried one in a shopping bag from his booth to the office at 8th and Market, back to Market East, onto the train and home to Elkins Park. Hoping it, and she, made it there OK.
Jerry has a gorgeous nursery on Route 611 in Ottsville, where he specializes in unusual plants - like this one. He's been on the Martha Stewart Show, and has traffic-stopping display gardens - I say that having driven by - at his nursery. (He's also a Delaware Valley College grad.)
I stopped by his booth to say hi last night and Jerry explained how the staghorn fern is mounted on a board, tied in place with fishing line, and cared for. It's an ephiphyte, or air plant, so it gets "planted" in sphagnum moss. Doesn't need to be in the ground. In case you were wondering.
Virginia A. Smith

, Inquirer Staff Writer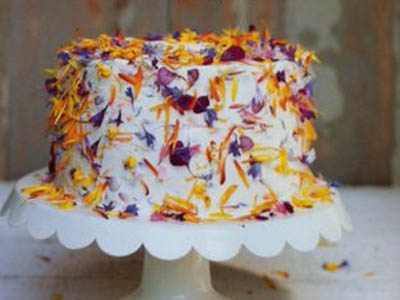 One of many wonderful things about this job is the number of beautiful books that land on my desk. Which is why, from my perspective, it doesn't appear that the gardening crowd is going for ebooks in a big way, probably because - like cookbooks - garden books are best experienced in a visual way.
So it was very nice on this Thursday morning to see a book in my office mailbox that combines both of those very visual arts - Cooking with Flowers by Miche Bacher. The subtitle is Sweet and Savory Recipes with Rose Petals, Lilacs, Lavender, and Other Edible Flowers (Quirk Books, release date April 2). The author, from Greenport, N.Y., was featured in the New York Times on Sept. 2 for her sweet shop alled Mali B Sweets, where fresh-local-seasonal is just as important as it would be at a restaurant. Never thought of cakes and cookies being seasonal.
In Bacher's book you'll learn that 1 cup calendula petals equals petals from about 40 to 60 flowers, and that calendula cornbread requires about 1/2 cup. Or that hibiscus fried rice uses 1 teaspoon of hibiscus powder, made from ground dried hibiscus blossoms. Or that 1 cup daylily petals equals petals from about 6 flowers.