Archive: March, 2012
Virginia A. Smith

, Inquirer Staff Writer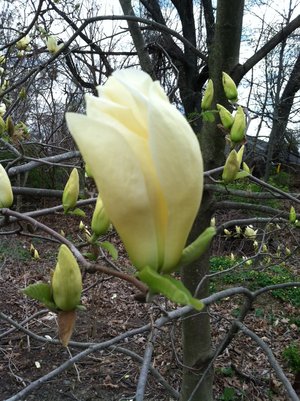 I first saw Elizabeth at Morris Arboretum many years ago. It nearly caused me to drive off the entrance road. Of course I'm talking about the spectacular yellow magnolia 'Elizabeth,' a hybrid developed by the Brooklyn Botanic Garden that combines an American and Asian species.
It's an exquisite pale yellow. The buds are large and full, upright and cup-shaped. The flower is slightly fragrant. In all, a magnificent magnolia that in my mind trumps just about all others - except maybe the swamp bay magnolia, which has the most delicious fruity scent and creamy blossoms.
Still, 'Elizabeth' has it all over the pink saucers and white stars you've been seeing for the last two weeks. It's the color, I guess. Yellow isn't that common in the garden, and the beauty of it sometimes startles - especially in early spring, on a windy, chilly day at High School Park in Elkins Park, where I visited today. This tree was at the back end of a meadow being restored there, which will be the topic of a story in Home & Design on April 6.
Virginia A. Smith

, Inquirer Staff Writer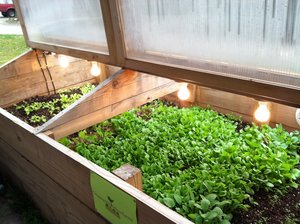 Have you ever thought of lettuce as a gateway drug? You know, the thing that turns you on so much you can't wait to move on to the next addictive step? Lettuce has got to be THE easiest thing to grow from seed. I've gotten so blase about it, I don't even water when they go in. Actually, I check the weather forecast to see when rain is expected. Getting lazy, but what a pleasure this morning to see evidence of overnight rain!
I planted several heirloom varieties on Sunday, the last chore in a weekend packed with them. This photo isn't of my garden. It's one of Howard Brosius' micro farms - the cedar boxes with lids and heat that he's created whole gardening programs around for kids. It's a pretty neat invention. You;'d think Howard would be happy to concentrate on the here and now. I don't know if lettuce is responsible, but he's already thinking about the next step - raised-bed farming!
Virginia A. Smith

, Inquirer Staff Writer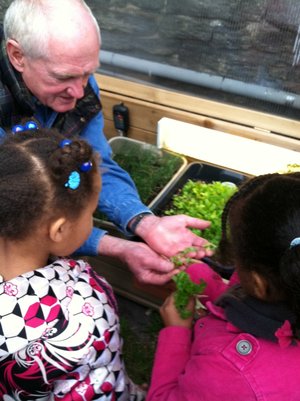 This is Howard Brosius, a force to contend with and the inventor of a growing system of covered cedar boxes called Micro Farms. They're really fancy raised beds with heat, lids and light that can be useful year-round. Howard's got several vegetable-growing programs going for kids in the city and suburbs, including this one is at Awbury Arboretum in Germantown. Here, he's showing the kids (from two day cares in the neighborhood) sprouts from cool-weather vegetables they sowed the seed for.
One little guy was seen chomping on some chives. They were half in, half out, of his mouth. One of his pals yelled, "Why are you eating grass?" Whoever said eating your vegetables had to be a humorless, boring affair? These kids were so engaged. They couldn't wait to taste sprigs of parsley, delicate beet greens, chives, and other stuff from the market that Howard and his wife D.J. brought to "class." We're talking carrots, cucumbers, asparagus, peppers.
Story coming on Friday, and I have to say, I've seen and read and written my fair share about kids and growing vegetables. This was the first time I've seen children this little - 2,3,5 - this excited. Just goes to show ... you can't start too early.
Virginia A. Smith

, Inquirer Staff Writer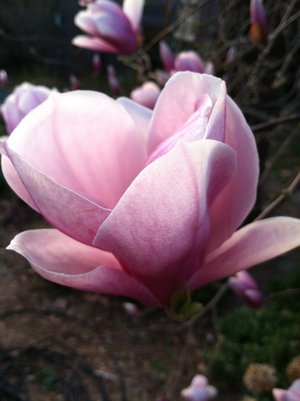 This weekend, my neighborhood woke up. Not that everyone was hibernating over the (alleged) winter, but it seemed as if lots of people were out walking, working in the yard, shaking off the blues. This beautiful magnolia opened overnight. Way prettier than last year. Enjoy these guys while you can - in a few days the petals will be covered in gunk and making people slip on the sidewalk.
I set out to do some pruning and cleaning up yesterday. Honest, those were my intentions. And I did get a little work done in and around conversations with about 20 neighbors. I met a new baby - three-week-old Ruby, chatted medium-sized trees with a couple from two blocks over, heard everyone's opinion on the flower show (mixed), heard the details of a new house for sale on the block (overpriced) and my pregnant neighbor (tired of the mandated bed rest) and on and on.
My war-zone front yard was never far from front and center. Everyone wanted to know: What happened? Will you be planting again? Answer #1: old house, serious drainage issues. Answer #2: YES!
Virginia A. Smith

, Inquirer Staff Writer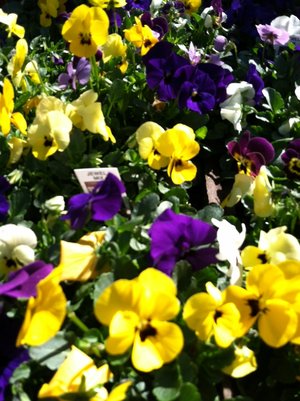 I've already been browsing at my neighborhood garden center. How about you? I went looking for vegetable starts and ended my visit in the viola aisle. How gorgeous are these little things? This time of year gets the heart rate up for lettuce seeds (going in this weekend) and chard seedlings - and leeks and broccoli and, for the first time, celery. But for plain old cuteness and color, nothing beats the viola in my book.
And, it seems to me, there are more varieties on the market lately with petals in lovely shades of orange, cream, purple and yellow. I didn't buy any of the ones I saw this week, but once the veggies are in, I just might wander back and get some to fill in.
This was all by way of therapy - my annual Flower Show rehab, when I get a few days off to compensate for the crazy hours and sore feet sustained over 12 days straight of set-up and show.
Virginia A. Smith

, Inquirer Staff Writer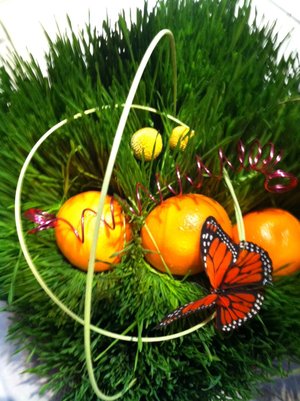 Yes, it is. This is the creation of Adelaide Linn of Adelaide's Florals in Ambler. It seemed the essence of early spring or the Easter season to me, all grass and oranges, butterflies and bounce. This is actually only a small part of this floral designer's contribution to the Designer's Studio in the right corner of the show. Lots of neat stuff there, but the oranges were getting a reaction from visitors: delight.
Virginia A. Smith

, Inquirer Staff Writer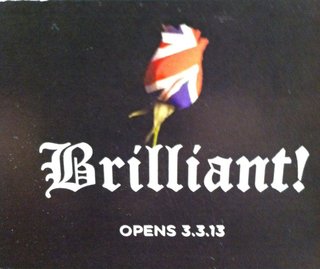 That's not my hyperbole. It's PHS'. In a move that echoes the "GREAT" ad campaign launched last September in England touting the 2012 summer Olympics in London - the campaign touts all the "great" things and characters about Britain - PHS announced this week that the 2013 Flower Show theme would be "Brilliant!"
The central feature will be all about contemporary London and the idea "that the more modern landscapes of London are transforming the city," says Sam Lemheney, show designer. The feature will incorporate the city's architecture but PHS will not recreate the older historic gardens. Rather, they'll serve as inspiration to create more modern designs, Sam says.
PHS will be working with the British American Business Association in NY and D.C. to bring in sponsors and vendors. Besides Sam, the design team includes Gary Radin of GMR Design, who's worked on the flower show for six years, and Chris Woods, formerly of Chanticleer, the public garden in Wayne, who worked with Sam on the 2007 Ireland show.
Virginia A. Smith

, Inquirer Staff Writer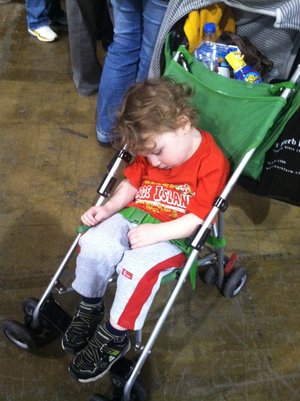 After 12 straight days writing and blogging about the flower show, this photo captures my feelings exactly. I'm ready for a nap! Somebody push me out the door and take me home. I am ready.
Actually, it's been a lot of fun. And truthfully, it ain't over yet. Though I'm about to hang up my bloggo-meter, I'll be at the show tomorrow with husband and friends and for the first time, I'll be free to wander at will without having to share every little thing online and in print.
It's been an interesting week. This show seems to have captivated many and turned off quite a few. For every person who wanted A, someone else preferred B. The new layout is crazy! The new layout makes no difference. Too much razzmatazz! Loved the techno music and light show.