Archive: February, 2013
Virginia A. Smith

, Inquirer Staff Writer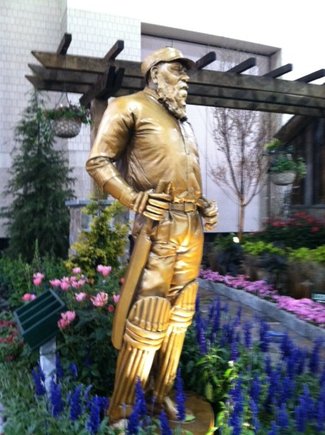 Swiss chard, especially the neon-stemmed variety known as 'Bright Lights,' is everywhere these days. You have to wonder if anyone ever eats the darned stuff anymore, so enamored is the public of using it as decoration. It is pretty, and you'll see 'Bright Lights' and varieties of kale, the other glamor veg, all over the flower show.
Chard is even in The Scorer's Garden, J. Downend Landscaping's exhibit, which is a lot of fun. The fellow in this photo is W.G. Grace, whom Jim Downend describes as "the Babe Ruth of cricket in his day." It's true. I looked it up.
And how interesting that Grace - known a W.G. - played for the Downend Cricket Club near Bristol, England, from 1864 to 1908. I asked Jim if he knows anything about cricket. "Not even a little bit. Not even a smidgen," he replied. Flowers, he knows.
Virginia A. Smith

, Inquirer Staff Writer
Seed balls. We're not talking sesame seeds here. We're talking about a tradition supposedly started by American Indians, who embedded corn inside clay balls to keep birds and critters from eating the kernels. Nowadays, seed balls - or seed grenades - are the weapons of choice of guerrilla gardeners, who toss clumps of clay with wildflower seeds inside onto abandoned property for the pure joy and defiance of it all. It's an art form of sorts, and ironically, given the flower show's British theme, it's big in London.
But we can't all be urban radicals. Wait - I take that back. We certainly could be. Philadelphia has 40,000 vacant lots! Have at it.
Then consider the possibilities for your own landscape. SeedBallz, a returning vendor at the 2013 flower show, can help. This an Oregon company that employs people with developmental disabilities to make tiny clay and compost balls with seeds inside for sunflowers, cilantro, edible flowers, black-eyed Susans and other herbs, flowers and vegetables. One ball covers one square foot, and the plants come up in clumps. You can arrange them in a zigzag pattern, something utterly impossible when you're bombing a berm and running off into the night.
Virginia A. Smith

, Inquirer Staff Writer
Wanted to share this delightful invitation to a snowdrop fest! or "Galanthus gala," as the host is calling it. It's snowdrop season, at long last. This cheery harbinger of spring never fails to please. But there's something else out there, too - hellebores.
Angela Treadwell-Palmer, co-cofounder of Plants Nouveau, a company that markets new plants, is a huge fan of hellebores, which are big in the hort world but not so much on the radar of ordinary gardeners. Which is a shame.
Angela, whom I interviewed at length this week for a story about new plants, thinks hellebores should be way more popular than they are. "If we could get people to buy hellebores from Thanksgiving to Valentine's Day...(as gifts)...
Virginia A. Smith

, Inquirer Staff Writer
The exhibit is called "London Fog," and the fog machine was already puffing when I got to the Convention Center a little while ago to watch the flower show come together. I've come to expect interesting stuff from Robin and David Heller of Flowers by David in Langhorne, and they did not disappoint today, even though the thing is only half put together.
I think everyone down there is on tranquilizers or something. They're so calm. Can't be all for show; nobody paid any attention to me. One wonders how they do it. I guess it's called experience or organization, probably both.
Robin tells me she ordered 92 black umbrellas from Totes. The folks there were so excited, they started sending marketing materials along with the umbrellas. Guess they haven't heard of the flower show!
Virginia A. Smith

, Inquirer Staff Writer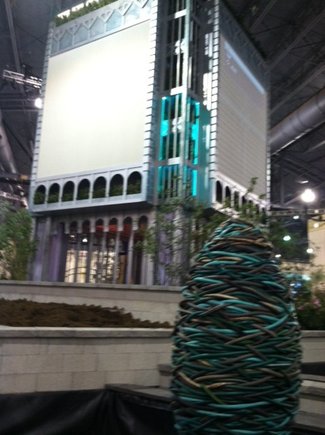 Yes, this is a pile of recycled hoses in front of Big Ben, which is slowly taking shape. I'm calling it a pile, but it's flower show art made from recycled materials - as are the companion "sculptures" made of pieces of copper pipe and old tires that round out the trio.
It's all fun, and I'm sure it'll give the "garden art" crowd - heavily into trash and treasure - some ideas. I'll never forget the story I did two years ago on garden art. One thing led to another and finally the trail led to Becky Cooper in Luling, Texas, who made wind chimes out of old bed pans she covered in marbles and other goodies. You just never know where folks are gonna get their ideas and what they'll come up with.
Hoses and pipes and tires sound downright tame compared to Becky's creations, but they're a little out there for Big Ben, I think. At the moment, anyway. (Unpredictable is good, right?) Once Big Ben Plaza fills in, we'll all have to decide if they work.
Virginia A. Smith

, Inquirer Staff Writer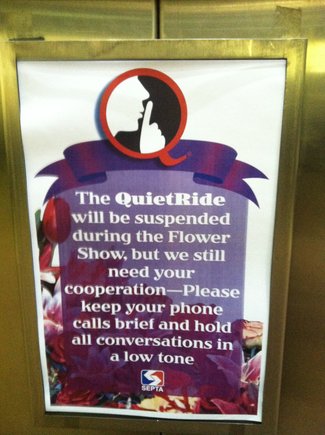 Well, don't this beat all! SEPTA is suspending "quiet cars" on Regional Rail lines during Flower Show week. What, you don't think show-bound suburbanites can be trusted to keep the noise level/cell phoning/texting down to a dull roar?
Not at all, Jerri Williams, SEPTA's media relations director, assures. You see, ridership on the Regional Rail goes up 32 percent during show week and SEPTA wants to make sure everyone gets a seat. The "quiet car" is the first car on trains with three or more passenger cars during the week. If you've never tried it, it's great - people there (mostly) know to use ear buds, text quietly on mute or vibrate, and keep conversations short and whispered, if they must talk at all.
It's a welcome respite from daily rudeness. Who has the energy to blab on the phone early in the morning or after a day's work, anyway? Not me, and I don't enjoy listening to other people. The "quiet car" is self-policed, and I've never taken someone to task but I've seen others try. (It usually works, although in this town, such an encounter could easily produce results of an opposite nature!)
Virginia A. Smith

, Inquirer Staff Writer

This scene looks like my back yard, which is too bad for me. Never-ending construction projects in the house have meant piles of stuff all over the place, except my stuff isn't being worked on. These guys are putting together The Backyard in rooms 202 A and B in the Convention Center, the next generation of the Flower Show's Man Cave. Last year, if you recall, the Cave was staffed by SugarHouse babes, had a full bar and a TV screen that went on forever, and was permanently tuned to sporting events ... and lots of really comfy overstuffed chairs.

Women were welcome, of course, but it wouldn't have had quite the cachet it did if the official name had been "Man and Woman Cave" or "Family Cave." Every time I dropped by, there were plenty of women. Kids, too. Everyone wanted a soft place to sit. I could've done without the casino babes, but what do I know?

This year, the Man Cave gives way to The Backyard, which has a different vibe altogether, even though PHS is pitching it, once again, to men. And once again it will have a TV and cash bar. This year, however, it will "explore the world of outdoor relaxation and entertaining, do-it-yourself projects and home improvement." Stop by to see pavers and fire pits, new grills and outdoor furnishings, gizmos for gutters and storm water recycling, and products to prevent water damage and mold. (How come nobody asked me about that last item? I could write a book.)
Virginia A. Smith

, Inquirer Staff Writer
Here's Big Ben in the midst of his plaza-in-the-making. Looks pretty bare, doesn't he? He's 38 feet tall, about as big as the Eiffel Tower from the "Springtime in Paris" show in 2011. He has no face, and won't get one till the show opens and Klip Collective's video images - they did "the orchid wave" last year - are projected onto him. So the structure looks a little strange at the moment.
The clock faces, such as they are, are 12 feet square. We're told that the video show will be done every hour on the hour for about three minutes. It's multi-media with cultural images, pop art, light and, in set designer Gary Radin's words, "an 80s mash-up of music stuff." Sometimes the images will travel around the clock. The clock face and the plantings, terraced levels and pools around the plaza, will "come to life." Sounds positively Dali-esque!
The decision was made early on to skip live entertainment this year, so this is it for 2013. We're eager to see. The issue has been an interesting one for visitors. All the live shows, whether Aran Island dancers, Parisian cabaret singers or Hawaiian hula dancers, have been well attended. Just try and find a spot up front. Even people in wheelchairs were blocked last year.