Archive: February, 2012
Virginia A. Smith

, Inquirer Staff Writer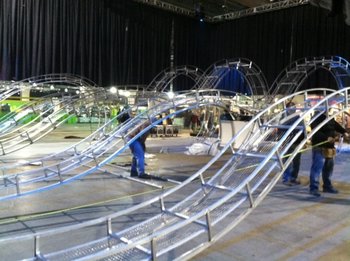 No roller coaster. This is the frame for the "orchid wave" that will greet visitors to the flower show. It's set-up week for the show, down at the convention center. By the way, the show is still at what we now refer to as the old convention center. Can't tell you how many people have asked me what I think of the show being in the new part. My answer: not much! 'cause it ain't there. (What, 10 acres of floor space isn't enough for you? Tell my feet.)
The wave will be assembled at floor level, filled with white orchids and anthuriums, then hoisted up and projected with digital images of swimmers and fish and the like. I heard Drew Becher, PHS president, on the radio this morning talking about the ocean scent that would be wafting around. Last time we chatted, he compared it to the "Four Seasons smell" that some of those hotels have. I wasn't familiar with that; Drew, when I travel the accommodations are more like the One Season.
I'll be going back tomorrow to see how the wave is progressing, but I saw Gary Radin there this morning - he designed it - and he was extremely confident it would quickly take shape as intended. Gary likes to meet his deadlines early - an editor's dream - and when I interviewed him at his Fishtown office several weeks ago he was well on his way. (I was a little disappointed Gary wasn't running around in a panic today. He was positively zen, which is no fun for bloggers!)
Virginia A. Smith

, Inquirer Staff Writer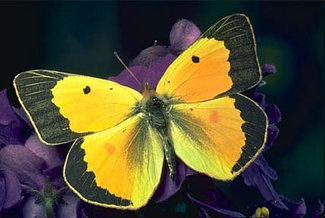 I haven't had the pleasure, but my colleague Chris Kupferer notes that while walking his dogs in Lower Gwyned on Saturday, he saw a little yellow butterfly flitting in the grass. Was this normal? he wondered.
Actually, according to naturalist Pat Sutton, it is. Pat lives near Cape May and has been studying and writing about birds, butterflies and other creatures and wildlife gardening for more than three decades. She tells me that if the temperatures nudge up into the 50s and 60s, we most definitely will see overwintering butterflies out and about, including three species that winter here as adults. That would be mourning cloak, Eastern comma and question mark. (Don't you just love these names?)
Also in those temps, usually in late winter/early spring, which is our season right now, some butterflies emerge from their chrysalises, including spring azure, orange sulphur, and a bit later, the elfkins -Henry's, brown and pine.
Virginia A. Smith

, Inquirer Staff Writer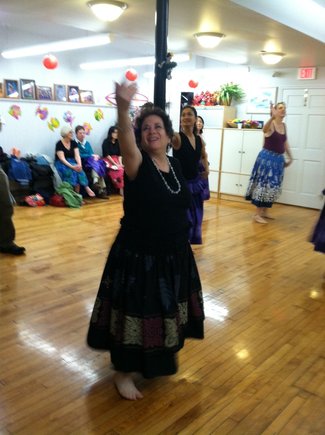 For a story I'm doing on hula - in advance of the flower show - I headed to Narberth last night to observe a hula class at Aloha Style on the Main Line. Well, I've just added "hula lessons" to my someday-to-do list.

What fun. Real Hawaiian hula bears no resemblance to the cartoon most of us know - the jiggling hips, the coconut bra, the plastic-grass skirt. Real hula is beautiful - slow, sensual, graceful and, yes, complex.
The group last night was all female, ages ranging from 9 to "of a certain age." The women spoke of hula as exercise, as a way to unwind, as something that made them feel happy and beautiful and as a vehicle for friendship.
Virginia A. Smith

, Inquirer Staff Writer
This is a wonderful plant, and it's great to see it win the 2012 Perennial Plant of the Year from the Perennial Plant Association. It's Brunnera macrophylla 'Jack Frost,' good for our hardiness zone and excellent in shade.
It has tiny blue forget-me-not blossoms that create a cloud effect on frosty silver leaves. Recommended uses include in front of a shady border, in containers, and in a perennial bed with hostas, ferns and epimediums. It's outstanding paired with Japanese painted fern.
I've used 'Jack Frost' in containers and even after it's done blooming (mid- to late spring), the leaves are so extraordinary the plant remains eye-catching all summer long.
Virginia A. Smith

, Inquirer Staff Writer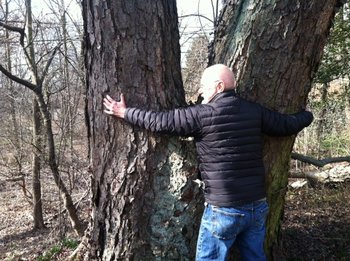 Yeah, Denis Lucey is a tree hugger and he gets paid to do it. He's the new parttime landscape manager at Awbury Arboretum in Germantown. A former physician, he chucked all that for his one true love - gardening. He has a garden design business and clearly has found his calling.
Spent some time over at Awbury yesterday. The crocuses, snowdrops and winter aconite are up and blooming, and we had a fine walk through the meadow and grounds of this underappreciated place. I wish the new general manager, Chris van de Velde, and his team, which includes Denis and the new outreach person, Beth Miner, well. They have a tough assignment ahead of them - finding new funding sources when traditional ones have dried or tightened up.
The tree that Denis is hugging is a state champion river birch down the pond, one of hundreds of trees in the 55-acre arboretum, which is in serious need of regular maintenance. There are plans for all sorts of initiatives that involve new partnerships with schools, neighborhood groups, community centers and other organizations.
Virginia A. Smith

, Inquirer Staff Writer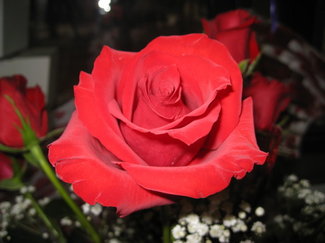 In choosing an herb of the year, the International Herb Society considers "being outstanding in at least two of the three major categories - medicinal, culinary or decorative." The rose, surely, shines in all three.
Roses - their hips, especially - have long been important in herbal medicine. The main ones used for this purpose are the old species roses, including the red rose of Lancaster, and Rosa rugosa, one of my faves, otherwise known as the hedgehog or Japanese rose, according to The Ultimate Herb Book by Antony Atha, which covers more than 200 herbs and is a reference I use frequently.
Rose hips are sold in lots of places today as a source of vitamin C. Essential rose oil is a player in aromatherapy and dried roses are almost always part of potpourri mixes designed to soothe the nerves.
Virginia A. Smith

, Inquirer Staff Writer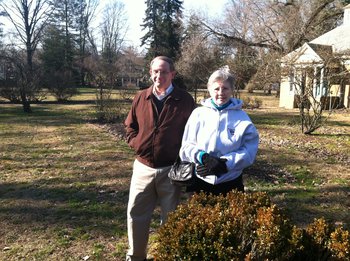 Meet Bob and Kathy Jaskowiak. Like so many in this region, they volunteer uncountable hours at a public garden - in this case, Glen Foerd, in the Far Northeast, the subject of a story I'll be doing on Feb. 17.
Bob's a retired city employee - he did HR for 33 years - and Kathy is a semi-retired nurse. In 2005, they moved from their home in Wissinoming to a condo near Glen Foerd, which they learned about when one of their daughters decided to hold her wedding reception there in 2001. (Weddings, in fact, constitute the bulk of the estate's visitors.)
You wouldn't call Bob and Kathy horticulturists. But you would call them indispensable to the upkeep of this 18-acre, 19th-century estate on the Delaware, particularly the rose garden. They keep it clean, pruned and mulched. They plant replacement roses for those that die or are the proverbial wrong plant in the wrong place.
Virginia A. Smith

, Inquirer Staff Writer
Say what? You've probably never heard of this place. It's an old estate on the banks of the Delaware way up in the Northeast, a hop and a skip from Bucks County. And let me tell you, it's a beauty.
At the moment it has limited visiting hours and not much programming, but that is about to change. This morning I spent a very fun couple of hours with Colleen Boyle Sharp, a board member and chair of the program committee, and Meg Sharp Walton, the (relatively) new executive director. They're out to make some this a higher profile kind of place.
I've been to Glen Foerd for walks in summer and spring, but never before inside the house. Can't beat the view! This morning I ran into two women - one a dead-givewaway-birder with her binoculars looking for bald eagles and ospreys, the other the owner of three little dogs named - I kid you not - Izzy, Gizzy and Wizzy. They were out for a walk.