Archive: November, 2012
Virginia A. Smith

, Inquirer Staff Writer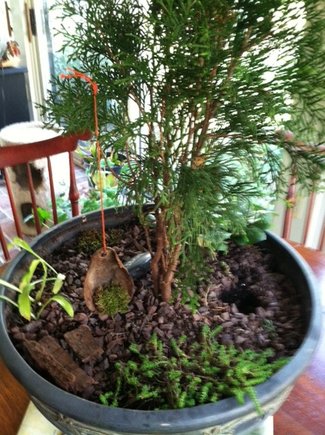 Yes, Brenda Sullivan saves avocado skins! Once you start foraging for natural materials to make miniature gardens, you see possibility in everything, she explains. Hence, this tree swing made of dried avocado skin, red cotton string and - for a soft seat - some moss she retrieved from a low-hanging roof at her Fort Washington home.
Brenda filled this container with potting soil and planted a tiny hosta, a pint-sized arborvitae and other small plants, a bench and table made of bark from the yard. "I think it's adorable," she says.
Brenda uses votive candles to make fire pits, and converts pizza boxes, terra cotta strawberry pots, deep dishes and even (see previous post) clementine crates into "containers" for her gardens, which also include accessories like store-bought small benches, bird houses on a pole, lanterns made of datura seed pods, torches from candles, and chairs from wine corks.
Virginia A. Smith

, Inquirer Staff Writer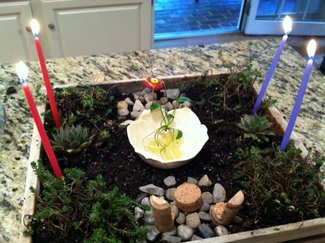 Brenda Sullivan loves Champagne and sparkling white wine for two reasons. One - obvious. Two - she takes those big fat corks and uses them in her miniature garden designs. Now I admit, I'm not a fan of fairy gardens. Too cute for my taste. But Brenda's managed to convince me that the miniature world is larger than fairy gardens, though she takes pains to emphasize that there's NOTHING WRONG with fairy gardens. Just so all you fairy fans - and there are a lot of you - don't get on her case (or mine).
This is something she cooked up during my visit to her Fort Washington home yesterday. Talk about cute! She contorted a Champagne cork into a a maitre d' chair (top of picture), made more chairs out of ordinary wine corks (bottom of picture), made a "pond" out of a little bowl (even dumped a couple of guppies in there), added some tiny plants and set it all in the potting soil that fills a clementine box. Thin tapers became torches and voila, you have a romantic scene.
Miniature gardens are very popular right now, though they've been around in one form or another for hundreds of years. Brenda thinks today's spike is because life is way too stressful and people can lose themselves in the fantasy of a small garden. Nothing better, she says, than to get everyone together after a long day and put one of these gardens together. It can go on the dining table or any other surface, and you can add seasonal touches, if you like.
Virginia A. Smith

, Inquirer Staff Writer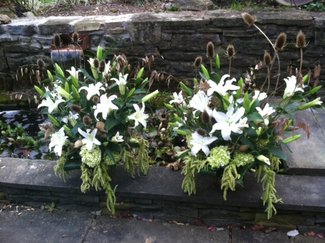 It sounds like something out of a horror story! Love the name. Teasel is one of those dreaded "noxious weeds" that you don't want in your garden. It's like thistle. Interesting form, beautiful features, terrible habits! Very aggressive, introduced by accident into this country in the 1700s from Europe. Crowds out native plants. BUT ...
Its unusual seed heads are prized by floral designers. Mandy Swope sent me this photo to show what she did with the leftovers from her garden club meeting last week, where members used an array of fantastic dried materials - not just teasel, but burrs and gum balls and twigs, berries, fiddle heads and lots of other seed pods, like redbud and milkweed.
Here, Mandy paired white lilies and teasel. Nice!
Virginia A. Smith

, Inquirer Staff Writer
Yes, even if you hate chrysanthemums - and I know there are a lot of you out there - you'll at least find Longwood Gardens' Chrysanthemum Festival (till Nov. 18) interesting. I did, and I'm one of you.
This is the Thousand Bloom mum - actually, more than 1,000 blooms on a single stem. If you're into that sort of thing, it's pretty impressive. This training style is considered the most difficult of all. Takes 18 months of pinching and tying and otherwise brutalizing a plant to transform it into this regimented dome of cookie-cutter uniformity. It's far from natural. It's a lot like bonsai, another ancient art that leaves me cold, but the end product can be fascinating to examine up close.
Longwood festival features 20,000 blooming chrysanthemums in the conservatory, where I was lucky enough to attend the Christian McBride jazz concert on Saturday night. Now THAT'S a reason to go - and wander among the mums, some of which did manage to wow me.
Virginia A. Smith

, Inquirer Staff Writer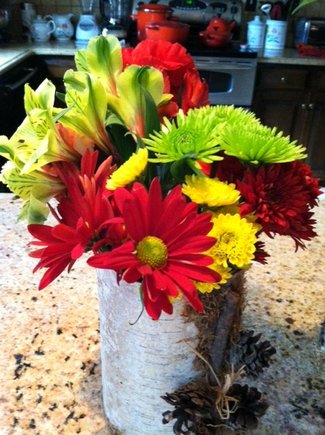 Garden club myths persist. Even garden club members will tell you that: ladies in hats and white gloves. Yeah, right. They wear hats, all right, and gloves in the garden. But there's so much more to a garden club. These women are smart, dynamic and creative and ought to be recognized as such, as my visit with the almost century-old Four Counties Garden Club today bears out.
A half-dozen members got together late this morning at Mandy Swope's house in Malvern for two hours of conversation and crafts - in this case, using natural materials to make holiday ornaments for table, tree or wreath. They were working with an array of cool "found objects" - ash burrs, sea oats, wheat stems, seed pods, pussy willow, dried ferns, berries ... Some of the critter creations were more recognizable than others, others quite artful. More importantly, at least to me, there was good conversation and laughter and as one member noted, a total absence of stress, if only for two hours.
These are women who've raised families, yes, and also had careers in finance, real estate, education, interior design.
Virginia A. Smith

, Inquirer Staff Writer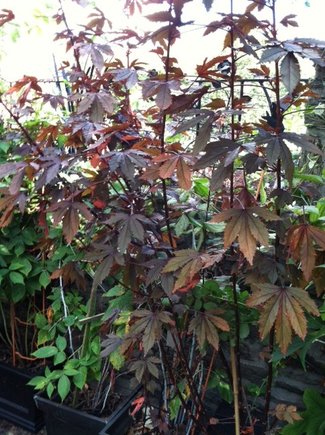 I may have mentioned this a time or two already, but 2012 was not a great season in my garden. Between drought, heat and construction projects, this was a pretty rotten year all 'round. There were a few highlights, of course, including this one: 'Mahogany Splendor,' a new variety of Hibiscus acetosella from Ball Horticulture Co. that, despite the plunging temperature, continues to thrive in my back yard.
This is what's known as a tender perennial, gone with the hard frost in our region. But it's definitely worth getting next year. It's billed as a great specimen plant - all by itself in the home landscape - or as part of the back border or, most often, as "the thriller" or tall showcase plant in a large container. And I do mean large.
This guy is 6 feet tall! It can be pruned to be a shrub, but then you'd lose the extreme verticality, which I love. This hibiscus is known more for its foliage than flowers, and to tell the truth, I don't even remember seeing flowers on this one. The serrated leaves resemble a Japanese maple, and though they're routinely described as purple, mine were more reddish brown. Can you see it paired with something with citrus green leaves or other bold features?
Virginia A. Smith

, Inquirer Staff Writer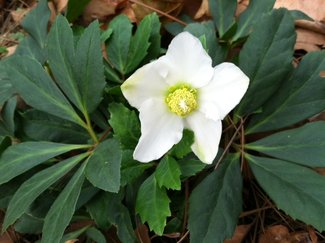 It isn't often that trouble bypasses the city, and I wouldn't go so far as to say that's what just happened. Lots of friends in city neighborhoods lost power - and trees. But my house was pretty much spared. Minor damage to my car from flying plywood and enough sticks and leaves came down to keep me working all weekend, but no power outage, no downed trees, no damage to the house.
Unlike the camelias, whose pink petals were literally tossed to the winds, this lovely little hellebore made it through just fine. It's a little bit early for these guys, no? But what a cheery sight.