Archive: November, 2010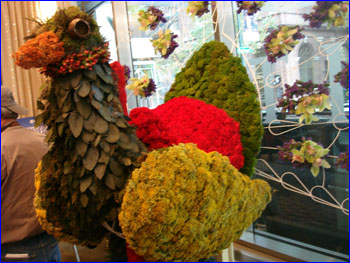 This lovely topiary, made by Barb King of Valley Forge Flowers, had everyone talking this morning. We were gathered at the Sofitel hotel, tres French, to hear the promo for the 2011 flower show - theme is "Springtime in Paris." More than one speaker thought this guy looked an awful lot like a Thanksgiving turkey. All in fun. The Pennsylvania Horticultural Society is promoting the show early in hopes of persuading folks to buy their tickets at holiday time, which isn't a bad idea if you're looking to give someone the gift of experience. Studies are showing that people get more pleasure out of experiences than things. Experiences you can savor and remember and talk about. Things we all have a lot of, and they're rarely as memorable as you think when you buy them. There are exceptions, of course! Sounds like the show will have lots of fun features - an interactive Eiffel Tower, gardens showcasing different subcultures of Parisian life - art, the underground catacombs, the exquisite cuisine - and entertainment headlined by cancan dancers. Lisa Stephano, PHS marketing director, says show designers are consulting with the Rock School about the cancan thing. That alone is worth a trip.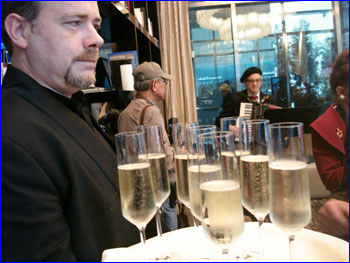 This was the scene earlier today at the Sofitel hotel, 17th and Sansom, where the Pennsylvania Horticultural Society began its promotion for the 2011 flower show, themed "Springtime in Paris." These are glasses of Varichon & Clerc sparkling white wine, given to toast the upcoming show. I was told by waiter Mark McCausland that this was the real deal, but turns out, Varichon & Clerc is just outside the Champagne region and thus, its wines can't legally be called Champagne. But this blanc de blanc supposedly tastes like its expensive counterpart and is made using the traditional Champagne region methods. So there you go. Anything sparkly and fermented that's served for free at 11 in the morning is fine by me. I didn't imbibe, by the way, much as I would've liked to, since I had a story to file for philly.com and the newspaper. Coming to the Pennsylvania Convention Center March 6-13, the 2011 Philadelphia International Flower Show. Great event for Francophiles. Champagne extra.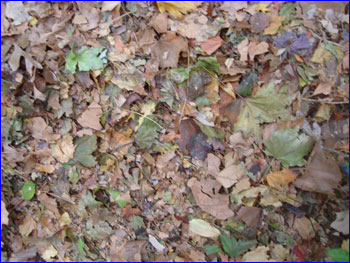 Now I'm not one to load up on gadgets and geegaws, but this leaf season has just about done me in. Thus, had you been up and moving yesterday afternoon, you would've found me at Home Depot checking out the electric leaf blower/vacuums. What an experience! Took awhile to find a sales person, and seemed to me he was faking it when he said he knew something about these machines. But he loosened up, and in the end was quite helpful. I chose a model I thought wouldn't be too heavy and would keep its bag on. (My wants are simple.) I needed the vacuum function mostly, but after one afternoon of using this thing, I've decided that what I need to do is blow or rake the leaves into a pile, then suck 'em up and turn them into mulch in the bag. Yesterday I spent three hours lugging my new blower/vacuum around, sucking up the leaves along the driveway and in the vegetable beds. I collected about eight bags before heading in, which barely made a dent in the leaf circus. In this photo, you can see some of the mulch that I made and spread around and I'm about as proud of this as any finger-painting two-year-old is of her art work. I'm realizing I may never have to buy a bag of mulch again! But whew. My neck and shoulders ache today, and I daydream about beautiful sugar maples that keep their leaves year-round. I have leaves a foot deep - they're still coming down - and even a high-powered electric vacuum can't do the job very quickly. Isn't that just like every other task in the garden? You can take a short cut and it still takes a long time!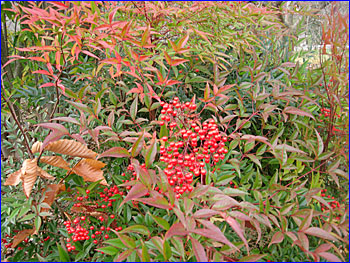 Red is a color some gardeners shrink from, and I have to admit, I usually find it unsettling. But there is one horticultural context in which red is always satisfying and that is the fall and winter garden. Winterberry holly is such a pleasure as the year winds down, as is nandina, or heavenly bamboo, shown here in a picture taken yesterday at Chanticleer. The garden's closed, but I was lucky enough to be wandering around with executive director Bill Thomas, who was pointing out distinctive shrubs. Nandina domestica is that. It has lacy leaves reminiscent of bamboo, and is a tough and attractive landscape shrub with, as Bill puts it, "screaming red berries." He says birds don't go for these berries first but they will come around if there's little else, which is good news for those of us who like to gawk. Nandina is nonnative. It's in the barberry family and considered invasive in Florida and perhaps other places, but Bill says it behaves very well for Chanticleer. I once took - OK, stole - a small piece from a nandina bush in Center City and took it with me to the Pennsylvania Horticultural Society, where I was headed for an interview. I was so struck by the foliage and berries, I had to know what it was. Of course, the folks at PHS identified my stolen treasure instantly, for which I am grateful. This job is such a learning curve.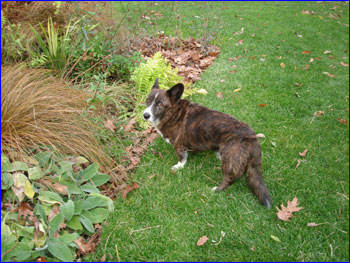 Meet Jesse, and I do consider him a Wonder Dog. This intrepid Corgi logs about five miles of running and walking a day over at Chanticleer, the public garden in Wayne, following his master - Bill Thomas, Chanticleer's executive director - all over the grounds. Bill walks or rides his bike. Jesse, he's always on foot - or feet - despite some arthritis. Jesse is 11 1/2 years old! I met him yesterday as Bill and I took a leisurely walk around. Sky was gray. There was the slightest chill in the air. And I was struck by two things: how many plants here still look beautiful and how many plants look just like the stuff in my garden ...brown and spent. Well, why not? For all its fame and reputation, Chanticleer is a garden just like yours and mine. Well, maybe not like mine. The garden is closed to the public for the season, and yesterday there were plenty of folks around moving earth, pruning and cleaning up. The off-season is a very busy time here. Bill was pointing out unusual and colorful shrubs, my current interest, and there were plenty to see - spireas with wispy, golden leaves; nandina loaded with bright red berries; native, fall-blooming witch hazels; massive stands of oakleaf hydrangeas; dramatic red and yellow twig dogwoods; winterberry holly, and many more. For me, it was a rainbow of color and revelation. I'm sure Jesse's seen it all.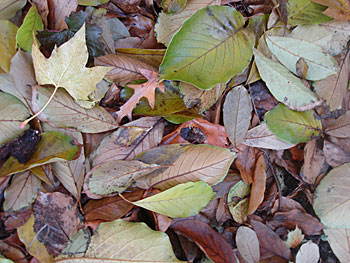 You'd never know from looking out the window this morning that last night's storm was severe and damaging. The sun was out, the landscape prettily soaked and sparkling, and every leaf in town - almost - was on the ground. The storm peaked between 3-4 a.m., which is when I woke up and looked out the window. The rain was coming down in sheets, vertical and horizontal, and the leaves were falling so thick - no kidding - you could hardly see across the street. We learn this morning that 30,000 people in the region lost power. Trees came down, there were car accidents on slick roads, planes flipped over at Trenton Mercer airport, victims of 50 mph winds. By 4 a.m., the storm was done and all was quiet. I used to enjoy watching and listening to storms. But this morning, I noted that every single leaf from the sugar maples out front was down, clogging up the garden with a thick, wet, multi-layered rug. And all I could think of was: Oh bother.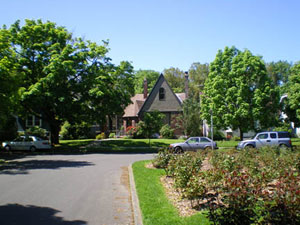 Interesting study out of the U.S. Forest Service's Pacific Northwest and Southern Research Stations. Researchers looked at the effects of trees on crime in Portland, Ore., examining crime data from city police along with aerial photos, onsite visits and info from the county tax assessor's office. Factoring in more than two dozen variables, they sampled 2,800 single-family homes that recorded 394 property crimes and 37 violent crimes between 2005 and 2007. Their findings, to be published in an upcoming issue of the journal Environment and Behavior, found that canopy size of street and yard trees, plus the number of trees growing on a lot, had the most influence on crime. Larger trees were associated with less crime, smaller trees with more. Here's what researcher Geoffrey Donovan had to say: "We believe that large street trees can reduce crime by signaling to a potential criminal that a neighborhood is better cared for and, therefore, a criminal is more likely to be caught. Large yard trees also were associated with lower crime rates, most likely because they are less view-obstructing than smaller trees." Small trees in the yard can block views and shield crminals. Best to keep those trees pruned and placed properly, so the view isn't obstructed. The neighborhood in this photo - taken by Donovan, of the U.S. Forest Service - looks remarkably like some neighborhoods in our area, doesn't it? Not exactly a prescription for lower vigilance ...
How's this for an idyllic outing on a beautiful November morning? Jenkins Arboretum's Wind Through the Trees exhibit, a collection of 65 kinetic and auditory sculptures placed throughout 15 of the Devon garden's 46 acres. What an interesting mix. My only regret is that the wind wasn't kicking up or wafting through. We saw only the barest hint of movement in these pieces, which are designed to harness energy from the sun and wind to make sound and create movement. I think I'll return on a day when there is actually some wind coming through the trees. The show runs through June 2011, and is designed to commemorate Jenkins' 35th anniversary. All of the pieces are for sale and even though many require both a large bank account and property, even we peasants can appreciate their beauty and artistry. This one greets visitors. It was a favorite. Title: "Picnic in the Park" by Janet Bauman. Cost: $25,000. Bauman envisioned a 144-piece "mosaic-like quilt" made of recycled Saladworks plates and silverware, with hand-painted designs on the plates that echo leaves from trees in the arboretum, Jenkins' famous watering cans and other aspects of the garden. And here's a fun little feature - the "quilt" can be rearranged or divided into smaller sections and hung in different locations inside or outside. Talk about bringing the outside in! or is it the inside out?