Archive: November, 2008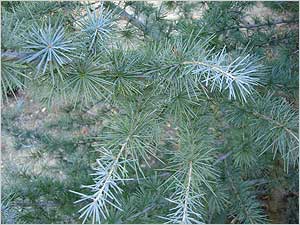 Here's the runner-up: Cedrus deodara 'Electra,' a Himalayan cedar with some of the most striking foliage I've seen. It was feathery, a cool silvery-blue, which you can see in this photo. The needles had green on them also, making for a really nice look. Not as dense as a Colorado spruce. You can see through it. But we loved the tree - just look at those needles. Still, we wondered if it would be the screen we need in our garden. The new tree will be planted at the end that overlooks the street. We like looking out but aren't crazy about people looking in. We also want to obliterate a rather unsightly sign on the sidewalk down below. Who wouldn't rather look at this?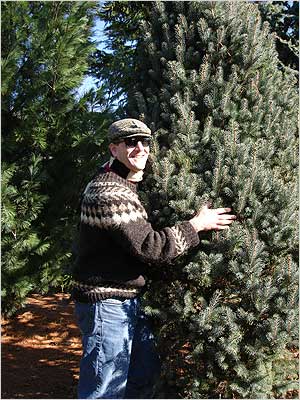 The winner of the new-tree sweepstakes: Picea pungens 'Iseli fastigiate,' a Colorado blue spruce, described as "extremely ornamental" by Iseli Nursery, which bred it. There are many things we liked about it. Its color - steely blue - is sublime. Its shape - a cross between a fat cigar and a svelt barrel - is pretty. And its size: just right for the space in our garden. We both fell in love with it on the spot. In fact, Randy kept hugging it.
And how's this for a nice touch, one I didn't realize till we'd made the decision. This fall I visited the Iseli Nursery in Portland, Ore., a place with some of the most beautiful conifers I've ever seen. And there's a personal angle. My son, his wife and their new baby daughter live in Colorado, so in some small way, this brings us all geographically closer. (If only!)
It will grow about 12 inches a year, which suits us fine.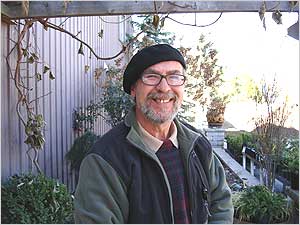 Despite the cold, last Saturday Randy and I headed out to Colibraro's nursery in Horsham, a neat place we'd never heard of and that isn't open to the general public. We went with arborist Ken LeRoy to pick out our new tree. The place was spectacular, beautiful evergreens at every turn. Good sizes, too. I took along a reference book but it was so cold my fingers couldn't turn the pages. And it was like visiting a garden center in spring; everything looks great until you turn the corner and see something that looks even better. This is Michael Colibraro, a debonair fellow with several charming European habits. He wears a beret. (Slays me every time.) He kisses on both cheeks. (I'm yours!) And he offered us espresso to warm up. So walking the paths through his nursery was truly an adventure we'll remember.
From the time Ken's crew removed the dead dogwood from our garden, Randy's been talking about a blue spruce. He loves blue spruce. He wants to hug a blue spruce. He wants to put Christmas lights on a blue spruce. And wouldn't the birds love to build a nest in a blue spruce?
I thought a blue spruce would look funny in our urban garden and figured we'd see lots of alternatives at Colibraro's.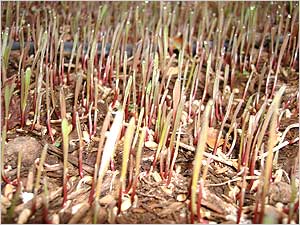 In 2007, mindful that we should be rotating vegetable crops in the garden so the soil doesn't get depleted or diseased, I planted my second-season tomato seedlings in a different spot. What a disaster. The harvest was truly pathetic. This past summer, the tomatoes returned to the vegetable plot, only to be done in by near-drought and thirsty squirrels prone to taking one giant bite and a big slurp out of every tomato on the vine. I'm in no mood in 2009 to make this a hat trick. The tomatoes will stay in the vegetable garden but for the first time, I've planted a cover crop to restore nitrogen to the soil over the winter. I tossed - broadcast - annual winter rye seeds in there a couple of weekends ago. Although this photo looks like it was taken in a jungle, it's a bird's eye view of the rye sprouting. Winter rye helps with soil erosion and topsoil loss, something I don't need to worry much about in my raised beds. But it'll add rich organic matter, improve soil fertility and structure and, I hope, help me grow great tomatoes next year.
A friend has sown red clover for the first time in her much-larger vegetable garden and we plan to compare notes in the spring. I picked rye on the recommendation of an employee at Primex, who said it was the best in our cold winter climate and better than clover for my relatively small area. It won't scale the walls and overwhelm everything else, he said, promising I could cut it down and till it in next spring with good results. Should be a fun experiment and one more thing we can do to avoid synthetic chemicals. I'll let you know.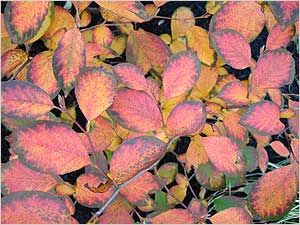 Look at this! It's my Japanese Stewartia tree, a.k.a. Stewartia pseudocamellia, which is a bit of an unfortunate botanical name. How could you call this a pseudo anything? The name, of course, comes from the blossoms, which do look a lot like a camellia. They arrive in summer - small, white with yellow centers. The bark of this medium-sized tree is also pretty as it peels off, revealing a multi-colored, mottled look underneath. But it's the foliage that gets me every fall. It's purple, red and gold and shouts for attention from the otherwise brown, brown and more brown garden. Although slow-growing trees make me antsy, I'm happy to have this one. It's filling a small space very nicely. We'll have lots of years to savor the show.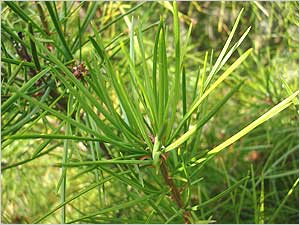 The other night, over dinner with some gardening friends, I mentioned my search for a beautiful tree to replace a dead dogwood. I'd just been wowed by a lacebark pine (Pinus bungeana) at Chanticleer, and before I could get the whole name out of my mouth, almost in unison they shouted, "THAT IS A FANTASTIC TREE!" I'd never heard of it but obviously, they had. True: This is a fantastic tree, though it does have some problems. It sometimes splits apart in snow and ice, which wouldn't be good at all if it's going to be a show piece in my garden. Supposedly these pines are sensitive to pollution. Rats. That won't do at all in an urban location like mine, though it's great for Buddhist temples, where these trees are often found. Once again, they're very slow-growers. And wouldn't it be nice to find a tree like this that's native, instead of coming from Asia, as so many do?
But lacebark pines are truly gorgeous. They're a rounded pyramid shape, with several trunks and chalky, patchy bark horticulturists like to call "showy." If all this wasn't enough to steal my heart, the needles finished the job. They're about four inches long, very fine but thickly covering the tree. You just wanted to run your hands over them. Some oohs and ahhs around the dinner table will have to do.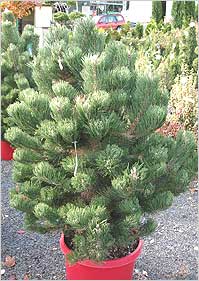 With winter on the way, it's a bit counterintuitive, but this is a great time to plant trees and perennials. And just our luck, it coincides with the desire of garden centers to clear out whatever's left from the 2008 season. However cool the air may be around here in November, the soil remains warm and welcoming to burgeoning roots for another few weeks. A few years ago we planted two sugar maples in the first week of December. Today they thrive.
So, over the weekend, I went trolling for a conifer for my garden to replace a dying dogwood. I'm looking for something striking, as this will be in the viewfinder as you walk into the garden. I want it to be special, and able to survive next to a huge elm tree. The spot gets a lot of sun, thanks to the wonders of modern pruning of huge elm trees, and some partial sun.
People have suggested a holly, and as pretty as some of these are, I said no. Japanese umbrella tree was another idea. Beautiful tree, but such a slow-grower ...