Archive: October, 2012
Virginia A. Smith

, Inquirer Staff Writer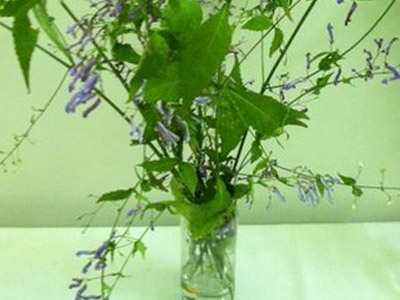 And how lucky you are if you've got this little beauty - Rabdosia longituba 'Tube Socks." This is a simple, elegant arrangement done by Joe Henderson of Chanticleer. Joe is a horticulturist/section gardener there, and he obviously plucked these stems from what was blooming down by the pond, maybe, or on the hillside nearby. They're very thin, nicely setting off the leaves and clusters of flowers.
I'd never heard of this, so looked it up. Plant Delights Nursery sells it. Common name trumpet spurflower. It gets 3 feet tall, 2 feet wide, and typically blooms - right on schedule - in mid-October here. I saw this arrangement last Friday at the Perennial Plant Conference at Swarthmore College, and it made quite an impression. It's so clean. Makes those "bouquets" and "arrangements" you see all over offices - packed with a zillion colors and kinds of flowers - seem ridiculously overdressed.
Virginia A. Smith

, Inquirer Staff Writer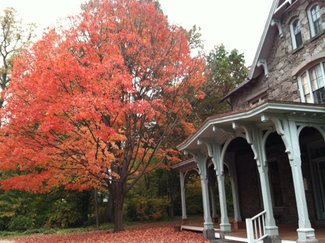 Uh oh. That's all I could think when I saw this remarkable sugar maple at Awbury Arboretum yesterday. It's an apt and glorious greeting, entirely appropriate at a place like Awbury, which reveres its trees. But what about my sugar maples? They're less than a decade old and already they're huge. Already, too, I'm worried that they'll get as big as this one, which is far too big for the space out in front of my house. And oh, the sidewalk!
If you read my story in the Home & Design section last week - second and last installment coming this Friday - you know that I've learned some difficult lessons with my ever-evolving garden. Unfortunately, they don't include this one - trees like sugar maples need more room than you can imagine. Thought that was accounted for, but I see from Awbury's magnificent specimen that mine are going to get way bigger and become a serious problem, despite assurances from the neighbor who ordered them and helped us plant. We'll see, but here we go: Another thing to worry about.
Meanwhile, spending a morning at Awbury was pure pleasure. This is a peaceful, beautiful place, one that comes alive when you're walking the grounds with smart plant people. My education continues ...
Virginia A. Smith

, Inquirer Staff Writer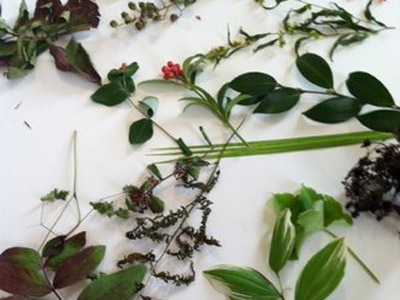 Yesterday morning as the sun was coming up, I ventured outside to collect berries, dried seedheads, interesting leaves and grasses, for the Inquirer's page designers to play with for the layout of my story tomorrow. There will actually be two stories over the next two Fridays, but the first is about my crazy city garden and all it's been through for its first decade.
It's the real story of a garden, not some glossy version that might admit in an aside that there will be setbacks along the way - things like terrible weather, bad choices, unfortunate missteps and that thing called time, of which we (at least I) have so little these days and which gardens need in spades.
It was surprising to see how much was going on in the garden yesterday. The colors of fall are so lovely and the plants beautiful in a different way.
Virginia A. Smith

, Inquirer Staff Writer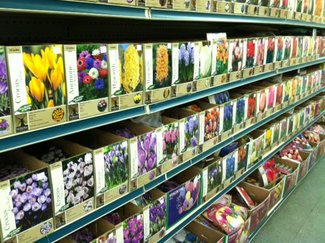 This is the first year in awhile that I'm not planting in the fall, though I'm tempted by the idea of putting in masses of spring-blooming bulbs. Temptation, be gone! I need to get my house - literally - in order, as well as my garden. As soon as work on the house is finished, my patio will be put back together, which means that swaths of the garden now filled with patio stones and furniture will empty out and I'll have a chance to restore whatever damage that caused. That's the priority this fall.
But I stopped in at Primex last week, which is where this scene was shot, to get some seeds. There were people browsing and buying tulips and daffodils, and for once, I only bought what I came to get. However ... snowdrops were beckoning. I've fallen in love with them. Judging from the few bulbs left in the snowdrop box, I've got plenty of company. And why not? Bulbs are cheap, easy to plant, and, if you pick naturalizers and ones that squirrels and deer don't lust after, you get a lot of bang for your buck.
One customer was looking for garlic bulbs and was told Primex had sold out. Garlic goes quickly.
Virginia A. Smith

, Inquirer Staff Writer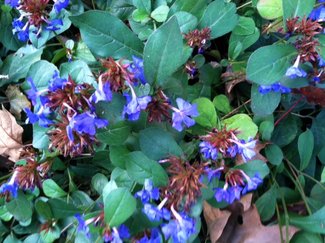 For all those folks I've landed on with little notice, for everyone who's opened their garden (and heart) to me only to be plastered all over the newspaper and blasted across the internet ... finally, I'm getting a taste of my own medicine. My own garden, for better or worse, will be featured in Home & Design this Friday and next. Not surprisingly, as soon as the decision was made to do this, I felt uncomfortably exposed, as many of my victims no doubted have over the last six years.
I always tell people that it'll be fun, that they don't need to change anything or wear anything special. Don't worry, I say, we want you just as you are every day. Well, I'm here to tell you ... you start to question every little thing. Oh God, my hair! It's more than a week to my next haircut. It looks awful! What should I wear? I actually woke up in the middle of the night worried about that.
I chose black jeans and a black hoodie, very comfortable, but then realized that it wouldn't show up at all in pictures. What was I thinking? So I changed into khaki pants, a purple top and lime green down vest. I look like someone pumped me full of air after messing up my hair.
Virginia A. Smith

, Inquirer Staff Writer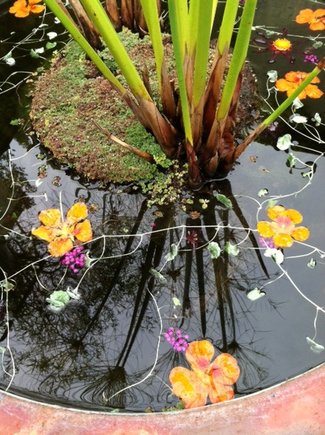 Hadn't been to Chanticleer in awhile, and a cold, wet day isn't the best time to visit. But I was amazed. Look at this creation of Jonathan Wright, who takes care of the Tea Cup and Tennis Court gardens. It's a simple, elegant design and a thoughtful illustration of how sometimes less is more: He took a few strands of the silver-leaved Dicondra 'Silver Falls,' added nasturtiums, dahlias and beautyberry, and floated them all - very delicately - around some papyrus. Wow!
The garden closes to the public on Nov. 4. It's nice to know, but not surprising, that the gardeners here hustle right into the end zone. (Actually, I can think of some folks around here who might benefit from learning that!) This Friday's Home & Design story takes a look at what these talented gardeners, as well as other professionals and amateurs around the region, do in what used to be called "the off-season." As my story describes, there's no such thing anymore - not in your job, not in mine, not even in the garden.
After talking with about a dozen folks who make their living gardening, or who do it for fun, I have to say that the disappearance of the traditional winter rest time may not be a terrible thing. A lot of creative and otherwise necessary work - I say otherwise, because I think creative work is a necessity, too - gets done during these quieter months in the garden.
Virginia A. Smith

, Inquirer Staff Writer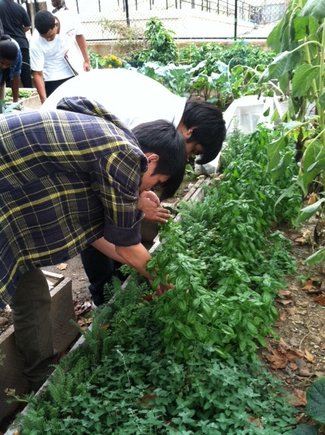 This basil's doing way better than mine. Mine is almost done for the season - leaves are curled up and getting crisp and yellow, everything gone to seed. The kids in this photo are in Nancy Hansell's culinary arts class at South Philadelphia High School, which I visited yesterday. They're in the first season of a new vegetable garden, built with raised beds on two asphalt patches on either side of the school's huge parking lot.
The kids are working with Kris, a restaurant in South Philly, in preparation for the Oct. 19 fundraiser - PHeaSt - for the Pennsylvania Horticultural Society's City Harvest program, which is six years old now and has donated more than 180,000 pounds of organic produce to food cupboards and soup kitchens that supply needy families. It's a terrific program and a lot of community gardeners in the city are familiar with it and participate.
For this fundraiser, PHS is pairing up urban gardeners and farmers with chefs. The growers provide the fresh stuff; the chefs create a dish with it. Both - and the dishes, some 250 individual samples of each - will be on hand at the event, which is being held at the Navy Yard. I talked yesterday with Al Paris, chef at Heirloom, the restaurant at the top of the hill in Chestnut Hill. He's deep into the local, fresh food movement and plans to use pumpkin, kale and carrots from Henry Got Crops, the farm/CSA over at Saul High School in Roxborough, to make a pumpkin-kale tart with carrot "bacon." He makes the "bacon" by brining the carrots, then smoking them and baking them in the oven with molasses and pepper. (Now that's a bacon I could eat.)
Virginia A. Smith

, Inquirer Staff Writer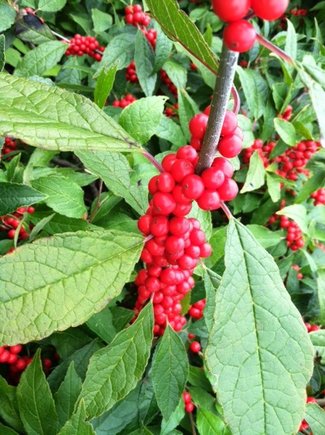 Yesterday on a visit to Longwood I came across this extraordinary sight. Looked a bit like beautyberry but it's the wrong color. Could it be a holly? Actually, it's a very early-fruiting winterberry, according to Casey Sclar, the new executive director of the American Public Gardens Association, which is HQ'd in a Longwood house. (For 15 years, until this past June, Casey was Longwood's IPM guy.)
He wasn't sure of the variety of this winterberry, which was one of several outside the APGA house, but said it has a Longwood plant tag on it dating to the 1950s. Talk about early! They ought to call it FALLberry.