Archive: January, 2013
Virginia A. Smith

, Inquirer Staff Writer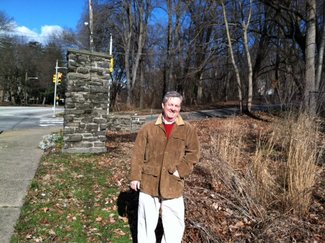 Ever seen this view as you rocket along Lincoln Drive? I'm not talking about Pat Moran, a civic-minded guy from Mount Airy with a keen interest in "at-risk" buildings and structrures in his neighborhood. I'm talking about the stone pier behind him. It was one of four, now one of two, on the drive where it intersects with Johnson Street. Each pair had a wooden pergola on top, very similar to the one at Germantown Avenue and Cresheim Valley Road at the entrance to Chestnut Hill.
The Mount Airy piers and pergolas were underwritten at the turn of the 20th century by philanthropist Edward T. Stotesbury (yes, he of regatta fame), but all but two piers have been lost. For the last three years, Moran and a large group of volunteers have been raising money and giving up untold hours to clear the site of nasty invasives and begin to replant it with natives, using a planting plan devised (pro bono) by landscape architects Claudia Levy and Doris Kessler and an architectural plan to replace the pergolas drawn up by architect Peter DiCarlo.
This is a joint effort by Historic Germantown and West Mt. Airy Neighbors with support from the City's Recreation Department and the Fairmount Park Conservancy. Pat thinks, if all goes well, the Stotesbury project could wind up this year.
Virginia A. Smith

, Inquirer Staff Writer
Flower show madness has begun. The folks at PHS are calm and organized, the exhibitors have their stuff together, all seems ready for "Brilliant!"... so why is it so crazy chez moi? Every year the month before the show (it runs March 2-10) is a race for me. Although I start interviewing key people weeks ahead, around this time I have to pull everything together for stories that will run in several sections of the paper before the show opens and while it's on.
I try to make these stories real, ones that readers will learn from and enjoy, which means they take a lot of work. You wouldn't think so 'cause there's so much stuff out there that reads like a press release. Although there are a lot of great things about the flower show, I try to avoid that.
Today I talked at length with Gary Radin, set designer for the show's central feature, the one that greets visitors. He gave me a rundown: gates and archway reminiscent of Buckingham Palace, allee of native birch trees, Big Ben at the end. One surprise: There's no live entertainment this year, which some may applaud. (Even a few exhibitors complain that the entertainment's been drives them crazy. They have to stand there for 9 or 10 days.) For me, the entertainment, with some exceptions (the Paris show), has been a lot of fun, particularly the Aran Island and Hawaiian dancers.
Virginia A. Smith

, Inquirer Staff Writer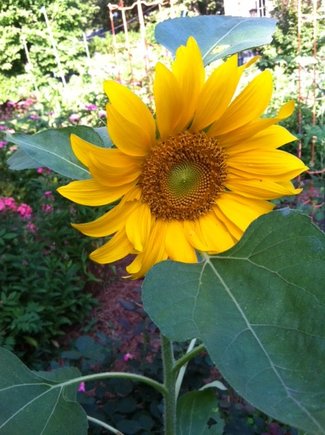 Never underestimate the power of the people - in this case, the city's community gardeners and farmers. They've successfully fought an attempt to place restrictions on their ability to grow fresh food in neighborhoods all over Philadephia. City Councilman Brian O'Neill has backed down from his proposal that growers in certain areas (mixed-use commercial) be required to get permission from the Zoning Board of Adjustment to use the land some of them have been growing on for decades. The idea was met with disbelief, then anger, and by this week the opposition had become very organized. The lobbying - and email traffic - was intense.
Last night O'Neill quietly let his fellow council people know that when they convene tomorrow, he'll exempt community gardens and farms from his proposed amendment, which still covers other land uses. That means gardens and farms in mixed-use commercial zones (among them the Village of Arts and Humanities in North Philly, Grumblethorpe on Germantown Avenue, Las Parcelas in Norris Square and many others) are allowed as a matter of right, as the new zoning code that O'Neill wants to amend states.
The new code, formulated over four long years and only put into effect last August, contains provisions to ensure that gardens and urban farms properly dispose of trash, keep a clean compost area and other issues that potentially could upset neighbors. Sally McCabe, of the Pennsylvania Horticultural Society, an outspoken critic of O'Neill's amendment, actually wrote the language for this in the code.
Virginia A. Smith

, Inquirer Staff Writer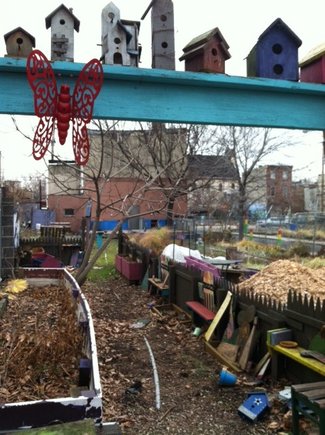 Community gardeners and urban farmers across the city are gearing up for a fight at next Thursday's City Council meeting, where a proposed amendment to Philadelphia's brand new zoning code is slated to be voted on. The amendment would require gardens and farms in mixed-use commercial zones to get a permission known as a special exception from the Zoning Board of Adjustment. Advocates for the growers believe this will be a tremendous burden for existing (and future) farms and gardens, which would have to prove they either own the land they're growing on or have permission from the owner to do so.
Anyone who's been part of a community garden or farm in the city knows that establishing ownership is very tough. Most of the land involved has owners who long ago either moved away or died. Sometimes one of a handful of city agencies owns it, which is an adventure of another sort. There are back taxes to deal with, liens, often contaminated soil (hence, the proliferation of raised beds in these gardens) ... It's no mystery why neighbors typically are delighted when gardeners take over.
In short, the garden community is mighty churned up over this proposed amendment. (There are other reasons beyond the difficulty of proving ownership - getting the special exception will cost money and time.)
Virginia A. Smith

, Inquirer Staff Writer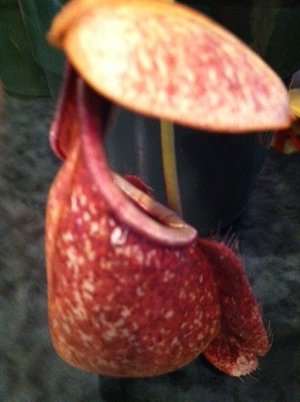 This strange looking thing is a tropical pitcher plant (Nepenthes), a flesh-eating weirdness that fascinates many, including Drew Ells, a Wissahickon High School sophomore from Blue Bell, who is featured in my story in the paper's Home & Design section tomorrow. Check it out - and be sure to go online to see the marvelous photos taken by staff photographer David Swanson.
Carnivorous plants never quite got my juices going, but I'm told that the story's different for teenage boys. They think of these plants as action figures. The Venus fly trap actually moves! I know this is true because I put my finger into one of the traps at Drew's house during our photo shoot. No, it didnt hurt but it was pretty creepy.
One thing you may not know about carnivores - because ALL YOU CARE ABOUT is the gross details - is that they're surprisingly beautiful, though many are just combinations of red and green.