Archive: January, 2011
Virginia A. Smith

, Inquirer Staff Writer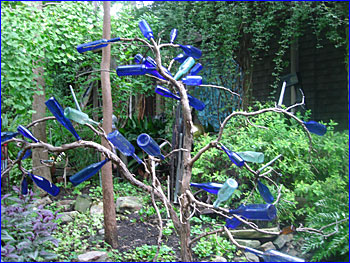 I saw my first bottle tree a year or two ago, in a garden down South. Here it is. No one explained it and I immediately went online to learn about its origins and history. So much of what's out there is one-dimensional. We read: Bottle trees came to the South with West African slaves. Well, yes, but there's more to the story. In next Friday's Inquirer, I'll talk about bottle trees, and the idea they embody ... that evil spirits can be captured in bottles at night and destroyed in the morning light. It's a very old concept that is expressed in many forms. These days, bottle trees are more garden art than folkloric remedies for bad luck and, in some cases, these trees are of high artistic quality. In some cases. And tales abound. One is told by Elmer Long, a retired cement factory worker who lives in the Mojave Desert in California. He's created mroe than 400 bottle trees, using bottles his dad collected and others he's scavenged from unofficial dumps in the desert. He says he's obsessed. Also ... creative.
Virginia A. Smith

, Inquirer Staff Writer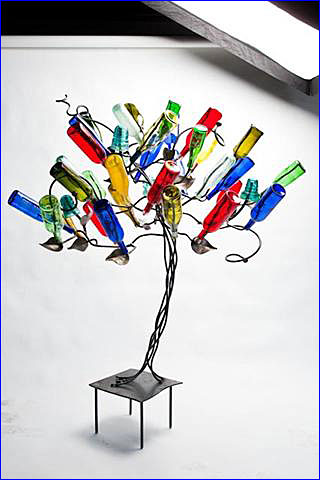 Miss Metal Design is Stephanie Dwyer, a metal artist in Mississippi who's fascinated by bottle trees and is making a living designing some very interesting ones. This is called "the Katrina tree," memorializing the 2005 hurricane that so devastated Mississippi. Stephanie does bottle arbors and things like magazine racks, and personally delivers her pieces whenever possible. She often becomes friends with her customers, and says bottle trees bring out stories and family histories, and friendships develop naturally. Check out her website - and her story: http://www.missmetaldesign.com/
Virginia A. Smith

, Inquirer Staff Writer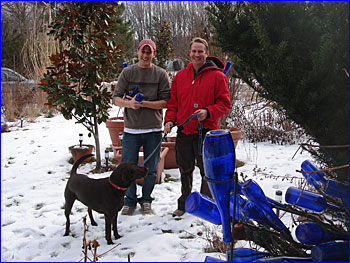 Yesterday I visited these guys - Alan Petravich, Koa Kanamee and their chocolate Lab Hoa at their home, called "the blue bottle cottage" on the grounds of Longwood Gardens in Kennett Square. Alan, who grew up on a dairy farm in Pennsylvania, and Koa, who's from Hawaii, both work at Longwood - Alan's a research assistant, breeding clivias, trialing plants, working to eradicate viruses on cannas and crysanthemums, and Koa works on specialty crysanthemum forms, such as topiaries. They both love blue bottles, and, as they say in the newspaper biz, they are not alone. The bottles are gorgeous. The couple has a collection of more than 100; quite a few decorate their bottle tree - a oddly-shaped yew - in the garden. It's not the typical crape myrtle or cedar tree historically used in the South, and it's a far cry from some of the metal ones now being sold by garden supply places and entrepreneurs. But it's striking in a winter garden, set against the brown and tan seedheads and grasses, and the snow. Since I began researching this story, I've kept an eye out for blue bottles. Conclusion: There aren't many out there anymore. Used to be, in the South, everyone used Milk of Magnesia. And there are still certain vodkas, reislings and waters sold in blue. But most "bottles" are plastic now, I don't drink vodka or reisling, and I don't buy expensive water. Alan and Koa are lucky. They have many antique bottles and friends give them others. I have a feeling I'll be on blue-bottle watch from now on, everywhere I go, on the lookout for a blue bottle - or two - to requisition.
Virginia A. Smith

, Inquirer Staff Writer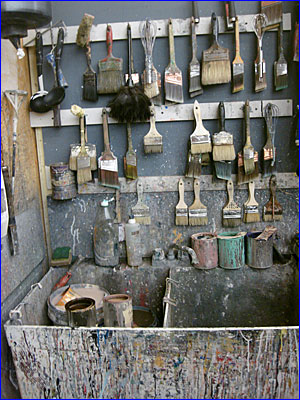 Get a load of the number and variety of paint brushes involved in the building of the Eiffel Tower for the flower show. Of course, these instruments are used for set designs and other jobs at Scenery First in Sharon Hill. Cricket McGehee, a University of the Arts grad, is a scenic artist here, and this morning she was cleaning up when I visited. Cricket, says Scenery First co-owner Jack Doyle, "is a genius at aging and grunge" on props and sets. She's got lots of "tools." Besides regular brushes with diameters ranging from pencil-size to baseball bat, she has feather dusters, whisks, ladles and a brush with cut outs that looks like a jack-o-lantern smile. What fun. Cricket says she uses water-base paint whenever possible, but oil-base is used on cruise ships because of rust. She's never been to the flower show - never had a weekday off, she says, and weekends are too crowded. Plus ... she's short. "I can never see anything," she says. If you want to read more about the mini-Eiffel Tower, coming to a flower show near you in March, be sure to get the Sunday Inquirer. I'll be writing the story tomorrow.
Virginia A. Smith

, Inquirer Staff Writer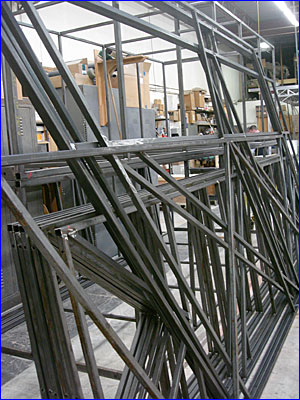 In 1887, someone sent a letter in to the newspaper Le Temps calling plans for the Eiffel Tower, meant to commemorate the centennial of the French Revolution, "a giddy, ridiculous tower dominating Paris like a gigantic black smokestack," or words - in French - to that effect. Hard to believe Gustave Eiffel's now-iconic structure was so controversial. Do not expect to encounter a controversial tower at this year's flower show. It is not an exact replica. Obviously. The real deal is 1,063 feet; this one will be 33 feet. At the moment, the flower show tower is in 13 "tractor trailer-size" pieces in a shop in Sharon Hill. They're made of steel and plywood and will be covered in hundreds of "peanut lights," tiny, 6-watt light bulbs that will be sychronized to Parisian techno-music. There will be no flowers on the tower, however, a departure from traditional flower show central-feature style. And the tower will not hit you in the face as you walk in. It'll be placed 90 feet back from the entrance, sitting in the middle of a so-called "French curve garden" with planters and ponds, a flower cart on one side (fashioned from two old Schwinn bikes) and a flower shop (modelled on one of those fabulous Parisian Metro stops) on the other. There'll be mimes and jugglers. I'm there.
Virginia A. Smith

, Inquirer Staff Writer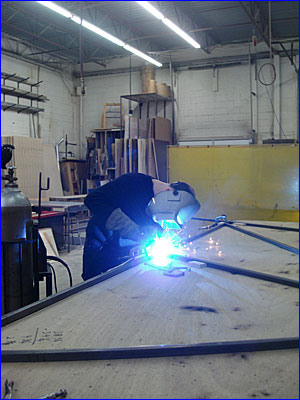 This week construction began on the Eiffel Tower, part of the central feature at this year's flower show. Here you see welder Richard Cousins working away at Scenery First, which has had a major role in building features and sets at the show for more than a decade. I visited co-owners Jack Doyle and Michael Barone this morning at their shop in Sharon Hill. They bid for the flower show job every August, and said this year, because of the economy, a lot of the competition fell away, which means better odds of getting the job and also ... a busier time all around for their ompany. Ninety percent of their business is building sets for revues and shows on cruise lines - yes, the cruise business is booming - but they also do work for the Wilma, Philadelphia Theater Co. and others. "This past fall was crazy," Jack says. Workers just started putting together the pre-fab pieces of the tower, which has to be finished a full week before the flower show opens. And, Jack says, the biggest challenge is getting the giant sections into the tractor trailer for transport to the Convention Center. Once assembled, the tower will be 33 feet tall and 75 wide, visible from anywhere on the show floor. It's the tallest structure ever for the show, which runs from March 6-13.
Virginia A. Smith

, Inquirer Staff Writer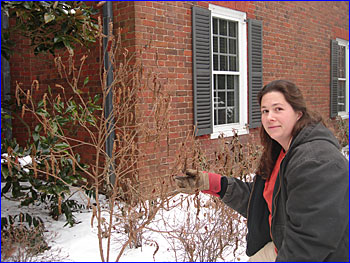 Don't get excited. We're not rockin' 'n rollin' here, but in the garden world, this is a subject worth getting hepped up about: foundation planting. You know, the beds around the front of the house. A lot of houses have nothing here, or they have a lineup that is so boring you'd hardly notice it. Yesterday I met with Renee Kemmerer, a horticulturist down at Mt. Cuba, which - if you haven't been there - is a trip worth making in the spring. Mt. Cuba, in Greenville, DE., just outside Wilmington in DuPont World, is 650 beautiful acres dedicated to the study and appreciation of native plants of the Piedmont, defined as the swath from lower New York to Alabama, between the coastal plain and the mountains. Even in winter, it's lovely. Renee and I talked foundation plants, which is the subject of her workshop on Feb. 9 (1-2:30 p.m., http://mtcubacenter.org/). Her feeling is: Go for it! Why be boring? Using native plants, she suggested various scenarios to evoke, say, a meadow or a favorite scene from childhood, such as your grandparents' house, where the garden inevitably included fragrant flowers and fruit. My story, scheduled for Jan. 21, will include interesting natives to substitute for tried-and-true nonnatives. Of her passion for natives, Renee says, "It's a calling."
Virginia A. Smith

, Inquirer Staff Writer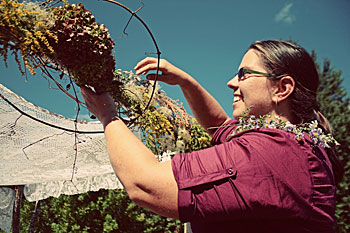 The catalogues are pouring in - Burpee, Heronswood, Cook's Garden, Jackson & Perkins, Gardener's Supply Co., the bulb companies - and as much as I tell myself I'm not in the market to buy any more plants or garden equipment, some stuff is looking mighty good. As the temperature dipped and then rose last week, the springtime fantasies were coming fast and furious. To make matters worse, or better, yesterday I interviewed Jennie Love, an up-and-coming "flower farmer" from Mt. Airy, who only encouraged those fantasies with all her talk about growing unusual annuals and perennials in her organically-sustained cutting gardens. Jennie's in the forefront of a cut-flower trend. Just like the new generation of urban farmer, she's growing her own flowers to sell in a flowers-only CSA, or Community Supported Agriculture, and she does weddings, too, using flowers grown in several community garden plots in upper Roxborough. This photo is of Jennie decorating a chuppah for a wedding last year. I'll be featuring Jennie in a story next Friday, Jan. 14. We'll have photos of her with the story, along with pictures she's supplied of some of the beautiful and interesting blooms she's grown and arranged. Rest assured, these photos will do nothing to tamp down the fantasies of spring, but that's not a bad thing. In January, anyway.