Archive: June, 2008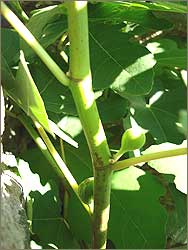 A few weeks ago I thought it was Poppy Awareness Week. Everywhere I went I saw poppies. Now it's little green things. First, I pulled the last of the pea vines out of my vegetable patch. They're done, fried, crisp as a potato chip. I squeezed open the last few green pods and popped those sweet little peas into my mouth raw. None of my meager pea crop made it to dinner. Or I should say made it into the main dish.
I put them on homemade pizza. I put them in salads. Mostly I put them in my mouth. So that's one little green thing.
The second: baby figs. At last! I did my best to kill this tree but it has confounded my efforts and survived. I look forward to roasted figs with melted cheese, figs in my salad, warm figs in my mouth and best of all, FIG GELATO.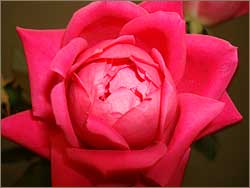 Friends are emailing photos of their roses, all in spectacular bloom right now. Mine, too, and this NATURALLY has fueled a desire to buy even more. My current favorites run the gamut from groundcover roses like 'Good and Plenty' - the color of those scrumptious pink and white candies - and 'Happy Chappy' - a pink-gold-apricot - that are blooming up a nice, compact storm in the garden ... to several fragrant climbers that are doing their thing on the fence out front.
After reading a lot about roses, and talking to gardeners who grow them, I looked for climbers that are repeat bloomers, very disease resistant and fragrant. There is so much hype out there about plants - and roses are no exception. To read the blurbs, you'd think every single rose possesses all of the qualities I seek. So I jumped into the garden forums and flipped through some rose books and made my choices.
They are: 'Compassion,' 'Ginger Syllabub,' 'Golden Showers' and 'Portlandia' - all yellow, peach, apricot, pink - to climb on the front fence in whatever patches of sunshine I could find. The bright yellow 'Golden Showers' just went in over the weekend, with lots of water and mulch, but the others have a year or two under their belts and are doing great. It's fun to watch passersby suddenly stop, lean down to smell these incredible flowers and smile as they go on their way. I do it myself. (It's a bonus for taking out the trash.)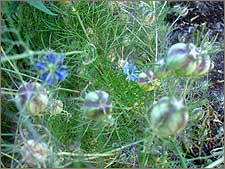 This is love-in-a-mist, an old fashioned flower properly known as <em>Nigella damascena</em> and I grew it from seed last year. The self-sowing promise isn't always fulfilled in my garden, but maybe I'm getting better with time and experience. Or maybe not! It's hard to know why things happen.
The love-in-a-mist came back this year in spades after a rather puny showing last year. Some nasturtium seeds I literally tossed into a bald spot in the garden have sprouted cheerfully as well. This is great news, as both provide delightful flowers and unusual foliage - the love-in-a-mist has tall feathery stems and the nasturtiums look like little lily pads. The former, as you can see, are cooling shades of blue and white, the latter warm yellows and oranges.
<em>Nigella</em> comes from niger, or the Latin for black, because the seeds are black. And get this - in Egypt, ladies used to eat the seeds to "produce stoutness, which is considered an attribute to beauty in these lands," according to a handy/dandy reference book on my desk called "100 Flowers and How They Got Their Names" by Diana Wells. The heck with handy/dandy. That's some attribute!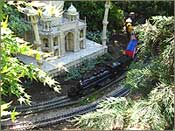 A week ago yesterday, it being a gloriously sunny Sunday, we ventured out to Morris Arboretum to take a walk and see how the rose garden was doing. Cars were lined up along Northwestern Avenue waiting to get in. Couldn't imagine what was going on. Were they giving away plants?
Actually, it was opening weekend for the 2008 garden railway, an event you might not suspect would generate so much excitement. But there you go. This year's theme is "Architectural Wonders of the World." It runs till Oct. 13.
No world wonders, but I remember being drawn to my brothers' toy train set back in the dark ages, especially the small-scale towns, bridges and mountains and the pale puffs of smoke that came out of the engine.