Archive: May, 2011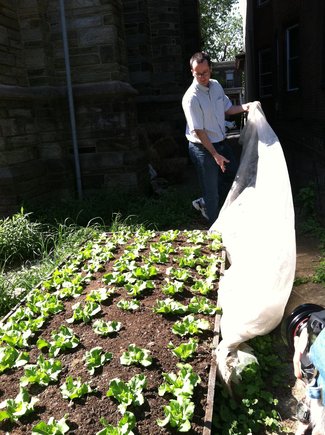 Most gardeners I know talk about being in their garden as, among other things, almost a religious experience. It's a place that naturally lends itself to thoughts about the interconnectedness of life, the cycles of life and death, the powerlessness of man versus nature ... heavy duty stuff.
Pastor David Braneky, aka "Pastor Dave," is very much at home with such thoughts. In fact, he shares them with his congregation at Lansdowne Baptist Church.
I visited Pastor Dave there on Friday, and at his West Philadelphia garden (shown here) this morning. He has nine raised beds, where he's growing everything from asparagus and rhubarb to collards and blackberries. The cast will change in summer and again in fall.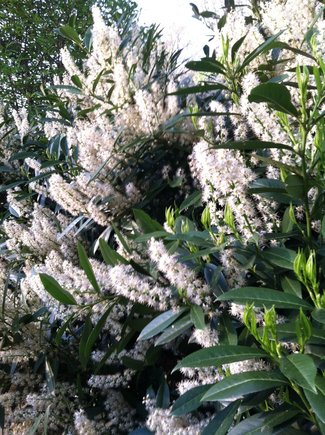 Voila! Here is the privacy screen on my patio, a virtual wall of laurels. Six years down the road, they've finally achieved enough height and stature to shield the view from passersby.
Technically, these are Prunus laucerasus 'Schipkaensis,' a variety of cherry laurel that more typically is called just plain old skip laurel or 'Schip' laurel. (Now I know why!)
It's an evergreen with glossy green leaves and, as you can see from the photo, beautiful white flower spikes in spring, followed by tiny black fruits. Unfortunately, the beautiful white spikes turn to dirty brown about now. Pretty horrendous, and while some may consider the fragrance - I use that term lightly - pleasant, I can't stand it. So I keep my distance.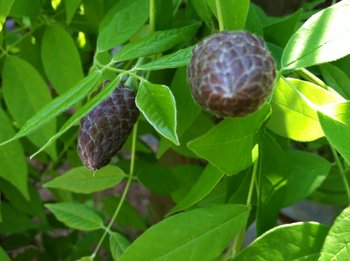 That title seems a bit of an oxymoron. The typical wisteria - Chinese or Japanese - is in check for, what, five minutes? This is my American wisteria - Wisteria frutescens 'Amethyst Falls' - budding up in a most delightful way.
America wisteria supposedly is very well-behaved, more like a shrub than its unruly Asian cousin, which attaches and roots itself onto anything and everything and has been known to disfigure buildings.
Wisteria frutescens grows only about 10 to 15 feet, versus 100 for the Asian varieties, but that's more than enough to send it up and over my pergola. The flowers - called racemes, those beautiful, pendulous things - are smaller and from what I read in online garden forums, don't smell nearly as nice as the better known varieties. In fact, some of those online folks say downright nasty things about its smell.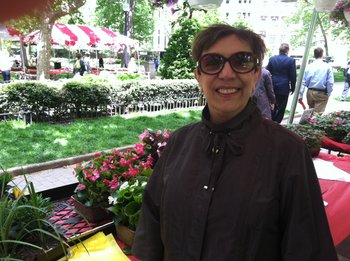 You take your chances with outside events this time of year. Yesterday the near-century-old Rittenhouse Square Flower Market nearly washed down Walnut Street, but board president Curtis Roth says they made about 2/3 of what they normally do.
Amazing!
His volunteers were back again today - till 6 p.m. They included a group - I should say crew - from Vanguard, which now has a policy of one day off for everyone to do some kind of volunteer work. I like that policy!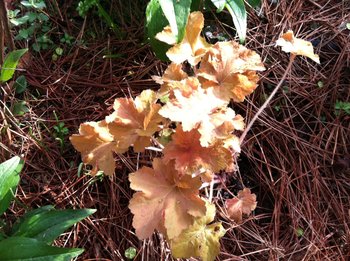 Plant division is the garden's gift to us after years of hard work and expense. Dig up this heuchera or some other well-established perennial, pull it apart, and replant.
I used to be intimidated by this idea, afraid I'd kill the mother plant. But so far, my luck is holding. This spring, I've made a couple dozen heucheras out of a few giant ones, divided a host of hostas, and coaxed clumps of catmint, tradescantia and evening primrose apart to replant.
Another blessing of division is that you can give to friends who then walk down the street with handfuls of ferns and other delights to share with you. It's right neighborly!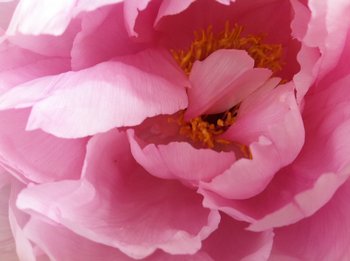 There's nothing quite like the pale pink of an early spring peony. This exquisite specimen is literally unfolding in my garden. Scent is sublime.
Tonight, after work, I plan to cut it and place it in a vase on the dinner table, to be enjoyed at every meal.
This is the beginning of peony season, a time of craziness. Just like what happens with roses, which come next. And so it goes.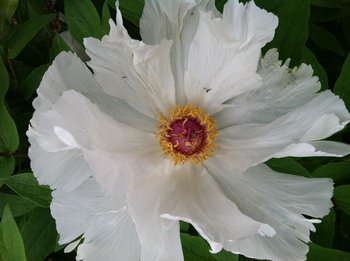 That's what friends call Eleanor Tickner, of Edgmont Township, Delaware County, who is co-founder and president of the Mid-Atlantic Peony Society. She has 2,000 peonies, half on display in her exhibition garden. Row upon row of peonies line her 600-foot driveway. A handful are already in bloom, including this absolutely heart-stopping variety. It's called Paeonia osteii 'Fen Dan Bai' - it's white, obviously, though this photo doesn't do it justice. The white is pure. And it's a single.
Supposedly this one's grown for medicinal purposes, but call me crazy, I think it's a beauty that should be grown for its own sake. It's a tree peony, but tree peonies aren't really trees. They're multi-stemmed shrubs. And most tree peonies are singles, meaning they have one or two rows of petals. Simplicity itself.
Eleanor's devotion to - obsession with - peonies began after she retired almost six years ago. Now she invites friends and others to visit, shows them around her huge peony garden, sells a few plants and bouquets, and after six weeks, boom!