Archive: April, 2013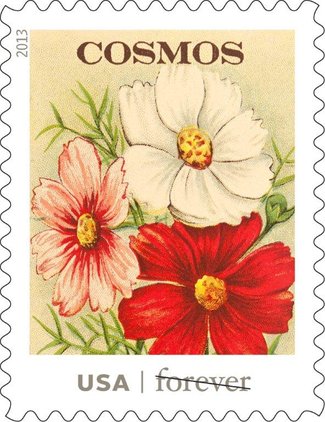 Really - that's what they said at today's unveiling of the U.S. Postal Service's new vintage seed packet forever stamps. Oh well, a little hyberbole here does no harm, and the product is beautiful.
The 10-stamp series includes cosmos (here), digitalis, yellow primrose, orange calendula, blue aster, pinks (dianthus), red linum, white alyssum, phlox, and zinnia. They'll be available for first-day sale at Macy's Center City store in the old Wanamaker's today and tomorrow. This, because John Wanamaker was the nation's Postmaster General from 1889 to 1893. Didn't know that, did you?
This kind of illustration graced the fronts of flower seed packets printed between 1910 and 1920. Perhaps you've seen their reincarnation today ... I'm all for it. Beats those forever flag stamps a-n-y day.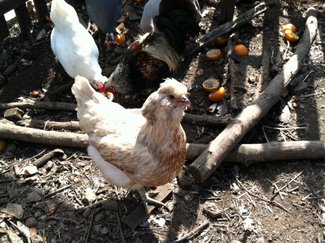 Poor Mushroom. She was attacked not long ago by a hawk and "severely wounded," according to Cara Graver, who owns Mushroom, seven other chickens and two Guinea hens and interrupted the attack. Mushroom survived, but you can still see the cuts and scars on her neck and shoulders.
I visited Mushroom and her coop mates - up close - yesterday afternoon. "You're brave to get right in here," Cara said, but even the rooster was calm. Nobody tried to peck me. Nobody seemed to care I was there. Even Effie, Cara's mushroom-colored miniature poodle was in the pen. She made off with some fish skin from the table scraps that were dumped there and there wasn't a peep of protest.
The goal of this visit was actually to see the cob chicken coop Cara made for her flock. Cob is sort of like adobe, except you don't make bricks out of cob. (You do, to build structures with adobe.) It's made of clay, sand, straw and water.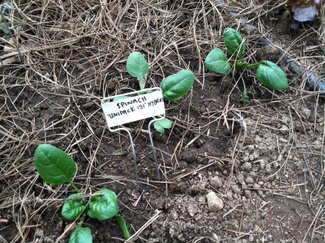 Not into the pool - just yet - but it's OK to head for the back yard and start planting. It's time for peas, lettuces of all kinds, greens like spinach and collards, beets, cabbage, broccoli and bok choy, which is a good bit of stuff to get going on. I bought some spicy radish shoots at a farmers market on Saturday and am thinking they'd be a wonderful new crop to try this year.
I've got some spinach in already, and some cabbage starts. More this weekend, including some Landreth seeds for Malabar spinach, which climbs and isn't a true spinach. (But the leaves taste like it when cooked.)