Archive: April, 2012
Virginia A. Smith

, Inquirer Staff Writer
Alexis Berry turns 17 on Thursday, but she's already on her way to greatness. No kidding. The librarian at her school, Springside Chestnut Hill Academy, who serves as an informal adviser to the garden club Alexis started there this year, says, "Hopefully, she'll be our future president." It's because of gardening that I heard about Alexis, but she's accomplished so much else, I understand why librarian Nina Coffin says that about her.
Alexis plays varsity field hockey in the fall, lacrosse in the spring, and she's a flutist in the upper school orchestra, having taken up that instrument in fourth grade. She's on the school's multicultural committee and, since seventh grade, has been enrolled in a course of study that preps "whiz kid" - that's what the website says - minority students for careers in medicine. Alexis, who has eczema, wants to be a dermatologist. (This summer she has a research internship at the National Institutes of Health.)
She's been co-exhibiting at the flower show with her mother for several years, tagging along in the garden since she was a toddler, but this year entered the miniature arrangements class by herself - and, competing against all adults, won second place in her class theme. (Her mother, Lydia Allen-Berry, won first in her theme.)
Virginia A. Smith

, Inquirer Staff Writer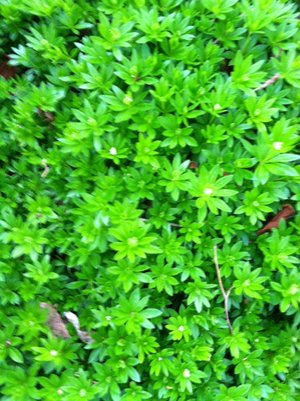 I'm having a little fun here. Makes me laugh when I read the unofficial names of plants ... like Gallium odoratum or sweet woodruff. Supposedly it's also known as wild baby's breath or master of the woods. Tell me. Is the baby wild? or the baby's breath wild? and are we talking plant or human? Nothing like precision and clarity in garden writing.
I write about sweet woodruff because it's up - and, like everything else in the garden this year - very early. And because it's a fantastic ground cover and I'm in the market for some new ones in another part of my garden. This morning I noticed the woodruff out back. After several years of slow to moderate growth, it's taken off, forming a large carpet in a shady corner.
Posters on Dave's Garden, the multi-headed gardening website, have mostly positive reviews of this oldtime perennial herb, which supposedly has a strong scent (I can't tell), is good for drying (one gardener dries stalks of it on her dashboard for a "car freshener," others use it to deter moths, but it's also appropriate for potpourri), and isn't considered deer candy.
Virginia A. Smith

, Inquirer Staff Writer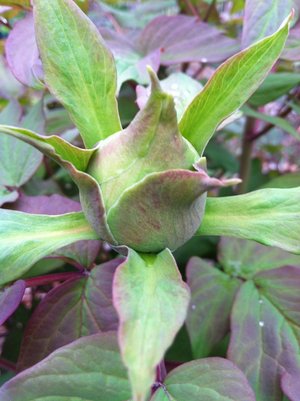 I pruned three peonies hard this winter and they're coming up bushy and beautiful. Getting to be a big fan of the buds, foliage and flowers of this classic plant, one of the loveliest signs of spring.
Virginia A. Smith

, Inquirer Staff Writer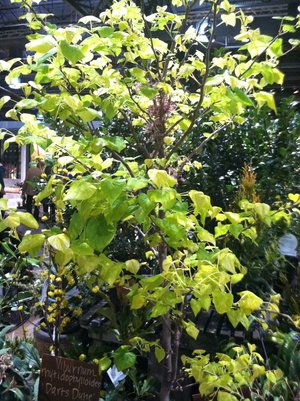 Here's a new one for you ... home runs for trees. PHS has hooked up with the Phillies for a Plant One Million initiative. POM is a program announced last year at the flower show. Goal is to plant 1 million trees in the region, including Philadelphia and burbs, South Jersey and Delaware. This lastest iteration is very cool: One tree gets planted for every home run hit by the Phils this season.
The Phillies (and PHS) also plan to give away 250 free trees - one per person, but you have to sign up on line. If you're selected, a PHS arborist will call to discuss what tree would work best in your location. Tree pickup is Sunday, April 22, which is Earth Day. Earth Day!? Didn't know that was still around.
But what better way to celebrate it, and spring, and baseball season, than a free tree. Good deal.
Virginia A. Smith

, Inquirer Staff Writer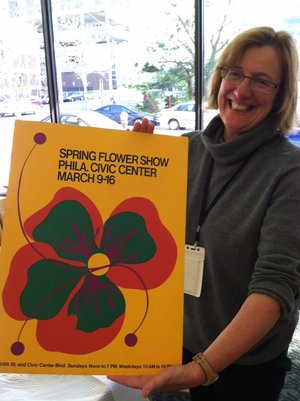 It happened again. I had to consult Janet Evans, the answer lady (librarian and archivist) for PHS. I'd asked everyone from Drew Becher on down: Has the flower show ever had a one-word theme? (On tap for 2013: Brilliant! about modern London and Great Britain.) Only Janet knew for sure: NO.
There've been two-word themes - remember Bella Italia? and three-word themes - Springtime in Paris. And shows with longer names that probably shouldn't be recalled. I'm thinking Pennsylvania: Then and Now in 1951 and You and Your Garden in 1970. What were they thinking?
For many years, there was no theme at all, just a flower show or a spring flower show or a flower and garden show. Janet's shown here with a poster from a show from the '60s - she has a collection in PHS' McLean Library.