Archive: March, 2012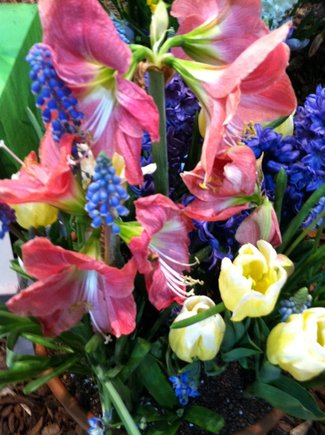 Been busy writing a story and editing other people's copy all day, so I never made it down to the show. Whew! But before I go home, thought I'd share an image from yesterday to keep us all going: a bulb garden of tulips, hyacinth and amaryllis, if I'm not mistaken. (If I am, I'm sure I'll hear about it!) This one was entered by Dodo Hamilton, the queen of the ball, but it didn't win first prize. Only third. Still, I think it's a beauty.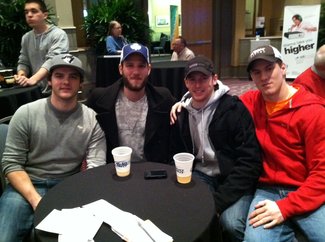 Everybody's talking about the Man Cave at the show, room 204B, which was supposed to be for guys who get dragged to the show and want to let the little woman look at flowers and go shopping while they do manly things like drink and eat fries, gamble (SugarHouse), and watch sports on oversized flat screens. Well, guess what. I've been in the cave twice, and both times, there were almost as many women as men - and quite a few children, too.
Ellie and Don Bogle of Feasterville, who took the train from Somerton, were having wine (she) and beer (he) and sharing some fries the other day, while others were sitting in gigundo cushy chairs watching a basketball game between UConn and Pittsburgh (73-66 UConn, second period). "We came here for seats but there's too many people sitting in here. Nobody's leaving," said Ellie, who wasn't exactly leaving either.
Ellie said they were waiting for the Phillies' game to come on the smaller TVs along the side of the cave, but the game had started an hour or so earlier and nobody had turned those televisions on yet. "Nobody seems to be in charge here," Ellie said.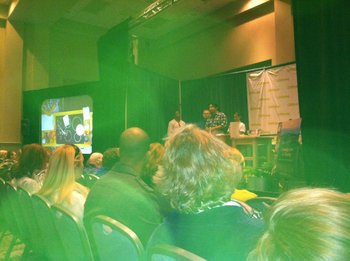 Remember ambrosia salad? Canned fruit cup, mini-marshmallows, maraschino cherries, sour cream ... just the idea makes me gag! So it was a little disconcerting to pop into a culinary demonstration at the show with Chef Edward Lee, of the restaurant 610 Magnolia in Louisville, KY, and hear him announce hat he was doing something "a little bit tropical, a little bit Southern ..." You guessed it! An updated ambrosia salad!
"It's not heavy. It's delicate," he insisted, calling the traditional version "pretty hideous." I stuck around, and was charmed by his presentation, which was so different from my grandmother's version as to be unidentifiable. This ambrosia salad I would eat and even make.
"It's not a bad salad. You just have to use fresh ingredients," Chef Lee said, as he prepared fresh orange and grapefruit sections, peeled and chopped a mango, cut up a jalapeno (he likes a little heat), and got his fresh (unsweetened) coconut, cardamom, almonds, coconut milk, sour cream, and white wine vinegar ready. He also uses raw ahi tuna in his ambrosia with a blue cheese dressing. The blue cheese announcement caused gasps and some groaning in the audience, but the chef urged the audience to reserve judgment. As a fan of blue cheese anything, I didn't need convincing.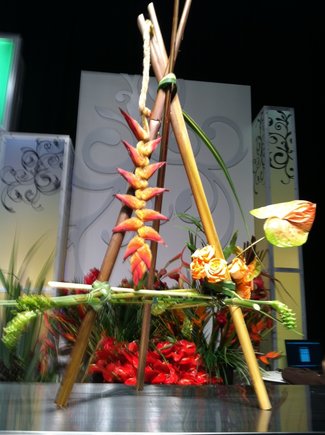 Seriously, who knew the flower show crowd was a woo-hoo kind of group? The folks at the new Designer's Studio at the flower show are definitely in that zone. They hoop and holler and woo-hoo during the competitions that are being described as "Top Chef with Flowers." Three floral designers (sometimes amateur, sometimes pro) go head to head (or hand to hand, in this case) creating an arrangement with the same bunch of tropical flowers, stems and other materials.
I sat in on one competition, involving three designers - two from Texas, one from Massachusetts - and a box full of bamboo, heliconia, ginger, anthurium and orange roses. Interestingly, the competitors from out of town all came on their own dime. Now that's devotion. Or competitive spirit to the max.
Julie Speer from Arkansas was judge and commentator, but the audience could vote for their favorite, too, using the new flower show app. I've got the app, which was easy to download, but I couldn't figure out - even with help from a PHS volunteer - how to use it to vote.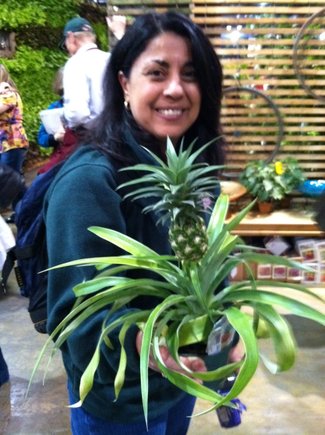 I guess it was inevitable that a show with a Hawaiian theme would bring forth a wave of pineapples. They're here, all right - pineapple pizza (with tomatoes and peppers), pineapple art, pineapple jewelry, pineapple everything. But nothing beats the real thing - a pineapple plant, such as the one Gracia Nothstein of Harrisburg decided to buy for $12. It's a dwarf variety, and the actual fruit will likely be too small to eat. But it sure is cute, isn't it? There's a larger, $20, version, too, but I'm with Gracia. This one's the best.
Gracia plans to put it in a room of her house that has a palm tree theme. No real palms, mind you, just the suggestion of tropical escape. "No palm trees yet," she says by way of amending her answer.
Casey Combs, senior plant buyer at PHS' Meadowbrook Farm, whose store at the show is selling tropical plants and lots of others, says the pineapples are a big seller, as are anthuriums, Alpines and air plants. How come they all start with A??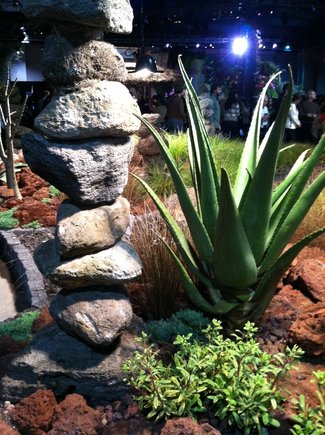 Garden designer Michael Petrie of Swarthmore is always up to something, and he's racked up more awards in this year's show, including my favorite - the Mayor's Trophy, which is actually a silver top hat, like the Monopoly version. His exhibit is called keahiakawelo or Garden of the Gods, based on the island of Lanai, a comma-shaped dot of land so small it has no traffic lights and only one city and school. It's unusual in other ways, too.
It's sometimes called "Pineapple Island" because it was at one time a single pineapple plantation. (Talk about agribusiness!) And its landscape isn't anything like what most people envision when they think Hawaii. No, Lanai is all about rocks.
Michael's exhibit is to the left as you walk in. And he isn't kidding - this is one rocky landscape. He calls the spiky rock towers "rock kebabs" and figures after the show, he'll use a lot of them in designs for clients. "Here come rock gardens," he said. (Clients, take note.)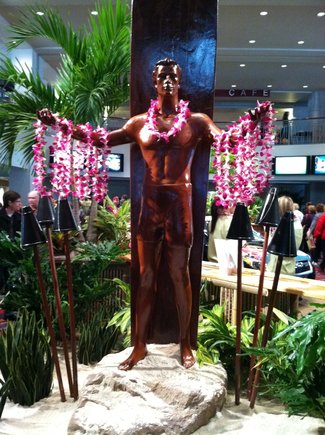 So ... you may have wondered who that chiseled, bare-chested guy is who greets you as you leave the show and start walking down the Grand Hall Concourse, just before the Subaru exhibit. He's "Surfer Duke," and believe it or not, there's a story behind him. Before we get to that .. as you can see, he had armloads of fresh leis today. He did yesterday, too, but I don't know, maybe folks thought the leis were there for the taking. In any event, enough helped themselves to Duke's floral garlands that his arms were naked by the end of the day. Now there's a rope around him, but this is Philly. You expect that to stop anyone?
Duke, it turns out, was a real person - Duke Paoa Kahinu Mokoe Hulikohola Kahanamoku, born in 1890 in Honolulu, where he also died in 1968. Duke, as he was known, was a famous swimmer and surfer, winning three gold and two silver medals in four different Olympics, finishing second to Johnny Weissmuller in the 100-meter freestyle in 1924. He was also an Olympic water polo player in 1932.
Between all that, he travelled the world giving swimming and surfing exhibitions. He's credited with introducing surfing to the U.S. - remember, Hawaii didn't become a state till 1959 - in Southern California, in 1912.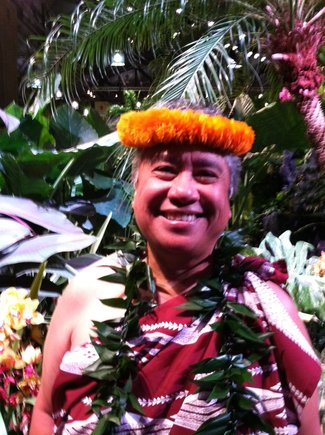 This is Ellen Kekuaokalani Delarossi, Delarossi being her married name. I met her after she performed with a hula group at the show. She is referred to as kumu hula, but kumu means much more than a teacher or performer. ""She is someone who has been taught and raised to dance hula and now teaches others and serves as a resource person," Ellen says. Note the beautiful lei made from the tips of ti leaves - "the lei of aloha," Ellen calls it - and the wreath made of feathers from birds on Oahu. No, Ellen tells me, they haven't been dyed orange. They're that color naturally. Imagine.
Ellen performs with a troupe from the Polynesian Cultural Center in Oahu. She did the chants, while playing a double gourd. Usually, a single suffices, but the double produces a deeper, louder sound. Ellen is a lifelong student of hula, having studied as a child with an aunt who also was a kumu hula, "a living treasure," her niece calls her. "She taught me to chant. She always told me, 'You stand on the beach and chant out to the ocean as loud as you can get. You will be more confident that way,' " Ellen recalls.
And that is what she did, from age 3 onward. She is now 60.