Archive: March, 2012
Virginia A. Smith, Inquirer Staff Writer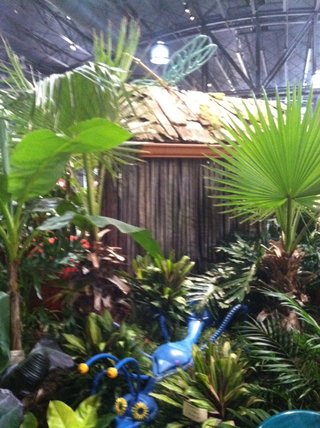 The folks at Camden Children's Garden are nothing if not inventive. They've had to be, what with funding cuts and assorted other issues. They weren't in the show last year, but this year - six short weeks ago - CCG founder Mike Devlin says he got a call from PHS. Can you get an exhibit together? Someone had dropped out.
Mike and crew repurposed the garden's metal butterfly and ladybug, bought some pineapples and oranges, and PHS bought the rest. "We cobbled it together," Mike says, though you wouldn't guess. It's a fun exhibit with a willow-branch tunnel. I crawled through it yesterday with Mike, and we stuck our faces through the holes in the butterfly wings so a volunteer could take the picture. Jane Pepper had been there the day before and was game enough to pose, so we followed suit.
Glad I didn't have to actually crawl in - it was hard enough to walk bending over - or I'd be in there still. Kids were having no such problems. Stop by and say hi. CCG is in Hall B, the row next to the Marketplace. You'll see what $300 and six weeks can look like in a pinch.
Virginia A. Smith, Inquirer Staff Writer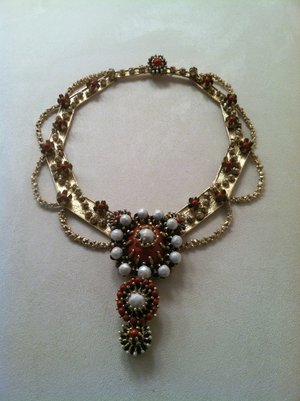 More pressed plant material entries - this one's a necklace, done by Lisa Webb Howe of the formidable Wissahickon Garden Club. Her list of materials is long, but what a result: cumin and fennel seeds, juniper berries, millet, clethra, pond iris, ornamental grass, chickpea, peppercorns, weeds, mountain laurel, pieris, and crape myrtle.
Clearly, Lisa's been foraging in both kitchen and garden! To a good end. She won first prize for this outstanding necklace.
Virginia A. Smith, Inquirer Staff Writer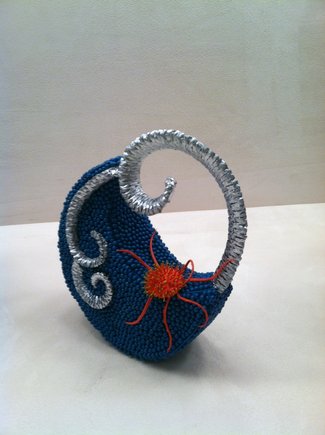 Even if this evening bag weren't made of plant material, it's worth going crazy over. But it is - made of white peppercorns; basket reed; rambutan, which is a tropical tree or its fuzzy red fruit; air plant and ram's head pods, which are extraordinary looking things I can't even describe. They curl around almost like a fiddlehead.
This is one of many eye-popping entries in the pressed plant category. It was done by Barb Kaytes of the Green Fingers Garden Club in Greenwich, Ct., and Frances Wilson of the Garden Club of Darien. I have to say, Barb's fingers must not only be green. They must be mighty skinny minny to maneuver these materials into something so fine. Beautiful.
Virginia A. Smith, Inquirer Staff Writer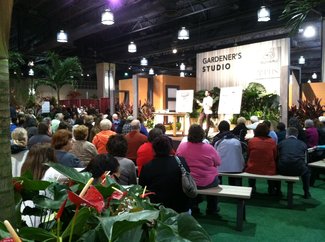 You can get your questions answered at the Gardener's Studio, shown here during a talk on green roofs. Or you can head over to the Hort Info Booth run by PHS in the front of B Hall. You just might run into one of my favorite answer ladies - Sheila Chlebda. Sheila's been a PHS volunteer for 10 years. She's also president of the Woman's National Farm and Garden Association's Ambler chapter and the Perkasie Garden Club. She's got cred, in other words, to be among the volunteers answering horticultural questions - some only tangentially related - at the flower show.
(One of the major tangential ones involves the show's new layout. It's got some folks really flummoxed. News flash: PHS President Drew Becher wants to change the layout every single year! So even if you figure it out in 2012, it won't be that way in 2013. Best to just go with the flow. This is how it's gonna be.)
On the hort side of things, Sheila's getting quite a few questions about fruit trees, which is great. Means people are experimenting. A frequent topic is the Bradford pear tree, an extremely popular choice for street trees in the '80s that turned out to be a bad idea. Bradford pears are weak-wooded trees - the branches break easily. Plus the trees don't smell so good and they pop up in unwanted places. You'd think someone would've known this before the tree got planted all over the place.
Virginia A. Smith, Inquirer Staff Writer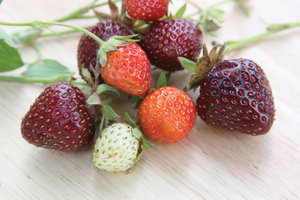 So I was chatting up some PHS volunteers at the horticultural information booth this week. What's the strangest question you've gotten? I asked. "Purple strawberries!" Nobody'd heard of them. Same was true at Jerry's Berries, booth 728, where they're selling nothing but ever-bearing strawberry plants. They looked at me sideways when I asked.
Then yesterday I get an email from the PR people at Burpee touting - guess what - Purple Wonder, a new purple strawberry that was developed at Cornell by Courtney Weber. Burpee has the rights to market it to home gardeners, and you can see it on display at the Meadowbrook Farm store at the show. (Next to the Kaua'i Kafe.) You can also buy it there; after the show, it'll available at burpee.com.
I leave it to you to determine whether it really looks purple. Hmmm. Could be like those "blue roses" I read about that are more mauve than actual blue. Granted, this "purple" is a pretty color, but it looks more like burgandy wine to me.
Virginia A. Smith, Inquirer Staff Writer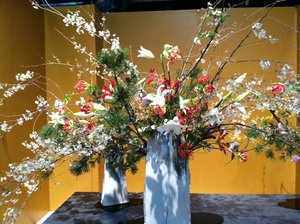 If you've ever tried ikebana, usually simplistically defined as "the Japanese art of flower arranging," you know that it is a complex art whose results look deceptively simple. I observed a class once at Longwood Gardens. Trust me. It isn't simple. But it's a simple and joyful thing to check out the ikebana entries at the show.
This one was done by Young Oh in the tradition of the Ohara School of ikebana. It's named for Unshin Ohara, who founded the school in the late 19th century, when Western influences - note the colorful Western flowers here - began to penetrate the closed society of Japan.
According to Ikebana International, the Ohara School "emphasizes seasonal qualities, natural growth processes, and the beauty of natural environments."
Virginia A. Smith, Inquirer Staff Writer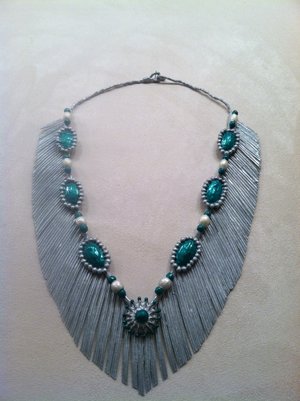 This necklace in the pressed plant material class was very different from the others. It won second prize, incorporating mustard seeds, Job's tears (a grain-bearing tropical pklant), coriander, eucalyptus seeds, horsetail rush, sago palm, poppy pod top, allspice berry, almonds and raffia.
Virginia A. Smith, Inquirer Staff Writer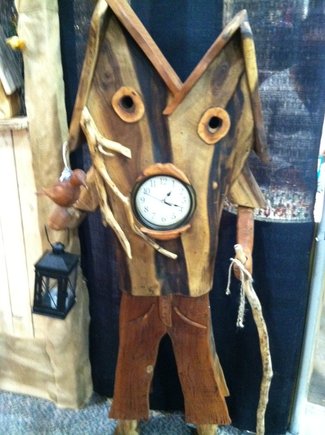 Why does this give me the creeps? It's a grandfather's clock, handmade by Andre Maiwald of Perkasie, who's selling, with his wife Karen, out of Booth 812 in the Marketplace. Andre and Karen emigrated from Dresden, Germany, a year ago to join their daughter and grandkids in Bucks County. It's their first time in the show. I figured that was the case. No way would I have walked by this in other years.
This guy is 5' 5" tall, so we're pretty much eye to eye, which maybe is why he rattles me so. He's made out of local woods - black walnut face, cherry roof and bird in hand, oak movement, walnut shoes, hickory legs .. you get the idea. His pants are too short. Why is he carrying a lantern? Maybe it's me, but I imagine him chasing me through the woods - or the Convention Center - with that lantern swinging wildly.
The clock sells for $5,349. Andre also makes birdhouses, which are also expensive affairs ($300-, $400-, $500-plus), but they're all custom made and - he's got this part right - one of a kind pieces. They're kind of interesting and the woods are beautiful. I just don't know if I could be sitting at my dining room table with this grandfather clock-guy standing in the corner. I mean, where's the pitchfork? I'd never turn my back on him.