Archive: March, 2009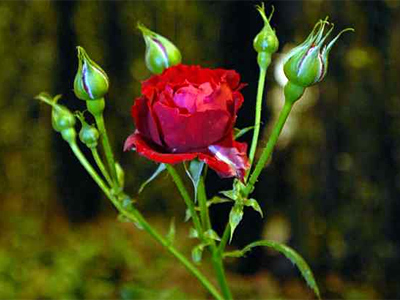 This is winter jasmine on the Swarthmore College campus yesterday. Even this lovely place looks dreary in mud season. Besides the jasmine, we did see a few crocuses, snowdrops, hellebores and attractive containers planted with evergreens. They were a comforting sight after a provocative, alarming and to me, somewhat depressing, lecture by Peter Raven. He's the 2009 recipient of the Scott Medal, an annual prize, along with $12,000, that's awarded by the college's Scott Arboretum to "heroes of the planet." As head of the Missouri Botanical Garden for almost four decades, Raven's passionate cause is to preserve endangered plants and from the sound of it, he was a strong voice for sustainability long before it became every PR person's buzz word. He truly was inspiring. His C.V. is so long, I can't begin to replicate it here, but he was honored yesterday as all medal winners are, for "promoting a greater love of nature...and for spreading the gospel of better planting and design." In the big world out there, he's a champion of biodiversity and plant conservation, and he sounds a rational alarm against needless development, overconsumption and ignorance. I loved how he put this. Biodiversity, he said, "depends on what each of us does, every choice, every day, every place, every one of us." Taking care of this earth is everyone's responsibility, not some obtuse intellectual construct, and it extends right down to what we plant in our back yards, how we live our lives, how big a carbon footprint we leave and how much stuff we buy. Raven ended with a quote from Gandhi that brought a sobered audience to its feet: "The world provides enough to satisfy every man's need but not every man's greed." You can say that again.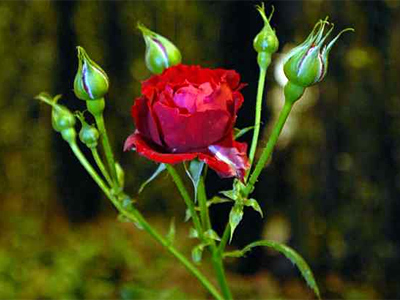 This is one of my favorite views on the old Biddle estate known as Andalusia, on the banks of the Delaware River about 13 miles from Center City. You'd never know it was there - in Bensalem, of all places - and part of me is grateful for the protection anonymity affords. But this is cynical me speaking. Open-hearted, garden- and history-loving me had a wonderful couple of hours here this morning, walking the grounds with head gardener Barry Cyphers and touring the Greek Revival, temple-like main house with Lori Hogan, assistant director of the Andalusia Foundation. Both have an affection for the place that warms my heart in this awful, cold-hearted time. The doorway in this photo is the one used by brides who marry in the walled garden, where Nicholas Biddle grew his prized table grapes and many generations of this famous family enjoyed walking and sitting (and still do). Brides walk through the door towards the center of the garden, where a large Callery pear tree dominates. Springtime, obviously, is the time to marry here, though a case could be made for summer or fall, too. White blossoms overhead and fluttering about, dozens of rose bushes in bloom or about to open, make just about the most romantic statement ever. But so do the "big house" and the vast lawns leading down to the river. So do the Canada geese honking overhead and the tiny "ephemerals" that are popping up or blooming now. Promise is in the air at this lost-in-time place, which you need reservations to visit. Go to www.andalusiapa.org to get details and don't be discouraged. Making an appointment is easy. I'm definitely going back. Meanwhile, be sure to pick up the paper on Friday - actually, in the spirit of shameless capitalism and full employment, be sure to pick up the paper every single day! I'll be featuring Andalusia in a story about the first day of spring.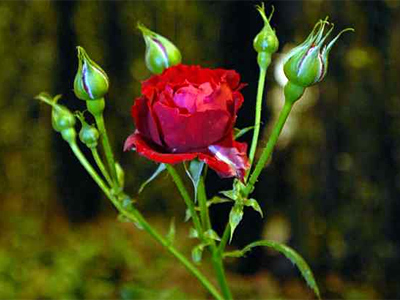 Nothing identifies you as a garden addict like familiarity with the Helleborus or Christmas rose, which in some places starts blooming around that holiday and stays fresh for months. Mine haven't popped yet, but not because I haven't been watching. Supposedly deer aren't fond of hellebores, but as any deer-weary gardener knows, they'll eat anything if they're hungry enough. I've come over to the hellebore fan club, having seen the incredible variety and beauty that's out there. They come in shades of pink, white, green, purple and even yellow, and now you can find them with spots, stripes, ruffles and flourishes. And while connoisseurs prefer their "faces" to be looking upward, there's something appealing about this shy, downward-facing clump.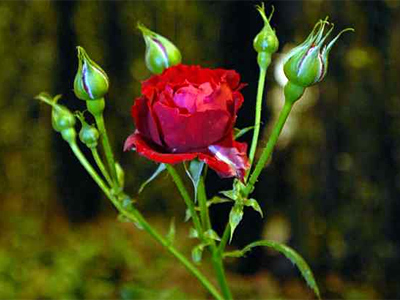 Here's something fun: Fragrant viburnum. Not a fragrant viburnum, but the ... Viburnum farreri, on the grounds of the Barnes Foundation arboretum in Merion, where I tromped around for an hour or so this morning. Couldn't detect a fragrance yet, and the buds haven't exploded yet, but you get the idea. Today March was being very March-like. The temperature was about 51 degrees but it felt like 35. Not a heavy rain but a steady mist that covered me in chill. And mud, not so much that you couldn't walk comfortably, but bad enough that you had to wear boots. Is this the ugliest time of year or what? This viburnum, one I'd never heard of, was one of the few things blooming in Albert and Laura's old digs, along with masses of snowdrops (even they looked cold), a few crocuses, some winter jasmine and a patch or two of hellebores. With a list like that, you'd think the place was awash in flowers. Actually, spread over 12 acres, on a dark March morning, the blooms were few and far between. And so very welcome.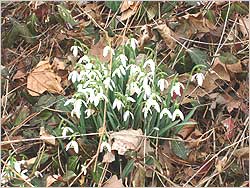 As if the flower show, Daylight Savings and the weekend's balmy temperatures weren't enough of a clue that spring is on the way, here's something I found on a walk around my city neighborhood on Sunday. Snowdrops! Or more properly, Galanthus nivalis, the delicate white flowers with the wing-like petals that pop up every March. You can see vast stretches of these little beauties at places like Scott Arboretum, where I'm headed this Sunday for the gold medal lecture. But they're also fun in private pockets of the city and suburbs. This hasn't been a particularly long winter from a weather standpoint, but from every other vantage point, it's been a winter without end. (Even when spring comes, the economic winter will continue.) All this is made a little easier when we have snowdrops to enjoy.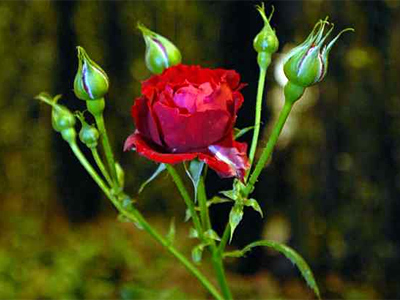 It's not easy being a flower show. Everybody has two cents' worth of opinions, which they freely share. Some folks are a snap to please. Some are very picky. I'm sure you have at least 20 cents' worth of thoughts on this subject. I'll offer up some of mine here.
This is a wonderful show. I enjoyed it very much. It has broad appeal, which is the goal. It's fun for first-timers and the true-blue horticultural crowd. Some of the latter complained to me that the show includes too much show biz, what with the musical entertainment and Danny DeVito's appearance tomorrow; they think it's strayed too far from its roots. But guess what. There's plenty here for everyone, and I say that as someone who's been here for six whole days. I've talked to a lot of people at the show, in the cafeteria, waiting in line, waiting for a cab .... and many have told me they don't know much about gardening but now want to try or they just like seeing all the pretty stuff. There's nothing wrong with that. I've also talked to some very sophisticated gardeners who were excited about the competitive classes or some display. The show has to appeal to both constituencies to thrive. This it does very well.
I liked some of the edgier exhibits this year, several by floral designers rather than the big landscape firms or nurseries. I do enjoy the traditional treatments but this year I seemed to gravitate to the more unusual or surprising ones. From what I saw, I wasn't the only one seeking out something different. It was interesting to talk to some of the young designers, who said flower show folks encouraged them to be creative. That's good.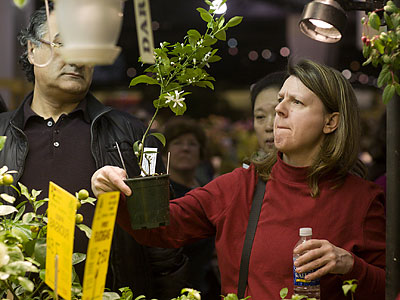 The list of things I didn't like is much shorter than what I liked. These are my thoughts, along with ideas I got from speaking to lots of people at the show all week.
TOO DARK. Many people said they could hardly see the exhibits in parts of the show. Was it supposed to be more romantic that way? Is somebody saving on electric bills? It was difficult to take pictures or to see what some of the exhibits were about.
I was unable to find any representative from some of the major exhibitors to ask about plants and design. Burke Brothers was consistently the exception. This makes for a strange experience. The flower show shouldn't be a museum, where you file through in silence wondering what you're looking at. I like to talk to curators and artists in museums, too, about what they were thinking when they painted or chose a particular work. At the flower show, I think it's imperative to have someone there, if only to greet visitors and especially so visitors can ask questions. The students from Williamson, Saul, Temple Ambler and other schools were terrific at this: Always there and eager to engage.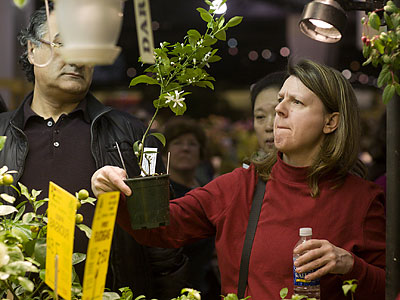 Sometimes when I look at bonsai, I wonder what would happen if those trees weren't manipulated quite so much, if they were left in the wild to grow tall and deep and if humans didn't have such a need to tinker with what nature has given us. I have to concede, however, that these works-in-progress are very beautiful - clean, simple, balanced, interesting. And when you think about it, is shaping and training a juniper tree into artistic form more violent than suburban sprawl or the ubiquitous monoculture - now so obsolete - that comprises the almighty front lawn? There are far worse things perpetrated on plants and trees every day by well-meaning and not-so-well-meaning folks.
Jim Gillespie, VP of the Pennsylvania Bonsai Society, tells me that some who visit his group's exhibit consider what he does cruel and unnatural. (Are these people wearing fur coats? Do they like hot dogs and eat beef? Just wondering.) He responds that in nature, a pine tree might live 50 to 200 years under normal conditions. In a bonsai pot, which deliberately constrains root growth to keep the trees small, it could live up to 400 years. It's not unknown for them to live even longer.
This is a Shimpaku juniper. It's been pinched, pruned, fertilized and trained according to bonsai techniques for 47 years. It's growing around a dead, bleached-out trunk that's about 275 years old. To make this happen, a gouge was made in the back of the dead part and the live tree trunk was laid into it. As it grows - very slowly - the young tree expands into the groove and rolls over the edges of the dead tree, Jim explains.