Virginia A. Smith

, Inquirer Staff Writer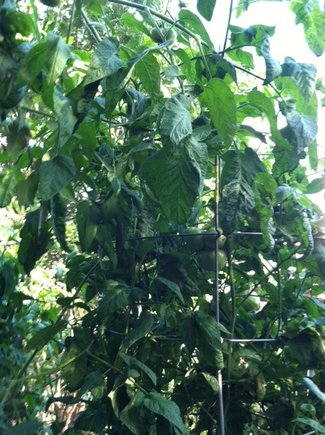 Back in April, I had high hopes for grafted tomatoes, touted by Burpee and others for their winning combination of heirloom fruit (great taste) and hybrid root stock (tough and more disease resistant than heirlooms). I bought six.
BUSTED!
All my tomatoes were late. You remember the rain we had? But once the rain stopped, I expected the crop to come in. Two of the grafteds produced a small number of tomatoes; of those, the Brandywines were normal size, the Mortgage Lifters were puny. Four of those vaunted and expensive heirloom-hybrids produced no tomatoes at all.
Virginia A. Smith

, Inquirer Staff Writer
I asked Mike Weilbacher, head of the Schuylkill Center for Environmental Education in Roxborough, to join me in the meadow at Morris Arboretum on Friday. What a treat! I'm doing a story about goldenrod - no, it does not make you sneeze. That's ragweed - and Mike was his typical knowledgable self. We saw scores of spiders, bees, wasps, flies, ants, butterflies, moths and birds feasting on the native plants around us. Not just goldenrod, although that's a major player here. Also N.Y. ironweed, milkweed, butterfly weed, grasses and other things even Mike couldn't identify.
He calls this place "the last chance cafe," because it's the last chance for all these hungry creatures to get the nectar, seeds and pollen they need for winter sustenance.
We stood very still and watched intently, happy to be irrelevant in this complicated place.
Virginia A. Smith

, Inquirer Staff Writer
This is a scene from a fantastic market in Berkeley, CA., earlier this summer. Bins of heirloom tomatoes, buckets of sunflowers, and more beautiful fruits, vegetables and other goodies than you can imagine. Coming from Philadelphia, I consider every moment of summer in northern California a gift. Unless there's an earthquake, of course.
Virginia A. Smith

, Inquirer Staff Writer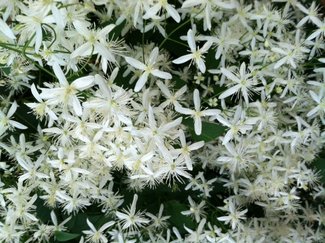 I used to hate this! Sweet autumn clematis (Clematis paniculata or terniflora) used to make me crazy. It would form a virtual helmet over some already large shrubs, turning them into giant blobs and defying all efforts to pull it out. It came back every year and the fight would resume. I couldn't even enjoy its blossoms.
Then Emily, my late-great-moved-to-North-Carolina helper, suggested dividing it and planting it along the fence. Understand I have something like 150 feet of fence. Way too much of a blizzard effect if the whole thing were covered in white, so Emily planted plugs of it here and there.
Suddenly, I'm in the throes of major like for autumn clematis. It's fluffier, whiter, prettier than I ever remember. Its starry blossoms are quite beautiful and their scent, though faint, is pleasant.
Virginia A. Smith

, Inquirer Staff Writer
Vacation is a wonderful thing. Two weeks of a first-ever "stay-cation" turned out to be lots of fun and very restful. I got to enjoy my garden (and work in it) a little bit. And take stock of this crazy year.
The tomatoes are finally starting to come in. Very late due to the weird/wet weather earlier in the season, which outright ruined a couple of plants. A friend lost all her peppers. I've got three tomato plants and three pepper plants limping along. I've had a grand total of one cucumber; a second is ripening now. The beets bombed. The grapes are terminally fungal. Even the fall crop of chard and mustard greens drowned in their containers after a recent downpour.
The eggplant was a wash, too.
Virginia A. Smith

, Inquirer Staff Writer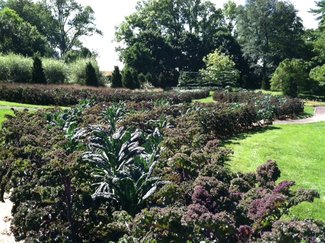 Chanticleer any day is a treat, but it was especially so today. The morning was sunny, clear, cool. I wore a fleece, for heaven's sake. The gate had just been opened, and within minutes, the parking lots were pretty full. Not everyone is at the Shore, although I like it when everyone goes away. I can get a dinner reservation pretty much when and where I want, traffic's (almost) manageable, the neighborhood is blessedly quiet.
So I was a little surprised to see so many people at Chanticleer - lots of young mothers with children, some grandparents, some couples and a few strays like me. It was a perfect day.
Interesting to see the serpentine planted with two types of kale, a darker, moodier serpentine than I've seen before. Lots of people didn't know what the kale was. So much for kale being the "it" vegetable. Kale was also scattered about in some of the other gardens; quite a surprise when you come upon it.
Virginia A. Smith

, Inquirer Staff Writer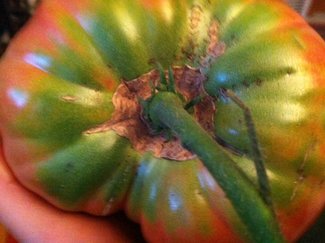 Good grief, has anyone had a decent crop of tomatoes this summer? Heard from a friend this morning who is the most skillful grower I know of tomatoes and all else. She's a master gardener and canner and even she's had a bad time of it.
I bought four grafted heirloom tomatoes, touted as the biggest, the tastiest, the toughest. They started out well and then the rains came. Then record-busting heat. I actually lost one of those grafteds. Another one doesn't even have blossoms on it. A third has green fruit but shows no signs of ripening. And the fourth plant, the only producer in the lot, has given me exactly three tomatoes.
Were it not for a hybrid called 'Fourth of July,' which puts out about one smallish, not great-tasting, tomato every other day, I'd pratically have a shut-out.
Virginia A. Smith

, Inquirer Staff Writer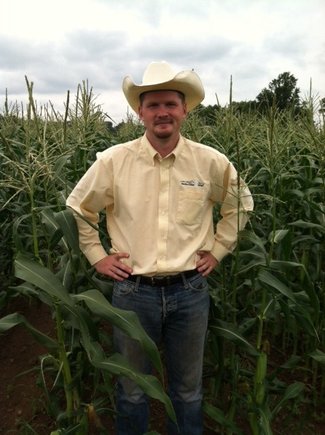 This is Zach Gihorski, 25, a graduate of Delaware Valley College in Doylestown and the force behind the school's Hope of the Harvest garden - two acres on campus, one acre in process at the school's farm in North Wales. In its first season, 2012, the garden produced 16,000 pounds of fruit and vegetables for food banks in Bucks County. This season, Zach is aiming for double that and in another three years, he's aiming for 100,000 pounds.
The garden's an interesting story, for sure. But so is Zach, who has personal goals, too. He'll be applying this fall for law school, which he hopes will give him the tools to be a lawyer and advocate for farmers. Down the road, he has his eye on a pretty high profile job - U.S. agriculture secretary. "I want to write the Farm Bill," he says.
And why not?