Virginia A. Smith

, Inquirer Staff Writer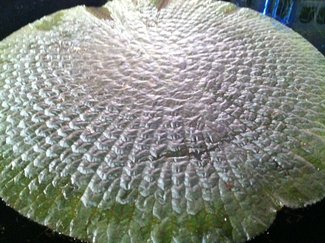 Well! Got your attention, did I? "The Seductress," in this case, is the Victoria water lily, an "aquatic marvel" - see photo - that is on display in the show's central feature. A hefty new book about this amazing plant - 468 pages, $69.99 - is making its debut here. It's available in the AIA bookstore just outside the show hall and also online at longwoodgardens.org.
The author is Tomasz Anisko, curator of plants at Longwood, which was the first to hybridize this famous plant. He travelled to more than 20 countries to gather information for his book, according to Longwood's executive director Paul Redman.
Victoria was the rage in mid-19th century England and has captivated gardeners and scholars ever since. Been a persistent seductress, you might say. Longwood has brought several specimens to the show.
Virginia A. Smith

, Inquirer Staff Writer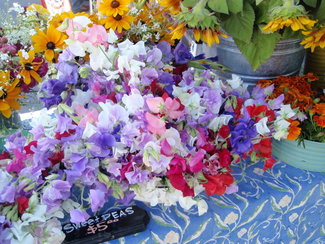 These are sweet peas from Lorraine Kiefer's Triple Oaks Nursery in Franklinville. Lorraine, a lifelong gardener, is a big fan of these old-fashioned, fragrant favorites that once were plentiful in our gardens. Now, not so much, but there are lots of colors out there - and Lorraine, in a recent email to customers, advised that this is the perfect time to sow the seeds.
Sweet peas came up in conversation yesterday at a workshop on English-style cottage gardens in Pennsylvania - in the Gardener's Studio at the show. "Artfully designed irregularity," is how they were described by Gloria Day, president of Pretty Dirty Ladies Inc., a garden design and maintenance firm in Leesport, Pa. This traditional style continues to enchant us, even as the host country becomes better known for modern design.
The typical cottage garden was planted around simple cottages, of course, in a small space with some kind of enclosure (a hedge or fence, maybe), as a kitchen garden. It usually had gates, trellises, arches mixed in with flowers, vegetables and herbs. Actually, this style of gardening probably never went out of fashion - and it's big today.
Virginia A. Smith

, Inquirer Staff Writer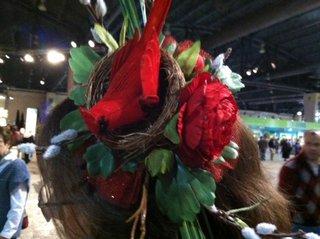 She'd be so bored in Room 201C at the show, the Make and Take room. I mean, this is the gal who showed up at William and Kate's 2011 wedding in a headpiece - known as a fascinator - described as "a beige toilet seat," "antlers" and, kindly, "a pretzel-shaped bow." It was unbelievable. Even more so: The thing sold for $130,000 a few months after the wedding. Fortunately, the money went to charity so somebody benefitted. I take that back. A lot of us benefitted from the comic relief!
Nothing like Bea's bomb has come out of Room 201C (that I know of). but you will see lots of fascinators in the crowd at the flower show. I'd never heard of these things till the royal wedding two years ago, but they're supposedly enjoying a bit of a resurgence. Kate wears them, but so far, nothing resembling a toilet seat or stag rack. The girl has advisers.
Fascinators have been around for decades - feathered head gear far longer for both men and women - although they pretty much died out in the '60s. Lord knows, we had plenty of other stuff on and in our heads in that era. My lips are sealed.
Virginia A. Smith

, Inquirer Staff Writer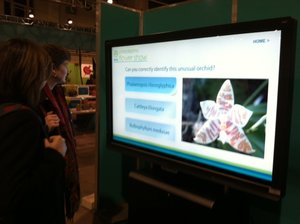 Inside the new Horticourt you'll find interactive screens where you can answer questions. I answered one about the type of ivy on the screen. It was Hedera algeriensis - Algerian ivy, a neat ground cover with large, variegated leaves that I've seen but never used.
I tapped my answer on the screen, then up popped my positive reinforcement: "Well done, green thumb!"
In case you were wondering, and before any of you email me to say I'm an idiot, I'm aware that the plant in this photo is not Algerian ivy. I may be an idiot, but for other reasons.
Virginia A. Smith

, Inquirer Staff Writer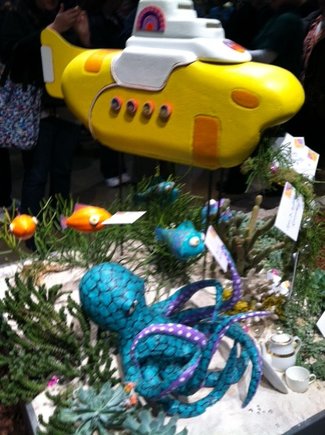 This is an entry in the mailbox category created by the talented gardeners in the Greene Countrie Garden Club. There was such a crowd in front of it, I could hardly maneuver myself into position to take a picture. Favorite feature: letters addressed to Sexy Sadie, Hey Jude, Nowhere Man, Eleanor Rigby, The Fool on the Hill and Lucy in the Sky.
Told ya the Beatles were big in Brilliant!
Virginia A. Smith

, Inquirer Staff Writer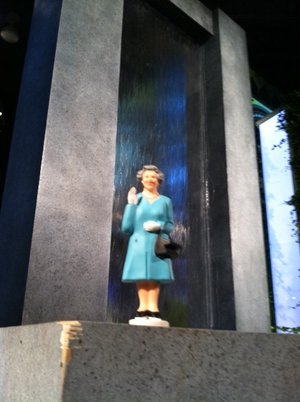 So I'm walking through the show, past the central feature, and all of a sudden I spot her - a mini-Queen Elizabeth up on the wall. She struck me and several other people as hilariously funny up there. Perhaps we shouldn't have laughed so hard, given that she's in the hospital but you had to be there.
Mini-Elizabeth was on the wall as part of the Quest for the Queen scavenger hunt, one of many kids' activities this year.
They're having scavenger hunts, performances, games, crafts and other activities in the Kids Zone, Room 204B. Open every day from 11 a.m. to 7 p.m. There's even a Mums Lounge, just inside, for nursing mothers or parents who need "some quiet time and comfortable seating with their little ones."
Virginia A. Smith

, Inquirer Staff Writer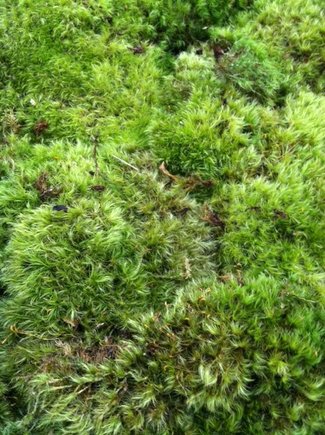 I'd swear this was a toupee ... but Noel says it's living sheet moss, $5 a clump, and just as I was moving in for a closer look, up walks Pamela Belrose, a mill worker at a medical device company in Hudson Falls, N.Y. She loves to make terrariums but has had some problems.
"The stuff I usually put in keeps croaking," she said.
Moss sounded like just the thing. So Pamela bought three pieces.
Virginia A. Smith

, Inquirer Staff Writer
Larry's a new product from Chive, the hipster purveyor of floral vessels and accoutrements from Toronto. This year, they have twice the floor space they've had in previous years. Larry comes in several colors and he isn't a vase. He is, in the words of junior sales rep Noel Greaves, "a little guy watching over your kitchen or bathroom." But he's sold ($15 for one, $25 for two) as a lawn gnome. Do what you want.
Noel says Larry was created justu for the show. Chive uses the flower show as a test market for its products. And this is the only show the company does. So Philly folks, feel proud.
You know, of course, that the Brits are nutty for gnomes, so you'd be within your comfort zone as a flower show-goer this year - the show being Brilliant! and all - to buy a few. Me, I'll admire on the shelf.