Virginia A. Smith, Inquirer Staff Writer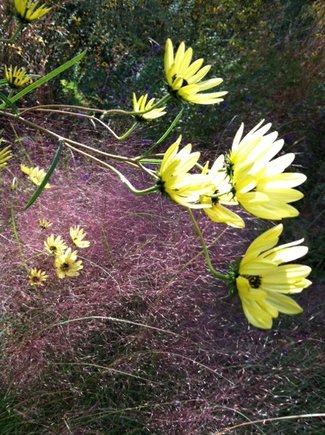 Guess I was tired when I pulled in to Mt. Cuba Center in Hockessin, Del., this morning. Been a rough couple of weeks for us folks in old media. New media, too, come to think of it. So when Dave Korbonits walked me around the meadow there, pointing out the beautiful ornamental grasses that just happened to be swooshing in the breeze... it was all I could do to refrain from lying down and dozing off in the middle of it all.
Actually, Dave says the deer do that. Instead of eating the grasses, they plop down on top of them, making a comfy little nest. Sounded awfully good to me.
What is it about a meadow that hypnotizes people? It's like watching waves on a beach. The repetition is so relaxing. It never gets old, this natural de-stressor that doesn't involve doing something stupid or spending a ton of money.
Virginia A. Smith, Inquirer Staff Writer
I mentioned this in an earlier post: Thanksgiving falls on Nov. 28 this year, which coincides with the beginning of Hanukkah. This is a fun little factoid and we'll probably be hearing more about this than anyone cares about.
What you will not hear about or see is what Cres Motzi, a floral designer from Downingtown, has made of this coincidence.
She's used the colors often attributed to Hanukkah - blue, white, silver and gold - with the fall colors and symbols of the Thanksgiving harvest - silver foliage, mini white pumpkins, fennel bulbs, wheat stalks spray-painted gold.
Virginia A. Smith, Inquirer Staff Writer
Spend a few hours with a talented floral designer and you get all sorts of ideas. This was one of five designs done by Crescentia Motzi of Downingtown, aka "Cres," who's studied with some of the European masters and some of our local stars at Longwood Gardens. (She's teaching workshops there now herself.)
The Inquirer asked Cres to come up with three holiday designs, including one that incorporates the colors of two unlikely holidays - Hanukkah and Thanksgiving - that fall on the same day this year. (It's historic!) I'll share what she created in another post, but first, this design, which wasn't one of the three. It just happened to be on the window sill of her dining room when I visited.
I loved the earthy quality of this one, and the randomness of its elements. Cres used a small log with interesting bark, sea oats, toad lilies, 'Blue Muffin' viburnum, Japanese hakone grass, thyme, 'Toffee Twist' sedge grass, and miniature lady ferns.
Virginia A. Smith, Inquirer Staff Writer
I go much of the summer without a decent tomato crop. By September, most of my plants have shut down production, leaving a few for me to think wishfully about. Now that it's almost November, they're coming in? What am I missing here? This is a 'Mortgage Lifter' and I'm glad to have it. Not as sweet as the tomatoes of summer but then, I didn't have much luck this summer. Good thing I'm not a farmer. My family would starve.
Virginia A. Smith, Inquirer Staff Writer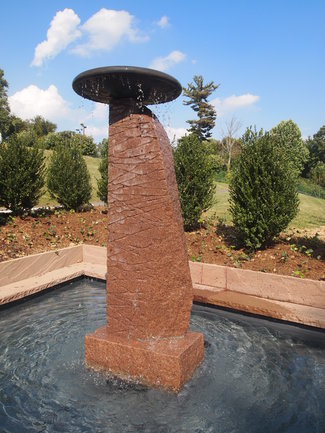 I will never forget my interview with Ann Stookey in May, 2010. Ann was an accomplished floral designer and choral singer, but my interest was in her Chestnut Hill garden. It was unlike any I'd ever seen. It was all green. That sounds pretty boring, and really, how different could it be from most other gardens? Plenty.
Here's how I saw it then: "For too long, green's been disparaged as dull background, like outdoor wallpaper, not considered a color in its own right in the garden. But it can be quietly spectacular, as Stookey's garden will attest. Here, green comes in lime, teal and forest; shiny and matte, and variations in between. It's a subtle and dignified landscape to rest the eyes and calm the nerves. 'It does not draw attention to itself,' says Stookey."
Ann and I had a wonderful time walking around the garden, examining the topiary hydrangea balls and clipped, geometric boxwoods. I remember the huge gray containers and window boxes filled with succulents and black elephant ears. So striking against the Wissahickon schist of her 1863 Victorian home.
Virginia A. Smith, Inquirer Staff Writer
That is how my buddy Steve Saffier, director of the Audubon At Home Program for Audubon Pennsylvania, describes his experience with this year's avalanche of a black walnut crop. Thousands of the baseball-sized green fruits have been dropping this summer/fall season, delighting deer, squirrels, rodents, birds and insects that crack them open and eat them or pick at them when cars run over them.
These green piles make the rest of us - if you'll pardon the expression - nuts. Ever step on one of those babies?
So Steve sent me a little riff on black walnuts yesterday. I wanted to share some of the highlights and his commentary.
Virginia A. Smith, Inquirer Staff Writer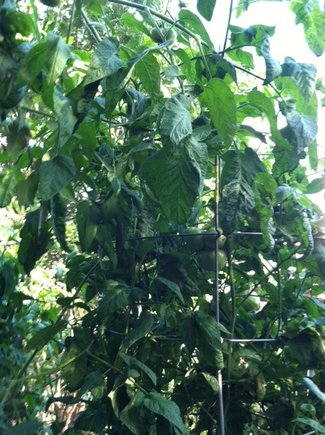 Back in April, I had high hopes for grafted tomatoes, touted by Burpee and others for their winning combination of heirloom fruit (great taste) and hybrid root stock (tough and more disease resistant than heirlooms). I bought six.
BUSTED!
All my tomatoes were late. You remember the rain we had? But once the rain stopped, I expected the crop to come in. Two of the grafteds produced a small number of tomatoes; of those, the Brandywines were normal size, the Mortgage Lifters were puny. Four of those vaunted and expensive heirloom-hybrids produced no tomatoes at all.
Virginia A. Smith, Inquirer Staff Writer
I asked Mike Weilbacher, head of the Schuylkill Center for Environmental Education in Roxborough, to join me in the meadow at Morris Arboretum on Friday. What a treat! I'm doing a story about goldenrod - no, it does not make you sneeze. That's ragweed - and Mike was his typical knowledgable self. We saw scores of spiders, bees, wasps, flies, ants, butterflies, moths and birds feasting on the native plants around us. Not just goldenrod, although that's a major player here. Also N.Y. ironweed, milkweed, butterfly weed, grasses and other things even Mike couldn't identify.
He calls this place "the last chance cafe," because it's the last chance for all these hungry creatures to get the nectar, seeds and pollen they need for winter sustenance.
We stood very still and watched intently, happy to be irrelevant in this complicated place.